25 Emily In Paris Quotes For Your European Vacation Instagram Captions
Emily Cooper writes Instagram captions for a living — who else would you turn to?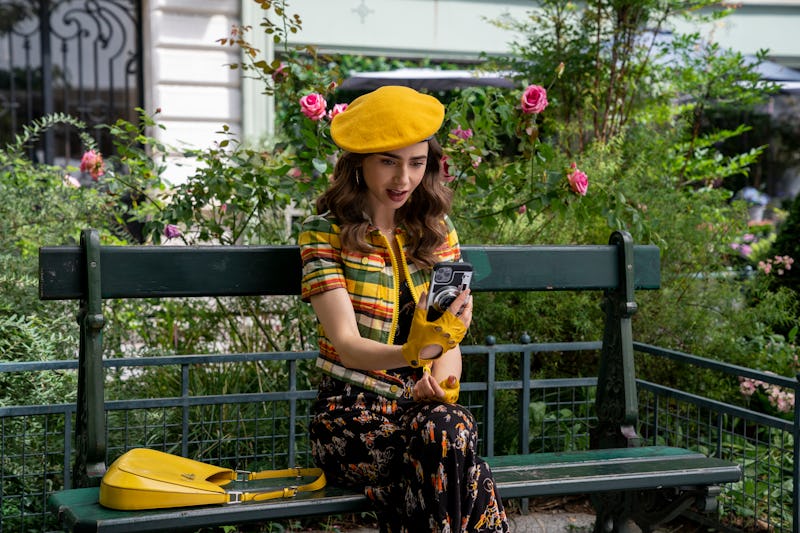 STÉPHANIE BRANCHU/NETFLIX
Everyone may have been laughing at Emily Cooper (Lily Collins) when all we could do was stay inside and watch Netflix's Emily In Paris in 2020, but nearly three years later, she just might be a trendsetter. Viewers have gone from living vicariously through Emily In Paris to going to Paris themselves or embarking on their own European vacation in a chic locale of their choosing. And when it's time to post about the trip, who do they turn to? None other than Emily Cooper of course.
Emily literally writes Instagram captions for a living (and puts together major advertising campaigns, but that's beside the point), making her most memorable one-liners and hashtags an easy starting point for your own Instagram captions — even if you're using them ironically. However, she also has expat friends and French co-workers who have a better wit and sense of humor than herself, including Mindy (Ashley Park), Luc (Bruno Gouery), Julien (Samuel Arnold), and her fabulous boss Sylvie (Philippine Leroy-Beaulieu), who shouldn't be overlooked for Instagram inspiration.
If you need some help crafting the right words to reflect your European getaway, no matter how it went, look no further. Here are 25 Emily In Paris quotes, organized by who said them, that could make the perfect Instagram caption, whether you lived out Emily's Parisian fairytale or want to take a more realistic approach.
Emily
"I did Rosetta Stone on the plane, but it hasn't kicked in yet."
"Repete s'il vous plait?"
"Paris is for cheese lovers."
"A little 'bonjour' goes a long way."
"Without basic b*tches like me, you wouldn't be fashionable."
"The entire city looks like Ratatouille."
"Think of it as a petit plaisir. A little luxury."
"#OhCrepe"
Mindy
"The French are romantics. But they're also realists."
"It's Paris. Everyone's serious about dinner."
"You haven't done Paris right until you've had at least one wildly inappropriate affair."
"Beyoncé is worth far more than the Mona Lisa."
"Toodles, poodles."
Luc
"You live to work. We work to live."
"French is the language of diplomacy."
"You go to St. Tropez to party, not to work. It's like going to Ibiza to do your taxes."
"You can never escape life. Never."
Julien
"It's illegal to work on the weekend in France."
"Happy endings are very American."
"I think you're the one bringing the drama."
Sylvie
"You're getting more French by the day."
"Learn French for starters."
"The only baguettes I'm interested in are diamonds."
"The American dream turned into a French nightmare."
"Fall in love, make mistakes, leave a disastrous trip in your wake."