Everything We Know About Gabby & Rachel's Joint Bachelorette Season
We're getting double the leads — and probably double the drama.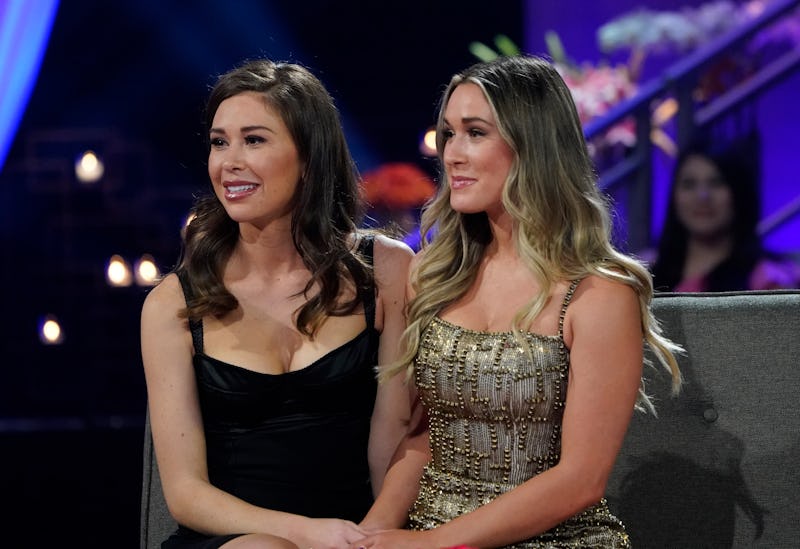 ABC/Craig Sjodin
Jesse Palmer and, well, the entirety of Bachelor Nation told us that Clayton Echard's Bachelor season would end in never-before-seen fashion — and after a very dramatic two-night finale, it's safe to say that Clayton's season will indeed go down in history.
Given that there'd been nine months of back-to-back Bachelor content by the time Clayton's season ended, you may be relieved to have your Monday nights back recently. But if you're already looking forward to more mess and roses, you're in luck: both Gabby Windey and Rachel Recchia were announced as the next Bachelorettes during March 15's After the Final Rose special. Choosing the next Bachelorette "was the hardest [decision] we've ever had to make," Palmer explained — so the show simply asked, why not both? Palmer cited the women's close bond during the chaos of Iceland as the reasoning for the choice. "At the end of the day, watching you both support each other in Iceland, and also how you have tonight, that was really the big reason why we decided to give you both a shot. You truly are deserving of this."
Though Palmer admitted he had "no idea" how the season will work (are they both going to date the same men??), here's everything we do know so far about Gabby and Rachel's joint Bachelorette season.
When Will Gabby & Rachel's Bachelorette Season Premiere?
Following the announcement, Robert Mills, the executive vice president of ABC's unscripted content, tweeted that the network is "giving Bachelor Nation a break" and that The Bachelorette will premiere on July 11.
When Did Gabby & Rachel's Bachelorette Season Film?
With the exception of Clare Crawley and Tayshia Adams (whose shared season was pushed to fall due to the coronavirus pandemic) and Michelle Young (who, according to Reality Steve, postponed filming so she didn't miss out on the school year), The Bachelorette usually films in early spring. Per Reality Steve, filming for the next season of The Bachelorette reportedly began in mid-March.
Where Did Gabby & Rachel's Bachelorette Season Film?
Clayton's season marked a return both to The Bachelor mansion and to international travel for the first time since lockdown started — and it looks like the tradition will continue with Gabby and Rachel's season. Reality Steve reported that filming took place at the mansion, and that the first international location would be somewhere in Europe.
Who Will Host Gabby & Rachel's Bachelorette Season?
Jesse confirmed during After the Final Rose that he would return as host.
Gabby & Rachel's Bachelorette Contestants
On March 25, Reality Steve came through with a spoiler, suggesting Connor Brennan from Katie Thurston's season will compete against Gabby and Rachel's contestants. However, Connor replied, "News to me lmao."
Indeed, it doesn't look like Connor is part of the official lineup — but we do know who will be. On June 7, ABC revealed the full list of Gabby and Rachel's Bachelorette contestants. Ahead, meet the 32 men for yourself.
Alec
Age: 27
Hometown: Houston, TX
Occupation: Wedding photographer
Aven
Age: 29
Hometown: San Diego, CA
Occupation: Sales executive
Brandan
Age: 23
Hometown: Carlsbad, CA
Occupation: Bartender
Chris
Age: 30
Hometown: Redondo Beach, CA
Occupation: Mentality coach
Colin
Age: 36
Hometown: Chicago, IL
Occupation: Sales director
Erich
Age: 29
Hometown: Santa Monica, CA
Occupation: Real estate analyst
Ethan
Age: 27
Hometown: New York, NY
Occupation: Advertising executive
Hayden
Age: 29
Hometown: Tampa, FL
Occupation: Leisure executive
Jacob
Age: 27
Hometown: Scottsdale, AZ
Occupation: Mortgage broker
James
Age: 25
Hometown: Los Angeles, CA
Occupation: Meatball enthusiast
Jason
Age: 30
Hometown: Santa Monica, CA
Occupation: Investment banker
Joey
Age: 24
Hometown: Brookfield, CT
Occupation: Twin
John
Age: 26
Hometown: Nashville, TN
Occupation: English teacher
Johnny
Age: 25
Hometown: Palm Beach Gardens, FL
Occupation: Realtor
Jordan H.
Age: 35
Hometown: Tampa, FL
Occupation: Software developer
Jordan V.
Age: 27
Hometown: Alpharette, GA
Occupation: Drag racer
Justin B.
Age: 32
Hometown: Solana Beach, CA
Occupation: Physical therapist
Justin Y.
Age: 24
Hometown: Brookfield, CT
Occupation: Other twin
Kirk
Age: 29
Hometown: Lubbock, TX
Occupation: College football coach
Logan
Age: 26
Hometown: San Diego, CA
Occupation: Videographer
Mario
Age: 31
Hometown: Naperville, IL
Occupation: Personal trainer
Matt
Age: 25
Hometown: San Diego, CA
Occupation: Shipping executive
Michael
Age: 31
Hometown: Long Beach, CA
Occupation: Pharmaceutical salesman
Nate
Age: 33
Hometown: Chicago, IL
Occupation: Electrical engineer
Quincey
Age: 25
Hometown: Miami, FL
Occupation: Life coach
Roby
Age: 33
Hometown: Los Angeles, CA
Occupation: Magician
Ryan
Age: 35
Hometown: Boston, MA
Occupation: Investment director
Spencer
Age: 27
Hometown: Chicago, IL
Occupation: Venture capitalist
Termayne
Age: 28
Hometown: Naperville, IL
Occupation: Crypto guy
Tino
Age: 28
Hometown: Playa Del Rey, CA
Occupation: General contractor
Tyler
Age: 25
Hometown: Rio Grande, NJ
Occupation: Small business owner
Zach
Age: 25
Hometown: Austin, TX
Occupation: Tech executive
This article was originally published on