Here's When You Can Finally Watch Euphoria Season 2 In The UK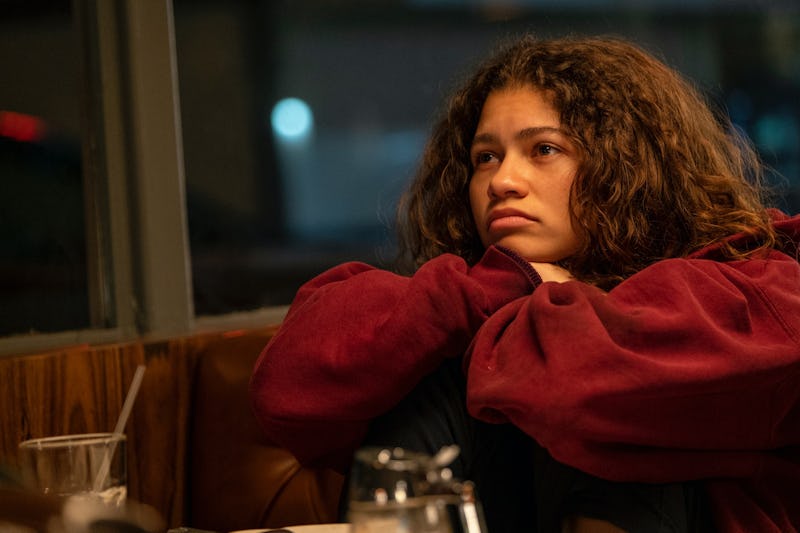 Eddy Chen/HBO
It's been a long wait for Euphoria fans who are eager to learn the fate of Rue — the drama's loveable but flawed protagonist played by Emmy-winning actor Zendaya. As season two of the HBO series was delayed due to the pandemic, the show's creators promised two special bonus episodes to tide us over, the first of which aired in December 2020, and the second bonus episode dropped in January 2021. After over two years' wait, fans can be put out of their misery: season two of Euphoria finally has a release date and a trailer, meaning we have a better idea of how to watch the next instalment of Euphoria in the UK.
The HBO Drama, starring Zendaya and Hunter Schafer, Sydney Sweeney, and Jacob Elordi, finally has a 2022 release date. Euphoria Season 2 will premiere on Jan. 9, 2022, two and a half years after season one. It will be available to stream on HBO in the U.S., and fortunately for UK-based fans it will also be coming to Sky and NOW streaming service from January 9.
The release date announcement came with a brand new trailer for season two, which confirms – finally! – that Rue is not dead. The first-look teaser shows Zendaya's Rue Bennett dancing around her home with a pillow to "Call Me Irresponsible" by Bobby Darin, before the flashing montage of the intense action to come.
"When you're younger, everything feels so permanent," Rue tells the audience in a voiceover. "But as you get older, you begin to realise nothing is… and everyone you love can drift away."
The network's official season two synopsis reads: "Amidst the intertwining lives in the town of East Highland, 17-year-old Rue must find hope while balancing the pressures of love, loss, and addiction."
"It's definitely challenging, it's a challenging season," Zendaya told Teen Vogue in July. "It's gonna be hard and it's gonna be devastating sometimes, but I think Rue really deserves all of that care when it comes to her character, because I think she represents a lot for so many people. And I hope to make those people proud with our depictions of Rue [and] where all the characters go."
Along with the brilliant cast reprising their roles for season two, the official Euphoria Season 2 casting website revealed four new characters who will appear in the new series, but fans will have to wait until January to see their fate and how they fit into the deep storyline. Don't get your hopes up for a happy ending, however. "I think this season's not going to be easy, though," Zendaya added. "It's not going to be a fun watch, I don't think."
Euphoria season 2 will premiere on January 9, 2022, on HBO in the U.S., Sky, and NOW in the UK.
This article was originally published on