5 Times Zendaya Was The Belle Of The Met Ball
From her Cinderella gown to her armor dress.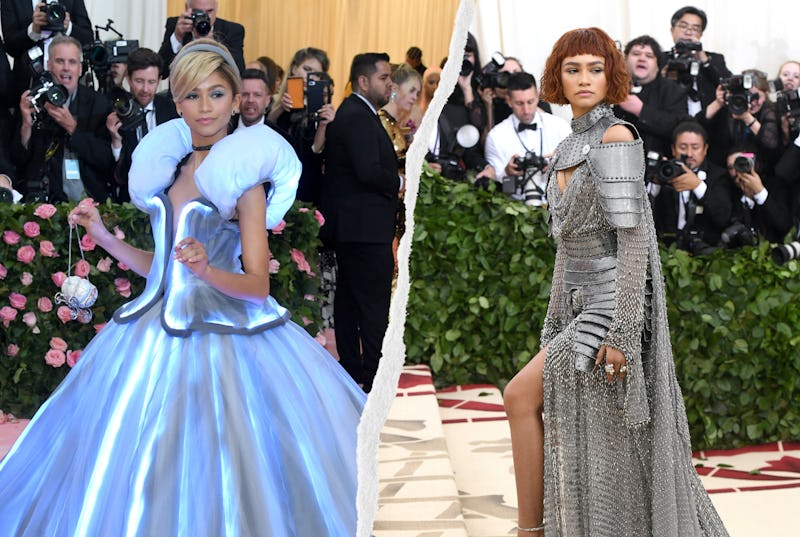 Getty Images
As we look back over Met Galas through the years, a handful of stars come to mind as queens of the Best Dressed list. Among Rihanna, Kim Kardashian, and more, Zendaya is, without a doubt, at the top of the list.
The Euphoria and Spiderman star has only been attending the Met Gala since 2015, but even in that short time span, she has had one of the best style transformations to date. From that first ball until today, Zenday's is the most beautiful evolution to follow.
She interprets the Met Gala themes in fascinating ways. She brought the 'camp' concept to life with her very-own Cinderella gown by Tommy Hilfiger that lit up at the wave of a magic wand held by her celebrated stylist Law Roach. For the 2018 Met Gala's Catholicism theme, she wore a chainmail gown from Versace that channeled Joan of Arc.
Taking place on May 1, this year's Karl Lagerfeld-themed event titled "Karl Lagerfeld: A Line of Beauty" will hopefully mark Zendaya as an attendee. Fans have been waiting for the star to make a comeback on the Met steps, especially since she missed the past two years due to schedule conflicts.
This will be an exciting outing, too, as it marks Zendaya's first Met Gala without her longtime stylist. Roach, who recently announced his retirement, previously told Bustle, "I'll be watching for sure."
While we wait, let's reflect on her best looks so far.
This article was originally published on