Jaren Lewison Talks Ben & Devi's Future After Never Have I Ever
Plus, what *those* final words might mean.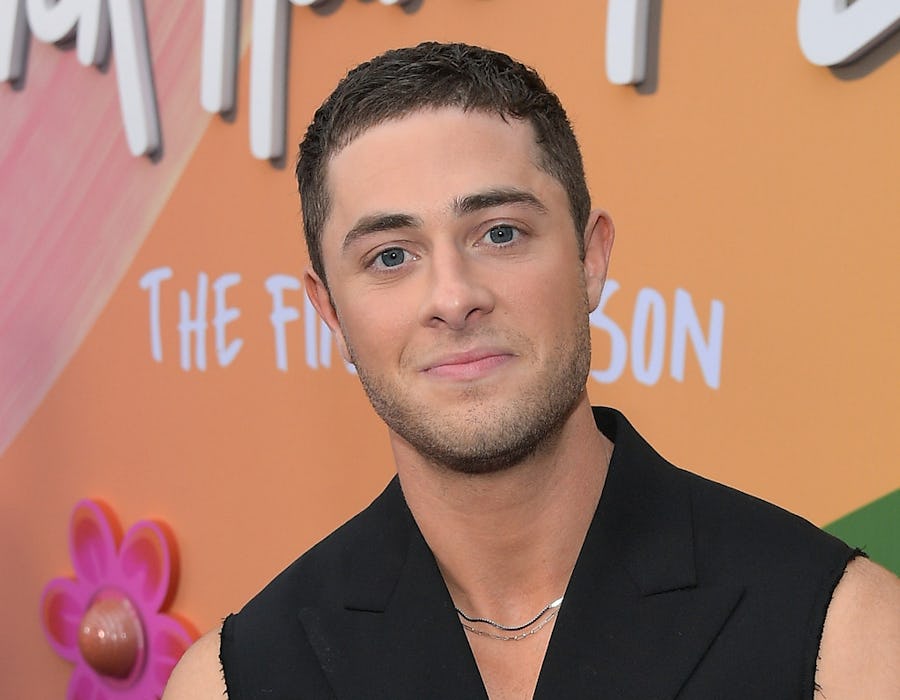 Netflix
Jaren Lewison had one small request while filming Never Have I Ever's final season: Could he take off work for college graduation? The Netflix show happily obliged, and the 22 year old, now a proud University of Southern California alum, participated in the ceremony. That isn't to say he has it all figured out, though. "I went through a bit of a crisis where I was like... what the heck do I do now?" Lewison tells Bustle of saying goodbye to school — and to his breakthrough role. "Like, how am I supposed to be an adult? How am I supposed to go attack the world?"
It's fitting that Lewison's real-life coming-of-age coincided with filming Season 4 because his character, Ben, was going through it with Devi (Maitreyi Ramakrishnan): navigating college admissions and their feelings for each other, which were complicated by an awkward Season 3 hookup.
Major spoilers for Season 4 ahead. But by the show's final moments, they are finally together and enjoying a long-distance relationship from their respective schools, Columbia and Princeton. If this had been a seasons-long master plan, Lewison hadn't known about it. "I found out in the scripts," he says of their endgame match. "We were shooting Episode 408 at the time, and I was just like, Oh my God."
Over the show's four seasons, the Never Have I Ever love triangle between Devi, Ben, and Paxton (Darren Barnet) has stirred up the type of fervor reserved for classic teen series like Gilmore Girls or Gossip Girl. And while there's definitely evidence to support any pairing on the love triangle (including Ramakrishnan's own preference: Team Devi), the fact that the show arrived at a conclusion at all is a big deal.
"I know that a lot of the Team Paxton fans will probably be upset," Lewison says. "But hopefully, they'll be able to recognize that [Ben and Devi's relationship] does make some sense."
Below, Lewison shares his rom-com inspirations, teases an alternate ending fans didn't see, and predicts the couple's future.
Looking back on the series, were there any signs that Devi and Ben would end up together?
There's such a large breadcrumb trail for their relationship. Devi and Ben have this magnetism to them. They're always drawn to each other, both in times of strife and great triumph. When Devi gets into Princeton finally, who is the first person that she wants to get a big bear hug from? Ben. Who is the first person Ben runs into when he's freaking out about his shirt? Devi.
Ben has several romantic hero moments in Season 4, especially his love confession at the end. Were there specific rom-coms or characters you took inspiration from?
[Co-creators Mindy Kaling and Lang Fisher] are both rom-com queens. Sixteen Candles is one of Lang's favorite movies, [and] moments throughout that film were inspiration for our show, even the cinematography. For me, When Harry Met Sally is one of my favorite films. Ben is very similar to Harry, played by Billy Crystal so wonderfully.
And Billy Crystal comes up a few times in the series!
I totally forgot about that! That's too bad I never got to meet him — I really want to. His character [in When Harry Met Sally] starts off so obnoxious and rude. He's very quick-witted. [Harry and Sally] have great banter and are also enemies to lovers. That trajectory makes a lot of sense for [Devi and Ben].
Is there anything in this final season that didn't make the cut?
The ending that was [originally] in Episode 10 was not the ending that made the cut. I wish I could tell you, but I don't think I can. But that ending was different.
Interesting! How do you feel about the ending?
I do think that the ending [that made the cut] is interesting. When I first watched it, I didn't know about the "for now" [line] from John McEnroe. Maybe that leaves the door open in 10 or 15 years for a film — if Mindy and Lang sign on — so we can see where Devi and Ben have ended up. That's always a possibility, but obviously, no plans for that now.
The show ends in a really sweet place for Devi and Ben. How do you imagine college will play out for them?
The optimistic part of my brain is like, they're going to work on themselves. They're going to meet really amazing people at their respective schools who challenge them and impact their perspectives and worldly thinking. Hopefully, they grow together and push each other.
The other part of me is like, they're young. They're still figuring themselves out. The person I was at 18 and the person that I am now at 22 are vastly different. I also think there's a possibility of Ben and Devi breaking up and then finding each other down the road. I'll go with: I trust the writers, and if we end up doing that film in 10 or 15 years, that's what happens.
This interview has been edited and condensed for clarity.