Everything To Know About Katie & Ariana's Sandwich Shop In Vanderpump Rules
The duo hasn't setting an opening date for their new eatery, but there is merch you can buy.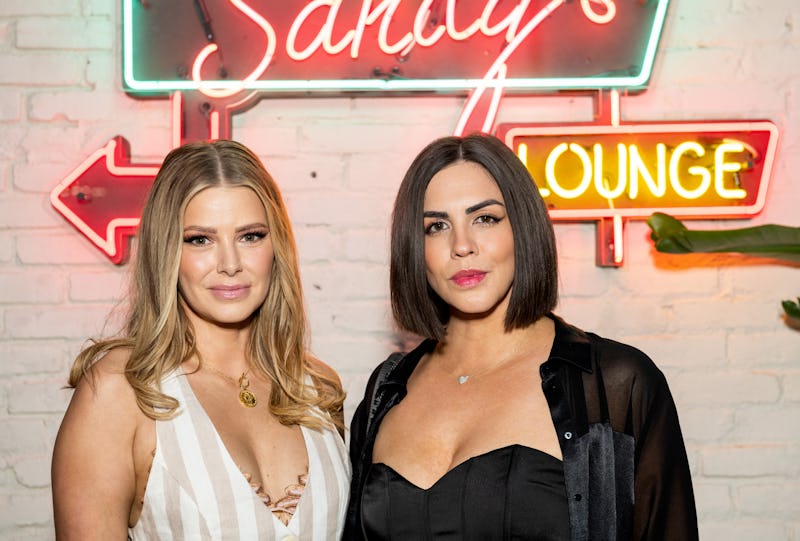 Amanda Edwards/Getty Images Entertainment/Getty Images
After breaking up with Tom Sandoval because of #Scandoval, Ariana Madix is about to get some sweet revenge — in the form of a new business that will give viewers an alternative to Sandoval's newest restaurant Schwartz & Sandy's. The former SURver is teaming up with Vanderpump Rules co-star Katie Maloney, who divorced Schwartz & Sandy's co-owner Tom Schwartz last year, for their own eatery: an unapologetically feminine sandwich shop.
Katie actually coined the idea to open a sandwich shop with Schwartz when they were married, but when he became too preoccupied with developing Schwartz & Sandy's to make it a priority, Ariana happily volunteered to step in as her new business partner. As Katie explained, the restaurant world is "in my blood," making that her ideal first business venture. "My mom ran a restaurant in Utah the whole time I was growing up," she said on the Feb. 10 episode of Vanderpump Rules Season 10. "So I knew when I wanted to open a business, it had to be food, but I didn't want to do a bar or a big fancy sit-down restaurant. So a sandwich shop that also served drinks was the best of both worlds."
Ever since then, Ariana and Katie have been making slow but steady progress on their vision, seeing multiple spaces on the current season of Pump Rules but also facing setbacks, like losing their co-star Lala Kent's ex-fiancé Randall Emmett as a potential investor. "Since almost a year ago, Katie and I came up with this idea to open a sandwich shop together," Ariana added on the Feb. 10 episode. "What I've learned the most about watching Tom and Tom go through this process of trying to open Schwartz & Sandy's is not to just jump into it without having everything laid out and prepared ahead of time. Another thing I've learned is don't use your own money."
Here's everything you need to know about Katie and Ariana's upcoming sandwich shop.
What Is Katie & Ariana's Sandwich Shop Called?
Ariana and Katie's sandwich shop will be called Something About Her, a name that they have stuck to since the beginning. In fact, the pair is already selling merch with the restaurant's name on it.
Is Katie & Ariana's Sandwich Shop Open?
Something About Her is not yet open to the public, but progress is being made toward a grand opening. Construction has officially begun on the space, with a small "coming soon" sign being placed in front of the planned shop. An exact opening date has not been set, with the restaurant's Instagram bio only promising that it's "coming 2023," but it's safe to assume that their journey to open the eatery will be shown on the next season of Vanderpump Rules.
Where Is Katie & Ariana's Sandwich Shop?
On the March 29 episode, Lisa Vanderpump informed Katie and Ariana that their bid on a space in West Hollywood had been accepted. Something About Her will be located on North Robertson Blvd, just steps away from SUR, the restaurant where every Vanderpump Rules cast member got their start. It will also be walking distance to Vanderpump's other West Hollywood hotspots PUMP and TomTom, which is co-owned by Katie and Ariana's exes Schwartz and Sandoval (albeit they only have a five percent stake in the restaurant). Just call this area Vanderpump Corner from now on.
Is Lisa Vanderpump Involved In Katie & Ariana's Sandwich Shop?
Vanderpump let Katie and Ariana know that a new space near SUR had become available, complete with a usable kitchen and outdoor patio, and she got her realtors to help them rent the property. She's also acted as a mentor to the duo, giving entrepreneurial advice when needed. But beyond that, like with Schwartz & Sandy's, Vanderpump is not financially involved with Something About Her, opting not to invest to give her former employees full control of their own business. "I was never planning on it," she said on the March 8 episode of Watch What Happens Live. "I don't want to be in business with every single person who works for me, but I'm there to support them."