Ke Huy Quan's 2023 Oscars Speech Had The Entire Audience Sobbing
"Mom, I just won an Oscar!"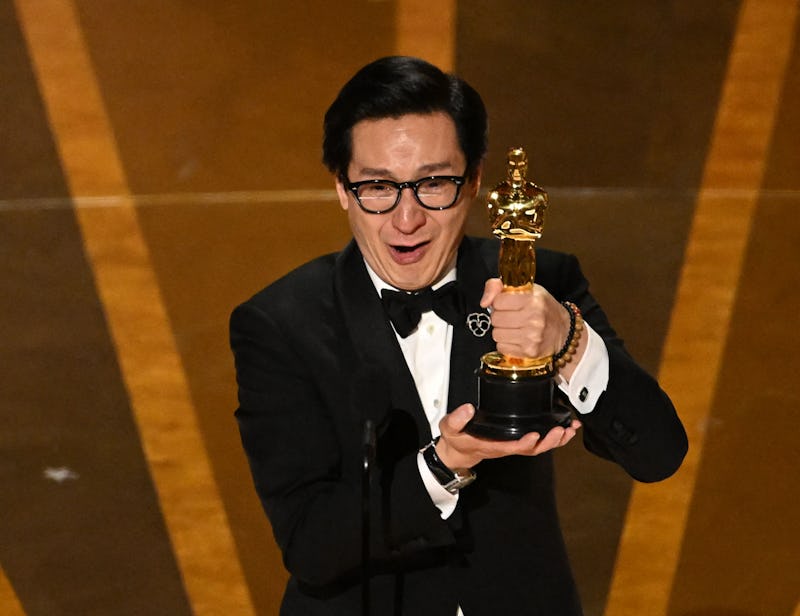 PATRICK T. FALLON/AFP/Getty Images
For his acclaimed, fan-favorite role as Waymond Wang in Everything Everywhere All at Once, Ke Huy Quan won Best Supporting Actor at the 2023 Oscars March 12 — and his acceptance speech prompted tears from the audience and presenters alike. "My mom is 84 years old, and she's at home watching," he began his emotional speech. "Mom, I just won an Oscar!"
Ariana DeBose, who presented the award along with Troy Kotsur, was already in tears reading Quan's name — and that was just the beginning. Quan was greeted with a standing ovation, and the camera panned to several emotional well-wishers, from Quan's Everything Everywhere All at Once co-stars to Steven Spielberg, who directed Quan's first movie ever, Indiana Jones and the Temple of Doom, back in 1984.
"My journey started on a boat," Quan continued. "I spent a year in a refugee camp. And somehow, I ended up here on Hollywood's biggest stage. They say stories like this only happen in the movies. I cannot believe it's happening to me. This is the American dream."
In addition to thanking his mom "for the sacrifices she made to get me here," Quan went on to express his gratitude to several people, including his brother David and his Goonies co-star Jeff Cohen, whom he also dubbed a "brother for life."
"I owe everything to the love of my life," Quan continued. "My wife, Echo, who, month after month, year after year, for 20 years, told me that one day my time would come."
Quan admitted that he hadn't always had the same faith in himself. "Dreams are something you have to believe in. I almost gave up on mine," he said. "To all of you out there, please keep your dreams alive. Thank you so much for welcoming me back. I love you."
Quan's role in Everything Everywhere All at Once (and a smaller part in 2021's Finding 'Ohana) marked his return to acting after nearly two decades. As he told People, he stepped away due to a dearth of roles. "It was tough," he said. "I was waiting for the phone to ring, and it rarely did."
However, Quan's passion was reignited when he saw Crazy Rich Asians in 2018. "I was happy working behind the camera but I had serious FOMO," he explained. "I wanted to be up there with my fellow Asian actors!"
Since his critically acclaimed turn as Waymond, Quan has been cast in several buzzy projects — including Loki Season 2 and The Electric State, a sci-fi adventure film from Anthony and Joe Russo.