Hailey Bieber Defends Kendall Jenner Against Photoshop Backlash For Bikini Photo
People have been accusing the model of photoshopping her hand to look longer and thinner.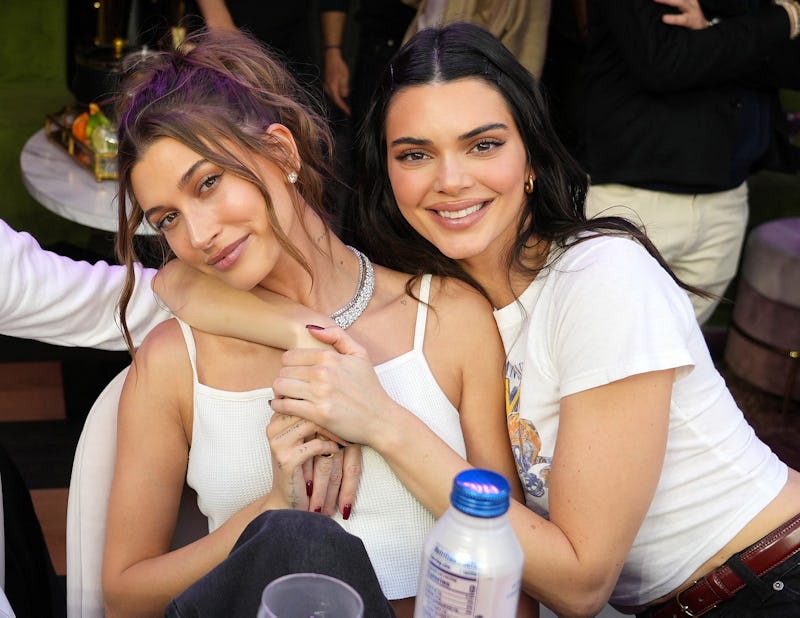 Kevin Mazur/Getty Images Entertainment
Another Kardashian-Jenner family photoshop scandal is making waves online. Kendall Jenner's followers accused her of photoshopping her hand in an Instagram post on Feb. 12 after she posted a slideshow from a 31-hour vacation. They claimed her hand and fingers looked longer and thinner in fourth slide where she's seen squatting in a swimsuit, speculating that she altered the photo, given how blurry said hand appeared. A few days later, the model's close friend Hailey Bieber decided to help her respond to the claims on her Instagram Story, sharing a video of Jenner's hand to prove that there was no photoshop involved.
In the caption of her video, Bieber quipped that Jenner "been had long ass fingers and hands" and decided to film her friend stretching out her hand to prove it. "We're sitting here analyzing … look how bizarre her hand looks normally," she said in the video, as Jenner holds out the hand in question. "This is live. Live footage of the hand." The Kardashians star acknowledged that "it's crazy," essentially denying that she photoshopped her hand and the picture was all natural.
The Kardashian-Jenner clan is no stranger to photoshop accusations, from family Christmas cards to missing belly buttons. While this instance appears to be just the result of Jenner's angle in the photo, other members of the family have confessed to altering Instagram posts in the past. In April 2022, Kim Kardashian admitted to photoshopping her niece True Thompson into photos with her daughter Chicago West at Disneyland, after a viral TikTok video exposed the blunder and Khloé Kardashian accidentally admitted to taking True to Disneyland for the first time.
On her Instagram Story, Kardashian explained that Kylie Jenner's daughter Stormi was actually at Disneyland with them, but Kylie did not want photos of Stormi being posted online at the time. But Chicago's pink outfit lined up with her Instagram feed perfectly and she wanted those pictures on there no matter the cost. "You know how much a good aesthetic means to my soul, and I will be damned if Kylie will ruin that for me and mess up my IG grid," she wrote. "I didn't think it would be that big of a deal if her own mom questioned if I snuck her to a Disneyland for the first time."