Here's What's Really Going On With Khloé Kardashian & Tristan Thompson
Are they together? Not together? Let's investigate.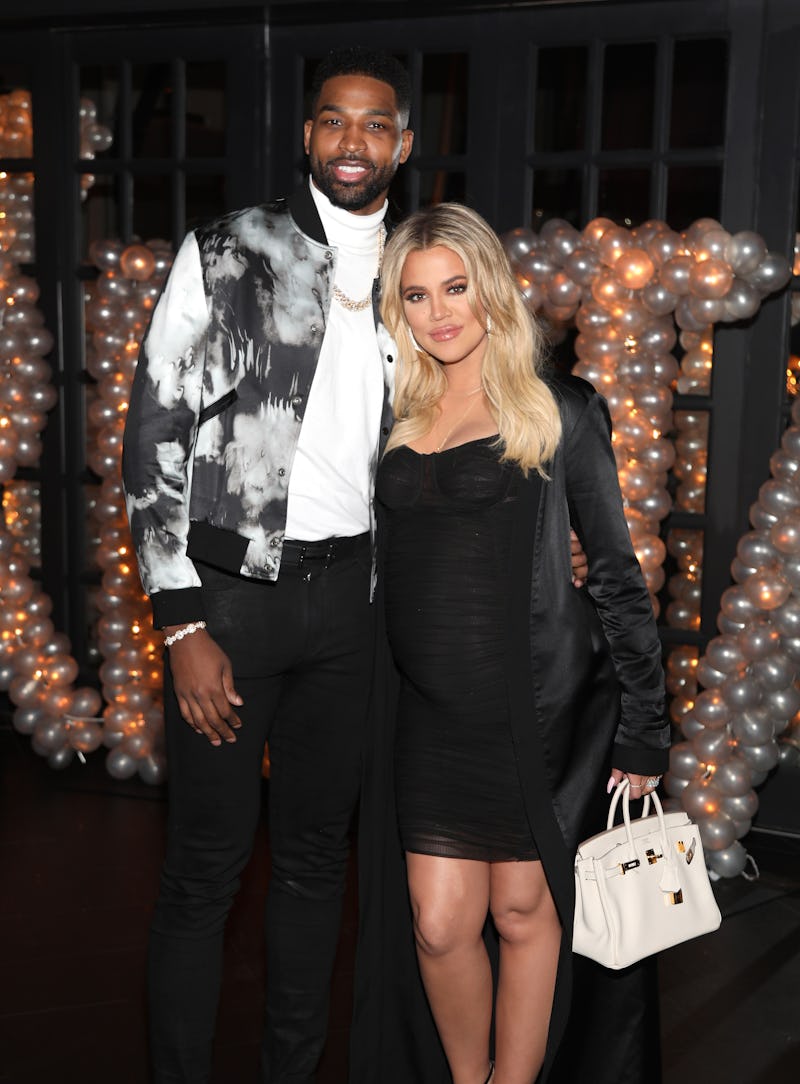 Jerritt Clark/Getty Images Entertainment/Getty Images
There have been a lot of ups and downs in Khloé Kardashian and Tristan Thompson's relationship. So it's understandable that in Keeping Up with the Kardashians Season 20, she's hesitating to rekindle things with the man who cheated on her twice. But Season 20 was filmed months ago, and in real time Khloé and Tristan seem back together and better than ever.
The two reportedly began strengthening their relationship during the pandemic because they were isolating together. "The lockdown made them closer," a source claimed to People magazine. "They hadn't spent this much time together since they lived in Cleveland. They have had an amazing spring with [their daughter] True in L.A." Last season, fans saw the two kiss in a KUWTK episode which was filmed early in the pandemic. Tristan even apologized for his behavior in the season finale, and Khloé admitted that she would like to see a "fairy tale ending" with him.
Currently, though, Khloé isn't quite ready to share her relationship status. She even deleted a comment Scott Disick left on one of her photos calling Tristan "a lucky man." In a clip for the March 25 episode, Khloé says, "Me and Tristan are figuring things out, but I'm still trying to navigate my way through my feelings and that's how I want to keep it." She added that listening to outside noise from the media and fans was clouding her ability to make her own decision about whether or not to take him back.
"I'm not even able to make up my own mind because I'm so flooded with everyone else's opinions or criticisms," she said. Still, she added that she does really like being around Tristan, and the two spoke in the trailer about having a second baby together. "Tristan and I operate fine. We have fun together. It's enjoyable; it's easy," Khloé explained.
Over the past few months, the two have continued to grow closer. At the end of January, Tristan welcomed Khloé back from a trip with balloons, flowers, and a giant "welcome home" sign. "Thank you TT," Khloé captioned photos of the surprise. And on March 13, she posted a loving caption on Instagram for Tristan's birthday.
"The ones that are meant to be are the ones who go through everything that is designed to tear them apart and they come out even stronger than they were before. Thank you for showing me everything you said you would. For the father you are. For the best friend I have in you," she wrote. "I'm thankful that I can do absolutely nothing with you and it feels like everything. I hope you know today and everyday how love you are by me and so many."
In recent weeks, the two have even sparked engagement rumors after Khloé was pictured with a huge diamond on her ring finger. Page Six reported that it's not an engagement ring, but we'll see.
We'll see how things unfold in the rest of the season. But for now, Khloé seems really happy to have Tristan in her life and eager to experience "all of the memories" they'll make together.