Lady Gaga Reacts To Selena Gomez Wishing She Was "As Pretty As Bella Hadid"
Mother Monster says love yourself.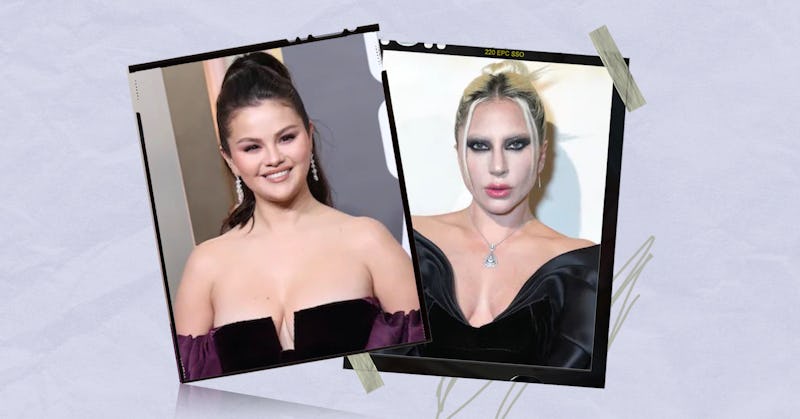 Kevin Mazur/Daniele Venturelli/WireImage/Getty Images
Selena Gomez compared herself to another beauty on TikTok, and Mother Monster wasn't having it. On Feb. 21, Lady Gaga reacted to the Only Murders in the Building star stating how she wished she was as "pretty" as model Bella Hadid, with whom she has some fraught history.
In a since-deleted TikTok, Gomez lip-synced the viral sound of the model saying, "So my name — my name is Bella Hadid," while trying out a Hadid-inspired filter. "I wish I was as pretty as Bella Hadid," she captioned the video. She later shared a second video, removing the filter and showing what she had done to her eyebrows. "Instead, this is me. I accidentally laminated my brows too much," she said. "My name is Selena Gomez. See! It doesn't even sound sexy."
Lady did not stand for this self-criticism. As seen in comments captured by PopCrave, the 13-time Grammy winner responded to Gomez's video with support and encouraged self-love. "You look and are beautiful inside and out," she wrote, calling Gomez "one of my favorite ladies alive!" Both TikTok videos has since been deleted, including Gaga's comments.
Some fans on Twitter and in the TikTok comments section used the post to pit Gomez and Hadid against each other in response to the videos, and their prior history didn't help. In 2019, the actor commented on one of Hadid's Instagram posts, calling her "stunning," but when a fan account posted that the model deleted the photo after Gomez's comment, she responded, "That sucks," along with a crying emoji.
Some fans speculated that Hadid had no interest in a friendship because Gomez previously dated her then-boyfriend The Weeknd for a brief time, but Gomez quickly asked fans to stop speculating in a separate Instagram comment. "NO. I shouldn't of spoken without knowing the truth," she told a fan. "I'm sorry. Please don't be hurtful. She is a wonderful person and it was all a misunderstanding."
Pitting herself against Hadid was not Gomez's intention. As pointed out by BuzzFeed, she also posted an image of Hadid onto her Instagram story with the hashtag "#girlcrush," which has since expired. Hadid has yet to respond to any of the posts.