Prince Harry & Meghan Share A Rare Photo Of Lilibet To Mark Her 1st Birthday
"Joy and face painting all around ❤️🎂🎉"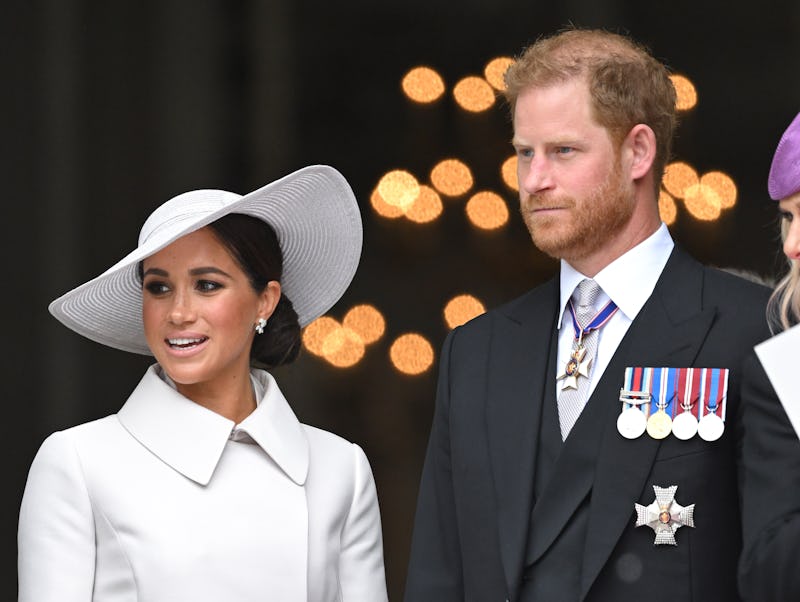 Karwai Tang/WireImage/Getty Images
On June 6, Meghan Markle and Prince Harry capped off celebrating their daughter Lilibet's first birthday by sharing a rare photo of the grinning 1 year old. Misan Harriman, a close friend of the family, snapped the photo while attending the picnic birthday party at Frogmore Cottage for Lilibet, who turned one on June 4. Some of Lilibet's royal family members, including Prince William and Kate Middleton, were unable to attend due to scheduling conflicts related to the Queen Elizabeth's Platinum Jubilee. Many royals wished Lilibet a happy birthday on social media.
The picture features only Lilibet, sometimes referred to simply as "Lili" (full name Lilibet Diana Mountbatten-Windsor), smiling and looking off into the distance. She's wearing a light blue dress and a headband with a white flower on her head. The second photo Harriman's Instagram slideshow shows Markle holding Lili alongside other young royals and friends.
A spokesperson for the Duke and Duchess of Sussex called the snap "candid" and "spontaneous," according to a statement shared with People. Harriman captioned his Instagram photos, which he shared with the family's permission, "It was such a privilege to celebrate the 1st birthday of Lilibet with my family and hers! Joy and face painting all around."
The birthday event took place at Frogmore Cottage, where the Duke and Duchess relocated to in 2019 before eventually relocating to the United States permanently in July 2020. The soiree was reportedly very "casual," and according to The Sun,"It was a nice opportunity for the other royal children to meet Lilibet for the first time."
Lilibet is named for Queen Elizabeth, Harry's grandmother. She shares a middle name with Harry and William's mother, the late Princess Diana. Lili and the Queen finally got to meet for the first time on June 2 ahead of the Jubilee. She is the youngest of two children Prince Harry and Markle have welcomed. Their first child, Archie Mountbatten-Windsor, was born in May 2019, and he just recently turned 3.