Lizzo Debuts Her Madame Tussauds Wax Figure In The Best Way
"Single-handedly one of the most terrifyingly meta moments of my life."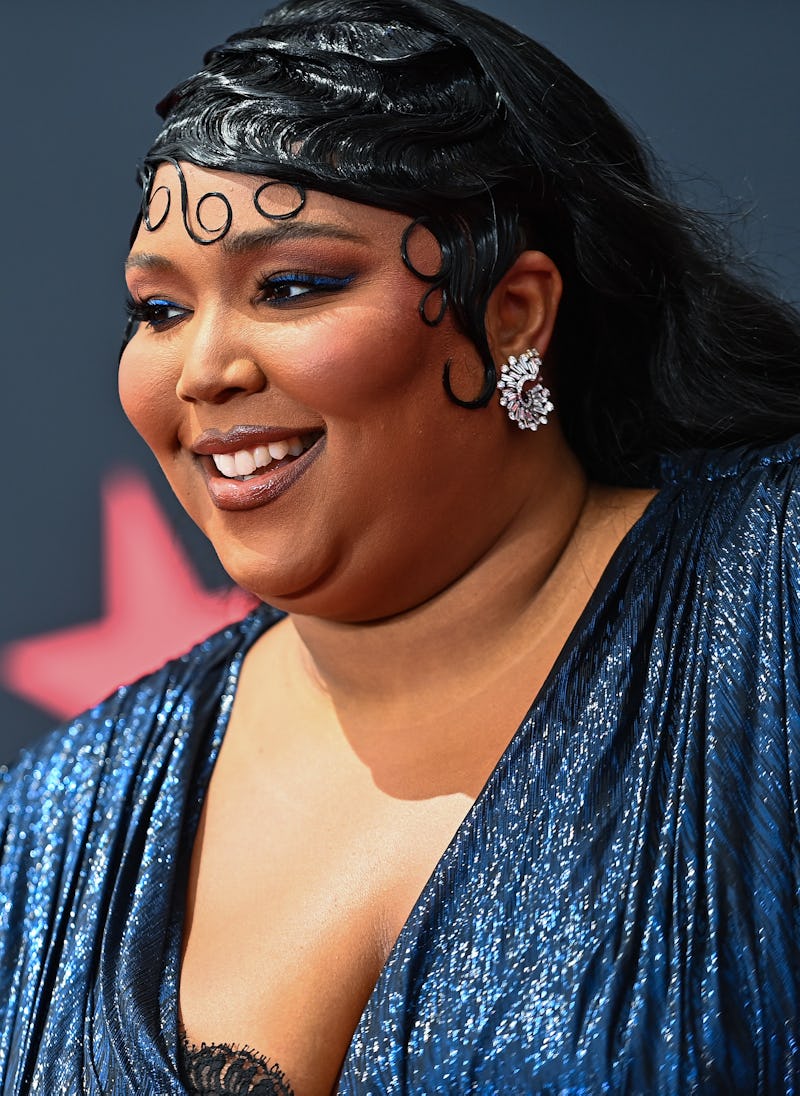 Paras Griffin/Getty Images Entertainment/Getty Images
What's better than one Lizzo? Two. Even if the second is a "dupe." The "Truth Hurts" singer finally has her own Madame Tussauds wax figure and it's about damn time.
Lizzo unveiled a first look of her dopplegänger on her social media on Jan. 31. Calling the experience "meta," she tweeted, "Single-handedly one of the most terrifyingly meta moments of my life. Thank you @MadameTussauds - now I know what a twosome with Lizzo is like." In the post's accompanying video, she pretends to kiss her wax counterpart before getting freaked out by her likeness.
The statue's look was inspired by one of Lizzo's Old Hollywood red carpet outfits — the white strapless Atelier Versace gown she wore to the 2020 Grammys, styled by Marko Monroe. Just like the original, the wax figure's dress was also encrusted with crystals and paired with the same jewelry and nail art from that night. That night wasn't just big for Lizzo fashion-wise; she also bagged three Grammys for Best Urban Contemporary Album, Best Pop Solo Performance, and Best Traditional R&B Performance.
"Lizzo is an insanely talented and beloved pop culture icon," Madame Tussauds Las Vegas said in a statement per ET Canada. "We love everything that Lizzo represents and we're so excited for guests to have an interactive experience that celebrates self-love, acceptance and positivity."
The Yitty founder also posted a series of TikToks featuring her wax figure. In the first, she wrote, "Introducing... WAXXO." In the clip, Lizzo posed beside the wax figure and used the trending sound, "This. And this. They're the same thing. Dupes! Dupes!"
In the second clip, Lizzo used Ice Cube's iconic line from 21 Jump Street with Jonah Hill and Channing Tatum: "We jump street. And we about to jump in your a**." It appears as though she responded to a follower's comment in her caption, "Replying to @jaijackso what would u do with 2 lizzos?"
But she wasn't done. In another TikTok, she zoomed in on Lizzo 2.0's face and wrote, "THATS NOT HOW SHE LOOK FR," "SHE USE FACETUNE," and "CATFISH," likely in a response to trolls. (Lizzo has had a history of critics trolling her online.)
She captioned the TikTok, "YALL THOUGHT IT WAS A PICTURE HUH?! GOTCHU AGAIN SUCKAS AAAAAAAHAHAHAHAHA."
Her fans couldn't help but drop name suggestions for her dupe in the comments section. "Lizzo and Elizabeth," one user wrote. Another said, "Lizzo and lizzie supremacy."
But one nickname stood out to the "2 Be Loved" singer that she even replied "Congratulations" to the commenter: "Lizzo and lisso."