Twitter Thinks Ben Affleck Needs A Dunkin' Coffee At The 2023 Grammys
"someone get ben affleck a cigarette and a dunkin coffee stat"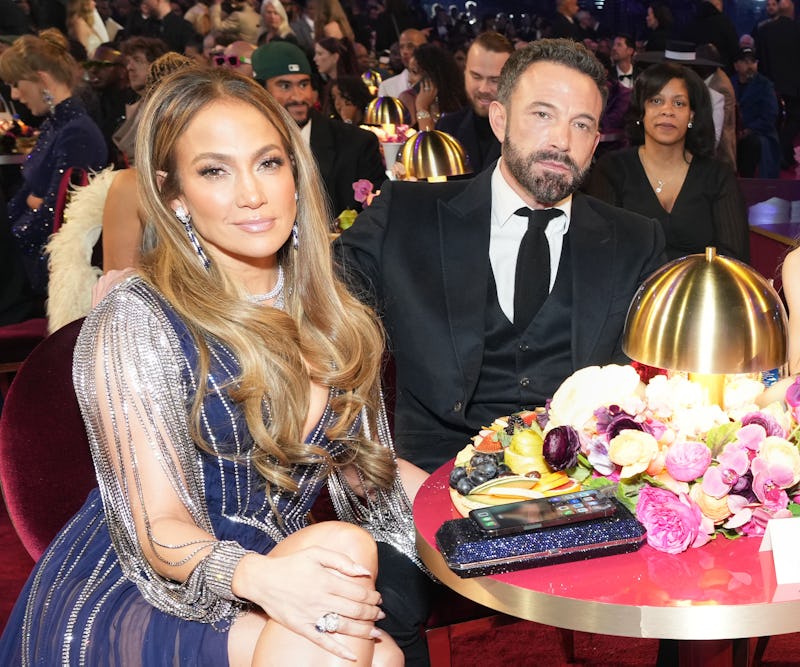 Kevin Mazur/Getty Images Entertainment/Getty Images
Barely an hour into the 65th Grammy Awards on Feb. 5, and Ben Affleck already looked... bored. Seated beside his wife, Jennifer Lopez, who presented an award early during the ceremony, Affleck looked like he would rather be somewhere else, eagle-eyed Twitter users noticed.
The 2023 Grammy Awards already saw exciting performers early in the night: Lizzo, Brandi Carlile, and Harry Styles. Even Taylor Swift was spotted enjoying Styles' "As It Was" performance. But when the Grammy cameras panned to Affleck, he seemed unimpressed. The Gone Girl star is definitely used to the awards circuit, having won his fair share of Oscars, Golden Globes, and SAGs. But, the Grammys are new territory for the actor. And even with J. Lo fully dancing beside him, he's just standing. Or nodding.
Of course, Twitter had a field day with Affleck's glazed look. One user wrote, "Ben Affleck looks like me when I was 6 years old at the mall with my mom and we were about to leave but suddenly she says, 'one more store.'"
Some pointed out that he doesn't just look bored, he looks miserable. "Ben Affleck always looks like he JUST dropped an ice cream cone," one user wrote.
Twitter surmised where his seeming misery could be stemming from. One user guessed that it's because marrying Lopez means a lifetime of musical events. "Every time the camera pans to Ben Affleck it looks like he's just realized he has to go to music awards shows too now, not just all the actor ones," one wrote.
Others pointed out that the Oscar winner, who's usually photographed with cigarettes and a Dunkin' Donuts coffee in hand, is likely just missing his usual. User @lanikaps wrote, "Someone get ben affleck a cigarette and a dunkin coffee stat."
Meanwhile, some users are petitioning for Affleck to give up his highly coveted seat next time. User @alanilagan wrote, "Next time, Ben Affleck, just give me your ticket. I'll have fun."
Same, Ben. Same.