Mike White & Jennifer Coolidge Did A Super Bowl Commercial After The White Lotus
Did you catch the sneaky reference to Tanya's fate?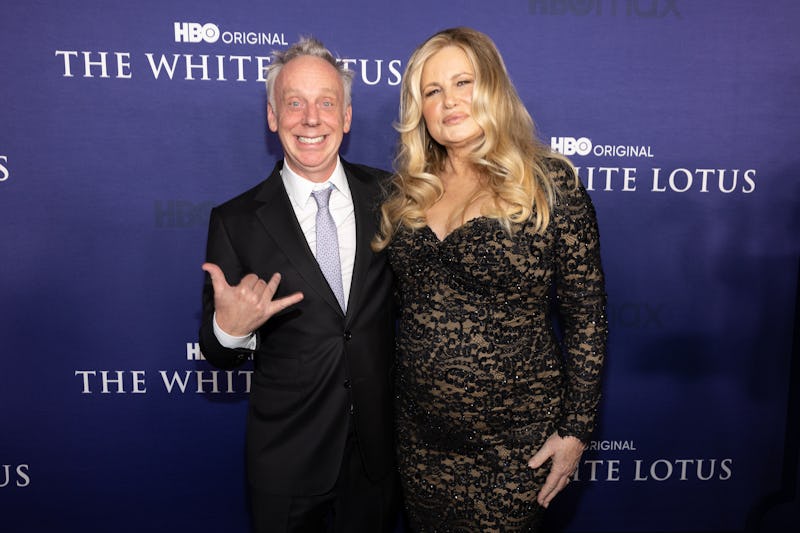 Christopher Polk/Variety/Getty Images
Ever since the game-changing second season finale this December, fans have been eagerly anticipating The White Lotus Season 3 — and there's reason to be excited! The next installment is officially happening, and creator Mike White has teased that he'd like to take the resort drama to Asia. "The first season kind of highlighted money, and then the second season is sex, and I think the third season, it would be, maybe, a kind of satirical and funny look at death, and Eastern religion, and spirituality," he said in an HBO featurette, after telling Deadline he was interested in Japan, specifically.
Of course, that international adventure will still take a while to write, cast, and film. White does have another project in the pipeline first, though: an e.l.f. commercial that aired during the Super Bowl on Feb. 12.
White co-wrote the script for the commercial, which happens to be the cosmetic brand's first TV spot ever. And while fans wonder whether Jennifer Coolidge will return to The White Lotus Season 3 (granted, Tanya's fate makes that difficult), they can take comfort in the fact that the recent Golden Globe winner is alive and well in the e.l.f. ad. Here, Coolidge stars as herself and has fun trying the brand's Power Grip Primer for the first time.
After applying the primer, Coolidge compares her skin to that of a baby dolphin and even emulates the sound of one. "It looks like I came from the sea," she says — which may have nothing to do with The White Lotus but also hits uncomfortably close to home when you remember Tanya's, um, dip in the ocean in the season finale.
It's not surprising to see White and Coolidge team up again, even beyond the world of The White Lotus. They're actually longtime friends, too. "You never know how she's going to approach a scene or how wild she's going to go," White told Bustle in 2021. "Sometimes when I'm writing, that kind of person can give me anxiety. But she's pretty unmatched as far as just somebody who can bring a new take on a line or a scene and make it hers." To no one's surprise, that ability extends to dolphin impressions.
Naturally, Twitter was thrilled to see the besties' latest collaboration once it aired in full on Feb. 12.
One user said that "Coolidge making dolphin noises is something I never knew I needed." Same.