50 Best Lyrics From Miley Cyrus' Endless Summer Vacation For Your Instagram Captions
"I'll change my number, but keep your T-shirt."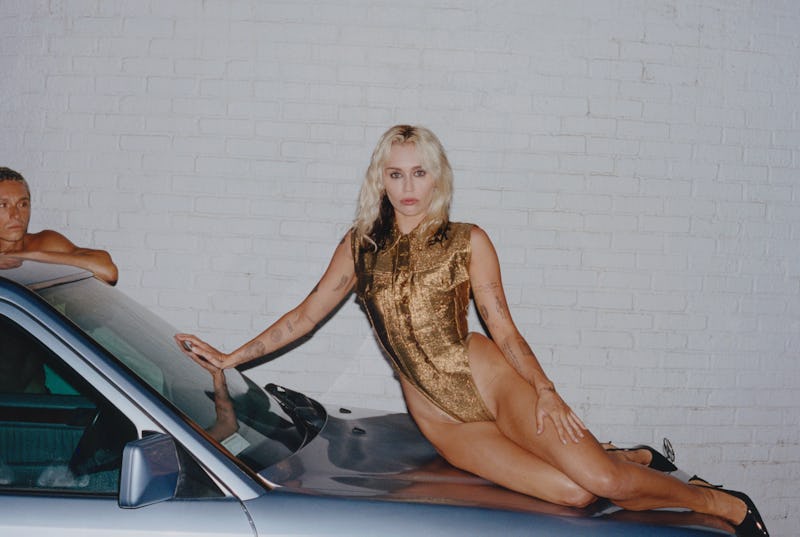 Miley Cyrus / Columbia Records
If you've never used a Miley Cyrus lyric as an Instagram caption when you were younger, you're lying. From Hannah Montana to her Bangerz era to her recent six-week No. 1 hit "Flowers," Cyrus has always said the right words before we even knew we needed to hear them. Her new album Endless Summer Vacation is no exception, as it has tons of relatable stories and cheeky one-liners that you'll want to use on Instagram now, this summer, and beyond.
Cyrus' eighth studio album will inspire everyone to live their best Hot Girl (or Boy) Summer. If you want to give yourself some much-deserved attention, turn to the evergreen lyrics of "Flowers," but if you'll be in a full-blown summer fling, look to "You" for the most romantic lines, or "River" to tease something more steamy. She also has you covered if you're going through a breakup with jams like "Jaded" and "Muddy Feet."
The perfect captions for your summer trips are spread across the album, especially on "Island" ("I've got treasures buried underneath the sand") and "Handstand" ("Take me captive and then sail away"). Endless Summer Vacation is Cyrus at her most laid-back, self-assured, and confident, giving you the attitude to head into summer with — even if it's still snowing wherever you live. These are the 50 lyrics from Endless Summer Vacation that you should use when you've picked out some memories to share online.
"Flowers"
I can buy myself flowers
I can take myself dancing
I can love me better than you can
No remorse, no regret
"Jaded"
Said goodbye forever, but you never unpacked
I could've taken you places
I'll change my number, but keep your T-shirt
"Rose Colored Lenses"
We could stay like this forever, lost in wonderland
Drown me in your daylight
Endless summer vacation, make it last till we die
My baby got looks that kill
Make a mess of a nice hotel
"Thousand Miles"
You think I'm crazy, you might be right
I'm not always right, but still, I ain't got time for what went wrong
I'm holding on like a rolling stone
"You"
I wanna drive down to Texas, flip off my exes
I got some baggage, let's do some damage
I am not made for no horsey and carriage
Let's crash a wedding tonight, get drunk by the lights
"Handstand"
We danced until there was nothing left
You're questioning science 'cause you don't understand
Take me captive and then sail away
"River"
I got a new dress just to meet you downtown
Heart beats so loud that it's drowning me out
Livin' in an April shower
Was a desеrt before I met you, I was in a drought
"Violet Chemistry"
Tonight, we'll just be wrong, ain't done this in so long
We ain't gotta talk, baby, we'll keep the stereo on
Don't deny the violet chemistry
We could paint our names in black on the marquee
Mixing all the colors like we're makin' a Monet
"Muddy Feet"
Get the f*ck out of my life with that sh*t
You smell like perfume that I didn't purchase
I'm about to do some 'bout it
Worthy arrives when the other door closes
"Wildcard"
Do you wanna play house? I could be your wife
Don't forget, baby, I'm a wildcard
Loving you is never enough
Forever may never come
Make the music stop before it starts
"Island"
So close to heaven, but so far from everyone
I've got treasures buried underneath the sand
Left my lighter back at home with all my problems
Am I stranded on an island or have I landed in paradise?
Thе only thing that's missing here is you and our TV
I hear your voice like a song on the radio
"Wonder Woman"
She's a wonder woman, she knows what she likes
She's a million moments, lived a thousand lives
She wants to be thе one that never doеs
She's a won't-stop woman, hours on her hands