Olivia Rodrigo's Relationship With Adam Faze Appears To Be Getting Stronger
She was spotted holding hands with him at the end of August. Will she bring him to the MTV VMAs?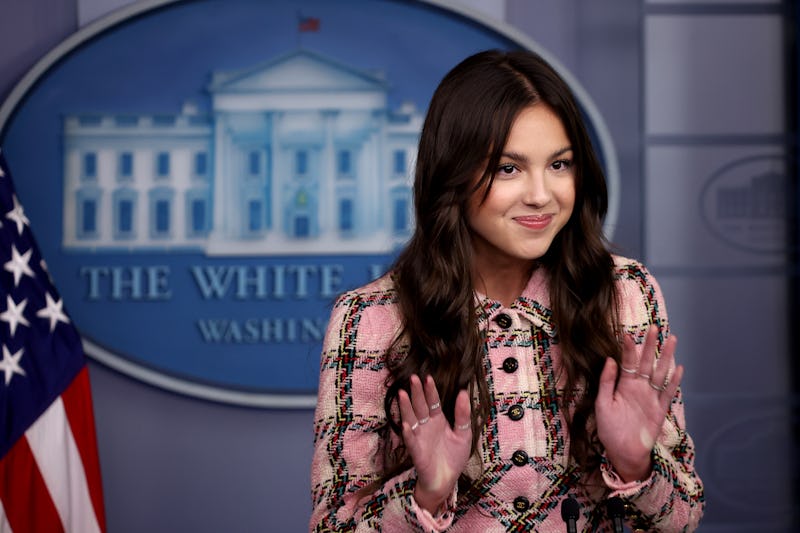 Chip Somodevilla/Getty Images
Anyone who's heard Sour singer Olivia Rodrigo's heartbreaking ballad "drivers license" knows that the 18-year-old has been unlucky in love. The song's lyrics detail a tough breakup and paint a picture of Rodrigo driving past her ex's house after their devastating split. But who is her ex, exactly? As it turns out, the High School Musical: The Musical: The Series star has been in a few different relationships. And although none of them quite worked out, the singer is reportedly happy, healthy, and dating someone new: film producer Adam Faze.
Roughly one month after releasing her debut album Sour, E! News reported on June 30 that Rodrigo was dating Faze and had been for several weeks. The "deja vu" singer reportedly brought the 24-year-old as a guest to the Space Jam 2 premiere at Six Flags Magic Mountain, where she introduced him as her boyfriend. "Olivia was in great spirits celebrating Space Jam 2 last night," a source told E! News. "They were really cute together and weren't trying to hide their affection at all." The insider added that they were "together the entire night" and were seen holding hands. Bustle has reached out to Rodrigo's reps for comment and will update this story accordingly.
"The two of them together felt comfortable and newish," said E! entertainment reporter Stuart Brazell. "It seemed like he also knew a lot of people there. It just felt like comfortable, cuddly, new young love." An insider also told the outlet that they "met through industry friends" and "are definitely dating exclusively and getting serious." About two weeks later, the reported couple was photographed kissing for the first time against a parked Audi in Los Angeles.
More than a month has gone by and the couple's bond seems to only be getting stronger. On Aug. 27, the duo was spotted holding hands on a date in Los Angeles. Between their makeout session on the car and their other public displays of affection, they've made it very clear that they're together. Though the pair haven't made their relationship Instagram official, an opportunity to show each other off is just around the corner. Rodrigo is nominated for five awards at this year's MTV Video Music Awards on Sept. 12. It's possible that the star, who's set to perform during the show, may arrive with her new boyfriend. Then again, they might not be ready to make things public.
The "good 4 u" singer's new relationship comes after months of drama that was prompted by the release of "drivers license" in January. Shortly after dropping the track — which hit and stayed No. 1 on the Billboard Hot 100 for eight weeks and even inspired an entire SNL skit — rumors surfaced that her debut single was about her ex-boyfriend and High School Musical co-star Joshua Bassett. The duo never publicly confirmed that they were dating, but rumors ramped up after the series premiered on Disney+. Not to mention, the two frequently appeared on each other's Instagram feeds, further fueling speculation.
Despite never confirming their relationship publicly, Rodrigo did hint at heartbreak last summer and fans managed to put some of the pieces together. In August 2020, she posted a TikTok of herself eating a muffin while listening to "All I Want" from HSMTMTS and wrote, "And that's on failed relationships." Shortly after, Bassett was spotted out with Girl Meets World star Sabrina Carpenter. And considering the "drivers license" lyrics nod to a "blonde girl," fans assumed that Rodrigo was throwing shade at Carpenter and that the three stars were involved in a very complicated love triangle.
Things got even messier when Bassett released a song called "Lie Lie Lie" roughly one week after "drivers ,icense" came out. Initially, fans thought that it was a rebuttal. However, Bassett quickly shut down rumors that the track was about Rodrigo at all. "I wrote 'Lie, Lie, Lie' after I found out a friend had been lying about me behind my back for a long time," he wrote on his Instagram story at the time. "It always hurts to hear that someone you thought you could trust would throw you under the bus when it benefits them. It happens to all of us, and I think all you can do is seek out people that build you up rather than tear you down."
Inevitably, some fans didn't believe Bassett's explanation; others thought that if "Lie Lie Lie" wasn't about Rodrigo, perhaps "drivers license" wasn't about Bassett. But if not Bassett, then who? Well, the singer previously dated her Bizaardvark co-star Ethan Wacker. Their relationship began in 2018, but the two called it quits about a year later. The chances that the song is about him are slim, though. When one fan on TikTok speculated that Rodrigo was singing about Wacker, he set the record straight. "Nope. I treated her well," he wrote.
Apart from those two relationships, there's been additional speculation that Rodrigo may have dated singer Conan Gray. The rumors first started when the young stars helped tease some re-recorded tracks from Taylor Swift's Fearless album. Interestingly, Rodrigo had already addressed the status of her relationship with Gray in a March interview with Roman Kemp on Capital's Breakfast Show. "Conan's a friend of mine, and the guy who produces most of my music produces most of his," she said. "We're just pals and I think he's so brilliant."
With the "drivers license" drama behind her and a new man on her arm, the singer likely has no time to look back at old relationships. Since the release of her debut album in May, Rodrigo's schedule has been packed. In addition to attending movie premieres with her new beau, the HSMTMTS star recently met with President Joe Biden and Dr. Fauci at the White House (pictured above) to help encourage young people to get vaccinated. She's also been busy promoting Sour, which has provided a lot of insight into her past relationships. Now that the album is out, we can only hope that Rodrigo is working on a track about Faze so that we can get the scoop on their relationship directly from the source.
This article was originally published on