Olivia Rodrigo's New Song Would Be Perfect For The Bachelorette
The 18-year-old penned "The Rose Song" herself.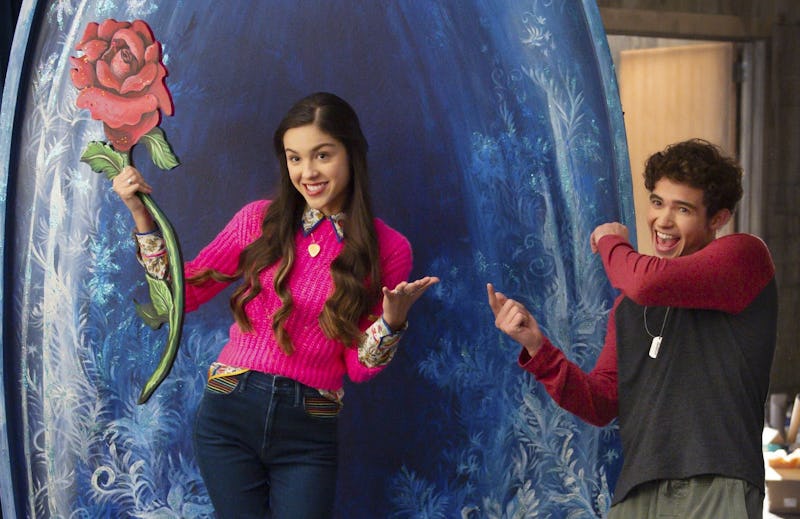 Disney/Fred Hayes
Olivia Rodrigo is dominating charts all around the world with songs from her must-hear debut album Sour that came out in May, but she's not slowing down when it comes to releasing new tunes. Whether on her own or as a part of her latest acting gig, the singer-songwriter finds a way to inject soulful tunes into everything she does, and she hasn't missed the mark yet.
On June 18, Rodrigo released "The Rose Song," which is taken from the Disney+ show that has made her a household name. The tune is featured in the sixth and most recent episode of High School Musical: The Musical: The Series. In the program, the teen sensation's character Nini pens and performs the cut (piano and vocals, as she's a multi-talented high schooler) after being cast in the school's Beauty and the Beast play. Her showing is emotional and enrapturing, and if you're not already watching, it's worth tuning in just for this one moment alone.
Rodrigo's talents are on full display in "The Rose Song," as not only does she sing the tune, she's the only credited writer. It's very rare for anyone in the pop music world these days to release a single without co-writers, but even at this early stage in her career, the actress and superstar musician has shown she can handle crafting a truly wonderful composition all on her own.
The second season of High School Musical: The Musical: The Series is rolling out episode-by-episode, week-by-week, and its unveiling couldn't have come at a better time. Rodrigo's name has never been hotter, and she is currently one of the most successful solo musicians on the planet. While the show helped her reach new levels of fame last year, she's now taken that success and run with it as a soloist, and things are going beautifully for her.
Recently, her debut album Sour went to No. 1 in dozens of countries, and it broke records most people didn't even know existed. Her singles from the set, such as "drivers license" and "good 4 u," have also become chart-toppers, and she has accomplished more in just the first half of 2021 than most artists can hope for in their entire lifetime.
At the rate she's racking up hit singles, "The Rose Song" may quickly become another major win for Rodrigo, and it could wind up being the biggest smash yet from High School Musical: The Musical: The Series, which has turned out to be one of the most popular options on Disney+.