HSMTMTS Season 3: Premiere Date, Cast & What To Know
Olivia Rodrigo and Joshua Bassett have been dropping hints.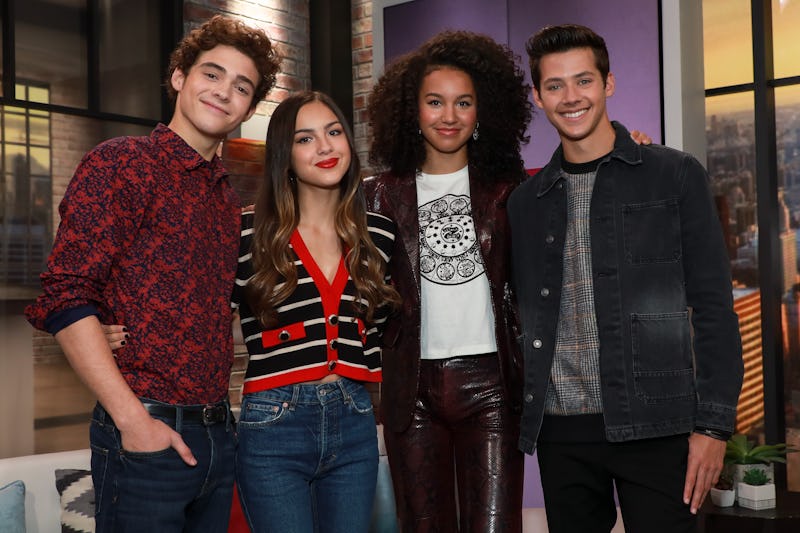 Jason Mendez/Getty Images Entertainment/Getty Images
High School Musical: The Musical: The Series is only halfway through its second season and there are already questions about what comes next for the hit show. Disney+ hasn't yet announced a third season, but the second instalment of the show has thus far been well-received by fans, which seems to bode well. In an interview with The Guardian in May, Olivia Rodrigo (Nini Salazar-Roberts) also said that she was committed to HSMTMTS for two more years, which suggests that there's at least one, if not two, more seasons of the popular series in the works. In addition, Rodrigo's co-star Joshua Bassett, who plays Nini's love interest Ricky Bowen, told PopSugar that he would "love to dance more in season 3," reaffirming the suggestion that there is another instalment to come.
Rodrigo and Bassett are central to the show's appeal, with the former's music career taking off between the first and second seasons of the show. In January, she dropped her debut single, "Drivers License," a viral hit that went on to be parodied on SNL, and then in May she followed it up with the release of her critically acclaimed debut album, Sour. That many fans believe "Drivers License" is about a possible love triangle involving Rodrigo, Bassett, and fellow Disney star Sabrina Carpenter, has created a new froth of interest around the Disney+ show.
In fact, series creator Tim Federle told Decider in May that "I know it's certainly impacted album streams. I don't always love the [streaming] algorithm, but the algorithm is such that she has one single, and then all of a sudden 'All I Want' starts playing and I think people are like, 'Wait what's this?'" In the same interview, Federle said there was no awkwardness between Rodrigo and Bassett on set after the success of her solo releases. "I did not feel the material impact anything other than everybody, including Josh, being exceptionally excited for Olivia with this crazy rocket ride."
Here's what we know so far about a possible third season.
HSMTMTS Season 3 Cast & Plot
Based on where Season 2 stands right now, it's likely that most of the HSMTMTS main cast would return for a third season, though it's not yet clear if some of the new characters from Season 2 — Derek Hough as Zack Roy, Olivia Rose Keegan as Lily, Roman Banks as Howie — would also reprise their roles.
It's difficult to speculate what the plot of a third season might entail before the end of the current season, but we do know much of the cast would be entering their senior year of high school by then, creating plenty of potential storylines involving relationships, college applications, and more. Who knows, perhaps they'll even include some songs from the original High School Musical 3? Bassett certainly hopes so. "Hopefully we'll get the budget approved for one of those rotating hallways that they had in High School Musical 3," he told PopSugar.
HSMTMTS Season 3 Trailer
A trailer for HSMTMTS Season 3 has not yet been released, but we will update this piece if and when it becomes available.