Everything To Know About High School Musical: The Series Season 3
We're soaring — nay, flying — over this new season.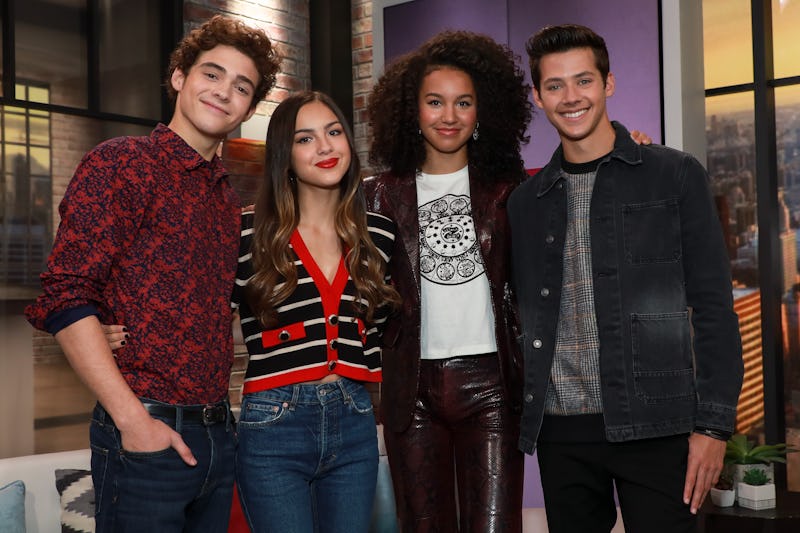 Jason Mendez/Getty Images Entertainment/Getty Images
Olivia Rodrigo had a stellar 2021, and she shows no signs of stopping. Her massive breakout music career involved bagging three VMAs wins, including the coveted Best New Artist award, and her acting career isn't taking a backseat either. Since September, she's been in production for Disney's High School Musical: The Musical: The Series Season 3, which follows the well-received success of the first two installments. (Both seasons' soundtracks netted almost 1.5 billion combined streams so far.) And with all the traction the series is getting, some notable Disney stars, including an OG HSM alum, are joining the new batch of Wildcats as they embark on a new adventure.
This time around, the Wildcats seniors will be leaving the musical corridors of East High to take their tunes to a new location: sleepaway camp. Series creator Tim Federle said in a statement, "We are overjoyed to be heading to the great outdoors for season three," adding that he's "grateful to our partners and friends at Disney+ for their continued support of our next-generation Wildcats." Here's everything we know so far about Season 3 of HSMTMTS, the students' "ultimate summer," and who from the original movie series will be making a cameo.
HSMTMTS Season 3 Release Date
As announced on June 29, HSMTMTS Season 3 will premiere on July 27, only on Disney Plus.
HSMTMTS Season 3 Cast
While the main HSMTMTS cast is returning for Season 3, viewers will see a bit less of Olivia Rodrigo as Nini Salazar-Roberts, as Entertainment Tonight reported she'll be a recurring character rather than a main cast member this time around. It's a fitting move for the superstar, who spoke to The Guardian in 2021 about the difficulty of pursuing both music and acting. "I think it's really hard to split time between the two and there are very few artists who do that efficiently," Rodrigo said. "Acting is based on being a good liar and presenting a version of yourself that's believable, and being a songwriter is the complete opposite. It's like, here are all of my deepest, darkest secrets and I want you to know me so personally."
Meanwhile, ET confirmed Rodrigo's co-star Joshua Bassett, who plays Nini's love interest Ricky Bowen, will return as a series regular for Season 3. In May 2021, he told PopSugar that he would "love to dance more in Season 3," so get ready to see him bust a few moves.
Rodrigo and Bassett are central to the show's appeal, with the former's music career taking off between Season 1 and Season 2 of the show. In January 2021, she dropped her debut single, "drivers license," a viral hit that went on to be parodied on SNL and, months later, won Song of the Year at the MTV VMAs. Many also believe "drivers license" is about a possible love triangle involving Rodrigo, Bassett, and fellow Disney star Sabrina Carpenter, which has created a new froth of interest around the Disney+ show.
In fact, Federle told Decider in May 2021 that "I know it's certainly impacted album streams. I don't always love the [streaming] algorithm, but the algorithm is such that she has one single, and then all of a sudden 'All I Want' starts playing and I think people are like, 'Wait, what's this?'" He also said there was no awkwardness between Rodrigo and Bassett on set after the success of her solo releases. "I did not feel the material impact anything other than everybody, including Josh, being exceptionally excited for Olivia with this crazy rocket ride."
Other main cast members coming back to the series include Matt Cornett as E.J. Caswell, Sofia Wylie as Gina Porter, Julia Lester as Ashlyn Caswell, Dara Reneé as Kourtney Greene, and Frankie Rodriguez as Carlos Rodriguez. While Olivia Rose Keegan (Season 2 newcomer Lily) and Kate Reindeers (Miss Jenn) are both set to return in recurring roles for Season 3, it's unclear whether the rest of last season's new faces, including Derek Hough and Roman Banks as Zack Roy and Howie, respectively, will also reprise their roles.
On Jan. 18, Variety reported some exciting new additions to the cast, and one in particular stirred up nostalgia. Fans of the original movie series will remember Corbin Bleu, the actor who played Chad Danforth, aka Troy Bolton's (Zac Efron) basketball teammate and BFF who tells him to get his head in the game. Per Variety, Bleu is joining the HSMSTMTS cast and will appear as himself, a "star of the High School Musical franchise."
Other Disney alums will also join the show. Meg Donnelly, who starred in the channel's three Zombies movies, will play college student and camp counselor Val, who is "ready to choreograph" this season's production. Jason Earles, who played Miley Cyrus' older brother in Hannah Montana, also makes his Disney comeback as Dewey Wood, the "killjoy" camp director. Disney alum Saylor Bell (Rule the Mix) will play the tech-savvy Maddox, while newcomer Adrian Lyles is the "mysterious" camp newbie Jet.
On March 9, ET revealed several more new faces set to join HSMTMTS for Season 3. Ben Stillwell will appear as Camp Shallow Lake cameraman Channing, Aria Brooks is set to portray first-time camper and eighth-grader Alex, and Liamani Segura will make her onscreen debut as another eighth-grader and "first-time auditioner" at the summer camp.
Another two stars to be added to the HSMTMTS Season 3 cast were announced on June 29: Jesse Tyler Ferguson and JoJo Siwa. Ferguson, who previously starred in Modern Family, will be joining the cast as Marvin, an old family friend of Rodrigo's character Nini. Siwa will play the role of a Camp Shallow Lake alum named Madison, who can be seen briefly in the new Season 3 trailer.
HSMTMTS Season 3 Plot
For Season 3, the East High students will experience "campfires, summer romances, and curfew-less nights" at Camp Shallow Lake, a performing arts sleepaway camp in California where they'll put on a production of Disney's Frozen. Much of the cast will also be preparing to enter their senior year of high school, creating plenty of potential storylines involving relationships, college applications, and more. In addition to putting on Frozen, a drama-filled "docu-series" of the production is another aspect of Season 3's plot that the Wildcats will have to navigate through.
Each season's storyline has focused on remaking a musical: the original High School Musical in Season 1 and Beauty and the Beast in Season 2. This season, it's the snowy classic Frozen — but who knows, perhaps they'll even include some songs from the original High School Musical 3, especially since Bleu is now attached to the project. Bassett certainly hopes so. "Hopefully we'll get the budget approved for one of those rotating hallways that they had in High School Musical 3," he told PopSugar.
HSMTMTS Season 3 Trailer
Disney+ dropped the trailer for HSMTMTS Season 3 on June 29, full of humor, drama, and a glimpse into what Season 3 at Camp Shallow Lake has in store. As Lester's character Ashlyn says in the 2-minute preview, "one could say the stakes have never been higher. And one will—the stakes have never been higher."
Watch the trailer for HSMTMTS Season 3 below.
This post will be updated as more information on HSMTMTS becomes available.
Reporting by Justice Namaste, Alyssa Lapid, Jack Irvin, and Sophia Moore.
This article was originally published on