Olivia Washington Grounds Herself With Her Mom's Cooking
The actor is making a name for herself in the critically acclaimed I'm A Virgo.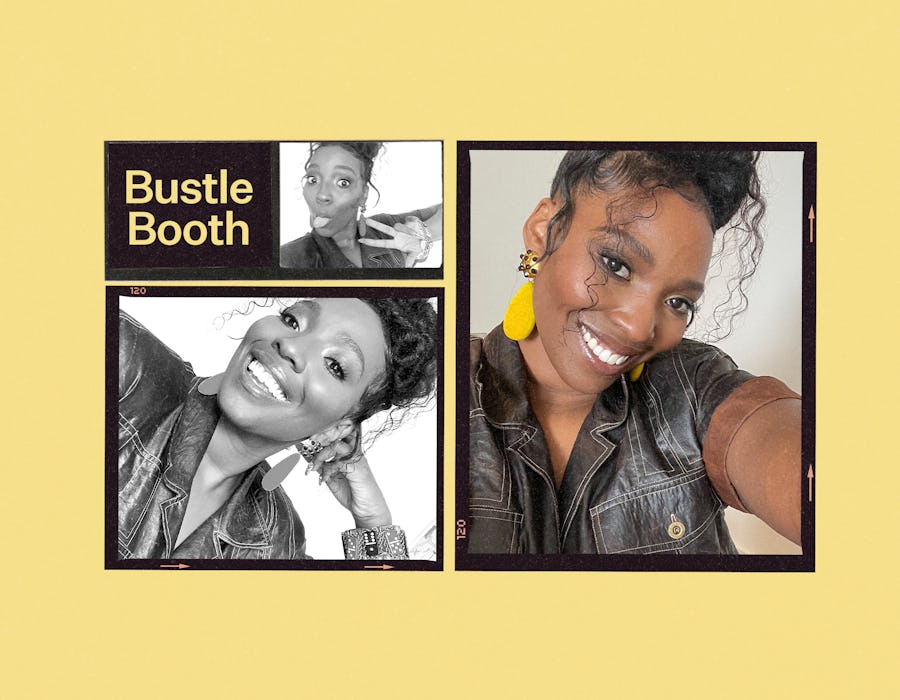 In September 2021, a 30-year-old Olivia Washington was planning to surprise her mom, Pauletta Washington, for her birthday. She'd traveled home to Los Angeles from New York City, where she was living and building her acting resume. Before the big surprise, she needed to record an audition tape for Boots Riley's new Prime Video series, I'm a Virgo. Usually the matriarch served as her scene partner, but since that would spoil the surprise, her big brother, John David, stepped in to pinch-hit. "He and I used to do self-tapes all the time, so it was a nice reunion for us," Washington tells Bustle of her sibling and one-time NYC roommate. "He's seen me at so many different levels of my growth, so it's always fun."
I'm a Virgo marks Washington's first major role, and if its rave reviews are any indication, it seems her star is only just beginning to rise. Her character, Flora, is an aspiring chef and fast-food worker born with a condition that causes her to move through the world at hyper-speed. While Flora finds kinship and romance with a fellow "alien," 13-foot-tall Cootie (Jharrel Jerome), she's far more than just the love interest. "She's her own person, and she's the lead of her own life," the 32-year-old actor explains. "I loved the idea that you can define yourself."
A career in acting wasn't a given for Washington. She didn't grow up on movie sets or walk red carpets with her mom and dad, Denzel. Instead, the self-described "insanely shy child" was either in school or at dance class. But being "surrounded by" visionary Black artists helped push her out of her comfort zone, she says, noting people like Eartha Robinson and Vernee Watson-Johnson.
Her aspirations changed when she enrolled in the Stella Adler acting studio at New York University's Tisch School of the Arts, which she graduated from in 2013. That same year, she appeared in Lee Daniels' The Butler. After working as an NYC nanny to support herself post-graduation for a few years, she landed a small part in the TV series Empire and played recurring characters on Mr. Robot and She's Gotta Have It. (Washington even acted alongside her Oscar-winning father in 2021's The Little Things.)
After all, acting is a "team sport" for her and her "very proud" family on the West Coast. The NYC-based star refers to her three siblings as her best friends, and often recruits them to help convince their mom to whip up some of her signature dishes when Washington needs a taste of home.
"When you become adults, everybody becomes busier, so we all conspire to get my mom to cook," Washington jokes, citing the matriarch's chicken dish as a favorite. "We're also a big YouTube concert family. So those moments of really being together and just watching TV or listening to music, that is how I like to ground myself."
Learn more about Washington in her Bustle Booth questionnaire below.
In The Bustle Booth
What's your coffee order?
Large iced coffee with almond milk.
What are the saved weather locations on your phone?
New York, Los Angeles, and Newton, North Carolina.
What's your sign?
Aries.
Favorite overused movie quote?
"Boo, you whore" from Mean Girls.
What was your favorite cartoon as a kid?
Rugrats or Chowder.
What's one movie or TV show you're currently obsessed with?
A Thousand and One.
Who is your celeb idol?
Pauletta Washington, Naomi Campbell, and Erykah Badu.
If you had to be on a reality TV show, what would it be?
RuPaul's Drag Race.
Go-to karaoke song?
TLC's "Creep" or Ginuwine's "So Anxious."
What's something that's inspiring you lately?
Boots Riley and the cast of I'm A Virgo.
What is something you would want people to say about you?
That I have a really strong candle selection.