Watch These Phoebe Dynevor TV Shows & Movies While You Wait For Bridgerton Season 2
We heard you like period dramas. She's in more.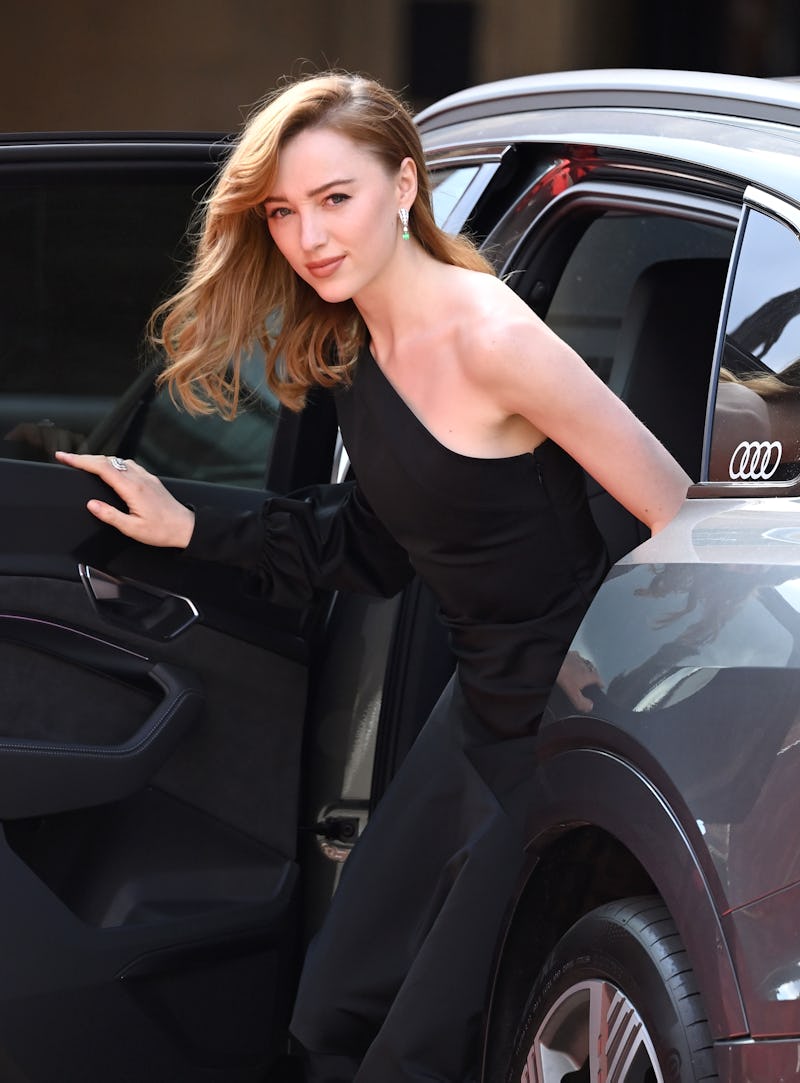 Karwai Tang/WireImage/Getty Images
Ever since Shondaland's Bridgerton premiered on Netflix at the end of 2020, actress Phoebe Dynevor has skyrocketed into stardom. For her portrayal of Daphne Bridgerton in Season 1 of the Regency-era drama — which was reportedly viewed in more than 82 million households worldwide in its first month on Netflix — the British actress has earned her first nominations at the Screen Actors Guild Awards and the MTV Movie & TV Awards. Additionally, fans' interest in Dynevor as a celebrity has also increased thanks to her newly-confirmed relationship with SNL star Pete Davidson. But for many fans, Bridgerton is the first project they've seen in her filmography.
Following the success of Bridgerton, Dynevor landed her first feature film role in The Colour Room. Currently in production, the British period drama stars Dynevor as 1920s ceramic artist Clarice Cliff. She'll also appear in Season 2 of Bridgerton, which — similarly to the Julia Quinn novels the series is based on — is expected to shift its focus to Daphne's brother Anthony. In a recent interview with Glamour, the actress discussed her hopes for Season 2.
"It's all top secret. But I would like to see her get more involved in her brother Anthony's love life. I think it's her time to get him back," Dynevor said. "And I'd like to explore a bit more of Daphne and Simon's relationship. I really liked that it ended on a happy ending, but life isn't one happy ending. I'd like to see what other hurdles they have to jump over." The interview was conducted before actor Regé Jean-Page announced he would be stepping down from his role as Simon Hastings, so it's unknown how the characters' relationship will progress going forward.
While you await Dynevor's upcoming projects, here are five past roles to dive into.
Waterloo Road
In 2009, Dynevor made her television debut at age 14 in Season 5 of BBC drama series Waterloo Road. Focusing on a group of students who attend Waterloo Road school, Dynevor played Siobhan Mailey for 20 episodes. Filled with explorations of often-taboo issues such as sexual assault, bullying, drug abuse, and even murder, it's a wild ride of a show that'll give you a fun glimpse into Dynevor's early acting days.
Prisoners' Wives
In 2013, Dynevor landed a supporting role in Prisoners' Wives, a BBC drama series that centers on four women dealing with the difficulties of men in their lives serving time in prison. Over its 10 episodes, the actress played Lauren Miller, the daughter of an incarcerated gangster whose wife is a main character in the series.
Dickensian
In the 20-part fictional British drama series Dickensian, characters from several Charles Dickens novels join forces in a Victorian London neighborhood. Dynevor stars as Martha Cratchit from A Christmas Carol, aka the daughter of Bob Cratchit and sister of Tiny Tim. Don't expect the events of the classic holiday tale to unfold in the series. Her character enters a relationship with John Bagnet from Dickens' Bleak House.
Snatch
Dynevor's first starring role came in 2017 with Snatch, a Crackle drama series based on the 2000 British film of the same name. Snatch follows a team of young scammers who find themselves wrapped up in a world of crime after coming into possession of a truck filled with solid gold. Starring alongside Harry Potter's Rupert Grint, Dynevor plays the companion of a male criminal who wants to get in with the group of scammers after learning about the truck.
Younger
For her first foray into American television, Dynevor nabbed a role on TV Land's Younger, which follows Liza Miller (Sutton Foster) as she lies about her age in order to be accepted in the cutthroat world of New York City publishing. The British actress joined the series in Season 4 as Clare, an Irish bartender who enters a fling with Josh (Nico Tortorella), owner of a tattoo shop and Miller's on-and-off lover.