Here's When All The Sex Scenes Happen In Queen Charlotte
Perfect for watching with family — or skipping to your favorite scenes on a rewatch.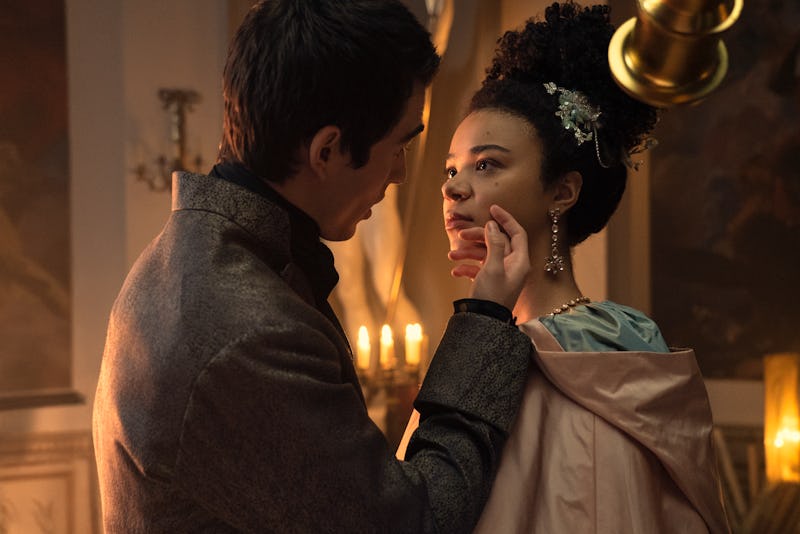 By this point in the ever-expanding Bridgerton universe, fans know the show's signature sex scenes can vary from season to season. Much of Season 1's conflict, for example, revolved around Daphne and Simon's clashing views on sex and parenthood — so naturally, their season delved into the nitty gritty details. Kate and Anthony's season was all about the couple's simmering, enemies-to-lovers tension, so it opted for a more sparing use of intimacy. "[The sex scenes] have a meaning behind them and I think it's very earned when the fireworks happen," Simone Ashley told Radio Times last year.
So where does Netflix's prequel series, Queen Charlotte, fall on the steamy spectrum? In short: a lot is going on! Queen Charlotte and King George had 15 kids together (in real life and in the show), so it makes sense that their efforts to continue the royal bloodline would take up a solid chunk of screentime. Theirs isn't the only relationship in Queen Charlotte, though. Spoilers ahead!
Throughout the limited series, the monarchs' butlers Brimsley and Reynolds also sneak off to their share of steamy rendezvous — making them the franchise's first LGBTQ+ love story. Meanwhile, young Lady Danbury has an unfulfilling sex life with her husband, Lord Danbury. Her husband's death prompts her to start a passionate affair with someone new: Violet Bridgerton's dad, Lord Ledger. While Queen Charlotte only has six episodes, the intimacy coordinators definitely had their work cut out for them.
Whether you're watching with family members and need to plan your popcorn breaks, or maybe want to skip to your favorite romantic scenes on a rewatch, Netflix just dropped a time-stamped guide to all the most significant scenes for your convenience.
Need a recap of every major moment in the streamer's guide? Here you go:
Brimsley & Reynolds
Episode 2, 11:55
While facilitating a meeting between Charlotte and George, Reynolds invites Brimsley inside to "warm up" — and what follows is a hot-and-heavy hookup session. Hilariously, they spend so much time in work mode that they're incapable of dirty talk that doesn't revolve around their bosses. "Is there something wrong with his bits?" Brimsley asks Reynolds about George between kisses.
"I believe his bits to be fine," Reynolds says while unbuttoning his partner's pants. "Large. From what I've seen, he has large, healthy bits."
Charlotte & George's First Hookup
Episode 2, 48:06
By the end of the episode, Charlotte and George sleep together for the first time — deciding to have a do-over for their uneventful wedding night. Fortunately, Charlotte assures George that she's been briefed with drawings and details about what to expect. Hey, 18th-century sex ed!
"Even Days"
Episode 3, 10:00
After their first night together, Charlotte and George's attempts to conceive an heir get a little, well, routine. "The sooner you are with child, the sooner we can cease this performance," George tells Charlotte, followed by the first hasty hookup on their schedule.
The Bathtub Scene
Episode 3, 13:22
Their efforts continue in a dimly lit bathtub scene. "It is an even day," Charlotte reminds George as she walks into the bathroom, casually reminding the king of their agreement before slipping into the tub with him.
Lady Danbury & Lord Ledger's Affair
Episode 5, 1:00:07
Not every hookup on Queen Charlotte is about duty, of course! After the death of her husband, Lady Danbury starts spending more time with Lord Ledger, and the two end up in bed together. In the intimate scene, Lady Danbury is empowered to flip the script on her own sex life. With her late husband, she could only stare at the ceiling while waiting for him to finish — but with Lord Ledger, she's free to take on a more active role.
Party Prep
Episode 6, 56:00
Before making their social debut at the Buckingham Ball, Charlotte and George have another passionate moment — and unlike their earlier "even days" arrangement, the couple (and new parents!) finally seem to have discovered a happy, relaxed groove that works for them.