RHOSLC Season 3 Will Feature Jen Shah's Guilty Plea & A Shocking Lisa Barlow Accusation
The Season 3 trailer and premiere date has finally been announced.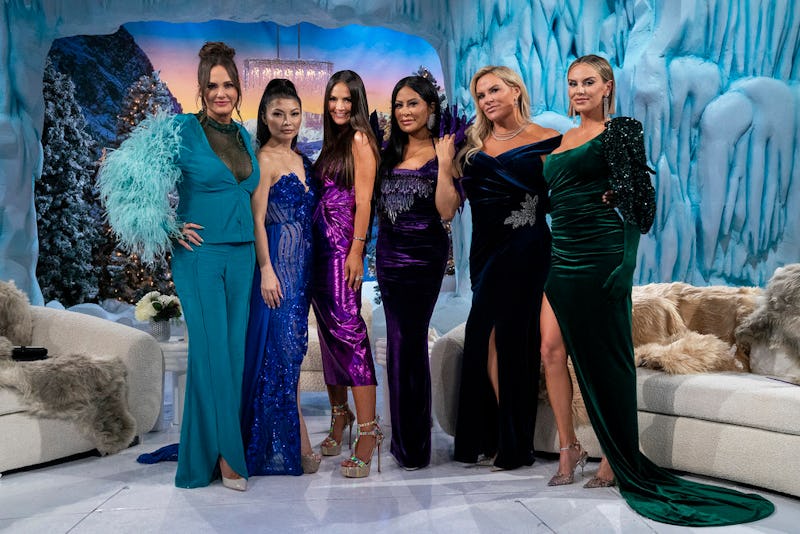 Nicole Weinagart/Bravo
Before the Real Housewives of Salt Lake City's Season 2 reunion had even aired, Andy Cohen revealed that Bravo was already filming Season 3. "The reunion left off with the women who are remaining in quite a dramatic spot, where you don't know what's going to happen," Cohen told Entertainment Tonight in February 2022. "So I'm glad that there are cameras on them now, because it's already kicking off, there's a lot going on and I'm glad we're there shooting right now. We did something similar with Beverly Hills, where we started shooting the new season fairly soon after we shot the reunion and in a case like both of those, it really paid off."
The most likely reason for the accelerated production schedule: Jen Shah's trial, which had been scheduled to begin on March 7. A judge later postponed the start date to July 11, and on that day, Jen changed her plea to guilty after maintaining her innocence for more than a year. Appearing in a Manhattan federal court, Shah admitted to the judge that she committed "wire fraud, offering services with little to no value." Her plea agreement reportedly calls for 11 to 14 years behind bars and restitution of up to $9.5 million.
Evidenced by several social media posts, Jen, Heather Gay, and Meredith Marks, who will be an unlikely trio of friends this season, traveled to New York City together in the days ahead of the plea change — and Bravo cameras were in tow. There has been plenty of other drama, too — including two cast departures — that unfolded in real time. Here's everything we know about RHOSLC Season 3 so far.
The RHOSLC Season 3 Premiere Date
In typical Bravo fashion, the network only officially RHOSLC's renewal only a month ahead of the season's premiere. RHOSLC Season 3 will premiere on Wednesday, Sept. 28 at 9 p.m. on Bravo, and assuming it follows Bravo's recent pattern, new episodes will stream on Peacock the day after airing on Bravo.
The RHOSLC Season 3 Trailer
On Aug. 31, E! premiered the RHOSLC Season 3 trailer, which is more heated than a winter spent in Utah. The new trailer starts with Jen proclaiming "I'm innocent," only to build up to her eventual guilty plea, but Jen's legal issues isn't the only hot topic in Salt Lake City. Whitney opens up about "a very abusive situation" she went through, while Heather unveils a black eye and teases that "maybe somebody" popped her in the face, as Lisa Barlow described it. But most shockingly, Meredith accuses her former BFF Lisa of doing "favors" to get her brand Vida Tequila in stores. "Are you crazy?" Lisa reacts. Clearly, things are still icy between the SLC Housewives.
The RHOSLC Season 3 Cast
In addition to Jen, Heather, and Meredith, the other returning RHOSLC stars include Whitney Rose and Lisa Barlow. On April 23, the Real Housewives Franchise Instagram account reported that filming had wrapped, with Angie Katsanevas and Danna Bui-Negrete filling the open two full-time roles. However, as confirmed by E! on Aug. 31, Angie and Danna will join the show in "Friend" roles along with Lisa's ex-friend Angie Harrington, who appeared briefly in Season 2, meaning Heather, Meredith, Lisa, Jen, and Whitney are the only full-time Housewives on Season 3.
Radar reported in early March that Utah luxury realtor Tyna Edwards and Angie Katsanevas, a successful salon owner, had been spotted filming with the women. Sharing photos of Angie with the RHOSLC cast, the Queens of Bravo Instagram account also noted the reported newcomer auditioned for the show in 2019 on Heather's recommendation. On June 4, Danna, a top Salt Lake City real estate agent, shared an Instagram photo of herself with Whitney and Lisa at a local pride event. "Love you Dana. So much fun!" Lisa commented.
After the first round of filming wrapped in the spring, Whitney told fans during an Instagram Q&A to expect "major dynamic shifts" in Season 3, which she summed up in three words: unexpected, dynamic, and intense. Meanwhile, several of the women's social media posts shortly afterward seemed to suggest that Lisa was feuding with Heather, Jen, Meredith, and Angie Harrington, signaling potential drama ahead this season.
Will Mary Return For RHOSLC Season 3?
Despite varying reports, Mary Cosby will not return to RHOSLC for Season 3. The original cast member seemed to seal her fate when she skipped the Season 2 reunion, with various reports announcing that she'd effectively left the show. During a January Twitter Spaces talk, which the Crazy About Bravo account recorded and shared, Mary attributed her absence to her belief the conversation would be "one-sided," referencing allegations about her church being a cult.
Even so, Cosby initially caused confusion when she denied reports that she'd exited RHOSLC on Feb. 4. "This Story Is Not True!!" she tweeted, in response to a Page Six article announcing the news of her departure. "This is a complete Fabrication' A Complete Lie!' I have not spoke to anyone!!" However, a Bravo source told ET soon afterward that she "knew her future with the show when she didn't show up to the reunion" in January. "She's not filming and there are no plans to film with her," the insider clarified. Cohen, for his part, has also since confirmed Mary's departure, though Bravo has yet to make an official announcement either way.
In addition to her church-related drama, Mary also came under fire during Season 2 for making racist comments, particularly toward co-star Jennie Nguyen when she repeatedly referenced her "slanted eyes" and "yellow" skin tone. Following Jen's arrest, Mary also likened her embattled co-star to a "Mexican thug," further contributing to calls for her firing.
Why Jennie Won't Return For RHOSLC Season 3
The one cast exit that the network did confirm is that of Jennie, whom they fired in January after several of her racist Facebook posts resurfaced online. Though Jennie issued a public apology for sharing messages that called Black Lives Matter activists "thugs" and made light of police brutality, Bravo "ceased filming" with her, explaining in a Jan. 25 Instagram statement that she "will no longer be a cast member" of RHOSLC, seeming to confirm reports Jennie had already begun filming Season 3.
"We recognize we failed to take appropriate action once her offensive social media posts were brought to our attention," Bravo added in their statement, which arrived about a week after Jennie's posts began making headlines. "Moving forward, we will work to improve our processes to ensure we make better informed and more thoughtful casting decisions."
The RHOSLC cast issued individual statements denouncing Jennie's behavior at the time, and Cohen later addressed the decision in his February ET interview. "Listen, I think that we're in a time where we're producing a show that is about outspoken, sometimes politically incorrect people who are speaking their mind and, you know, we have to be sensitive to issues of racism," Cohen said. "And we have to look out for everybody who is not only watching, but who are also on the show, and you know, look– there's, every case is different, but we wanna do the right thing and it's a work in progress."
Will Viewers See Jen's Guilty Plea?
A production source told E! News in July that filming for Season 3 had ended but picked up again after Jen changed her plea to guilty. Though cameras reportedly were not present in the courtroom, "production shot confessionals on the women's reactions that will likely be a part of Season 3." This is reflected in the trailer, as footage of Jen leaving the courthouse after pleading guilty is shown. In the days that followed, however, the insider shared that cameras were no longer following Jen, who is due back in New York for sentencing on November 28.
Citing a separate source, the outlet added that several of Jen's co-stars were "in shock" and "disappointed" to learn she changed her plea to guilty. "The whole time Jen has never wavered on maintaining her innocence," the insider told E! News, adding that some of her co-stars now feel "duped, misled and lied to by their friend."
This post will be updated as more RHOSLC Season 3 details become available.
This article was originally published on