Everything The RHOSLC Cast Has Said About Who Tipped The Feds Off On Jen Shah
The finger-pointing has continued on and offscreen.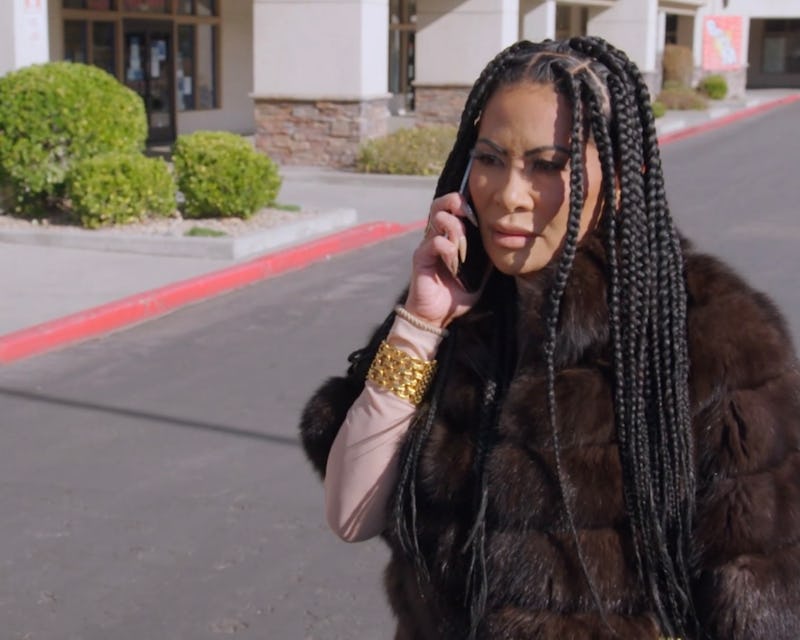 Bravo/screenshot
Since Jen Shah was arrested in March 2021, one question has hung over The Real Housewives of Salt Lake City: who tipped the feds off about her?
In Episode 8 of Season 2, fans saw the moment leading up to Shah's arrest. While the cast was congregated in a party bus waiting to leave on a trip to Colorado, Shah received a call and abruptly told producers she needed to leave because her husband Sharrieff Shah Sr. had been hospitalized with internal bleeding. Twelve minutes later, authorities arrived looking for Shah.
Episode 10 showed her castmates' raw reactions to finding out that Shah had been indicted for allegedly defrauding hundreds of victims — many of whom were over age 55 — in what prosecutors have described as a telemarketing fraud scheme that operated between 2012 and 2021. (Both Shah and her assistant Stuart Smith, who was named as a co-conspirator, pleaded not guilty to charges of conspiracy to commit wire fraud and conspiracy to commit money laundering, in April. However, Smith changed his plea to guilty in November 2021. Shah has maintained her innocence.)
Since then, speculation has emerged among the RHOSLC women that Meredith Marks could have been the one who alerted agents to Shah's whereabouts on the day of her arrest. "Bottom line is, Meredith knows a lot of information," Lisa Barlow admitted to co-stars Heather Gay, Whitney Rose, and Jennie Nguyen in one scene. Later, Rose told Marks point-blank that it looked like she "had something to do with the fact that Jen was indicted," especially given that she'd allegedly hired a private investigator to look into Shah.
During the Mother's Day cast trip to Zion, Utah, Shah got the opportunity to confront Marks herself, first asking why she'd hired someone to investigate her. The jewelry designer explained during a group dinner that she'd given all of the RHOSLC cast member's names, not just Shah's, to an investigator after someone sent her family threatening messages. The tense conversation soon escalated, with Shah jumping out of her chair and angrily shouting at Marks, "I swear to God, if you have anything to do with the bullsh*t charges against me…" But Marks insisted that she had "nothing to do with" the charges, firing back, "Jen, I would never do that. I'm not revolting like you."
Offscreen, Marks has continued to deny involvement in Shah's indictment and arrest, insisting to Entertainment Tonight in September that she "absolutely [did] not" call the feds. During a later appearance on Watch What Happens Live with Andy Cohen, she played more coy. "Andy, haven't you heard me tell everyone not to come after my family?" she hinted, referencing issues she's had with her co-star making comments about her marriage and son Brooks.
However, it seemed obvious that she was joking. In October, Marks told Page Six that she was "really kind of upset and offended" by her RHOSLC co-stars' accusations. "There was a lot of other stuff going on that you'll see at that dinner that I was already kind of put on guard about," Marks told the outlet, admitting that she felt "a little bit attacked" during the scene. "I was kind of really taken, initially, very much taken by surprise. And then I got kind of angry because I was like, 'You know what? Not just Jen, but all of the women who are saying this, they all know that this investigation started in, you know, nine years ago. Like, that was public information.'"
Aside from the Marks family, Shah has also had her share of drama with co-star Mary Cosby, and recently revealed a contentious falling out with her former designer Koa Johnson. Marks and Cosby were the only two who didn't travel with the rest of the cast on the bus to Vail, immediately raising suspicions about their potential involvement in the case, since they were two of the few people who knew Shah would be at Gay's Beauty Lab + Laser the day she was arrested. Barlow also revealed that Cosby cryptically told her in Vail that Shah's arrest is what happens to anyone who messes with her church, something that's been discussed among the women throughout the season.
But the truth may be a lot less salacious. The fraud case in which Shah was named began in 2019, when the first 10 alleged participants — any of whom could have talked to authorities about Shah — were charged. So the investigation has likely been ongoing since before RHOSLC even began filming. As for how the New York Police Department, Homeland Security, and others knew Shah would be at Gay's Beauty Lab + Laser the day she was arrested, the entire production team, cast, and their associates were aware of the trip's not-so-secret itinerary.
Although the answer of whether or not someone betrayed Shah may never be revealed, there's been plenty of finger-pointing, which will likely continue as her March 2022 trial date approaches.
This article was originally published on