Scott Disick Finally Addressed Kourtney Kardashian's Romance With Travis Barker
The Lord has spoken: "I do give her a blessing to be happy."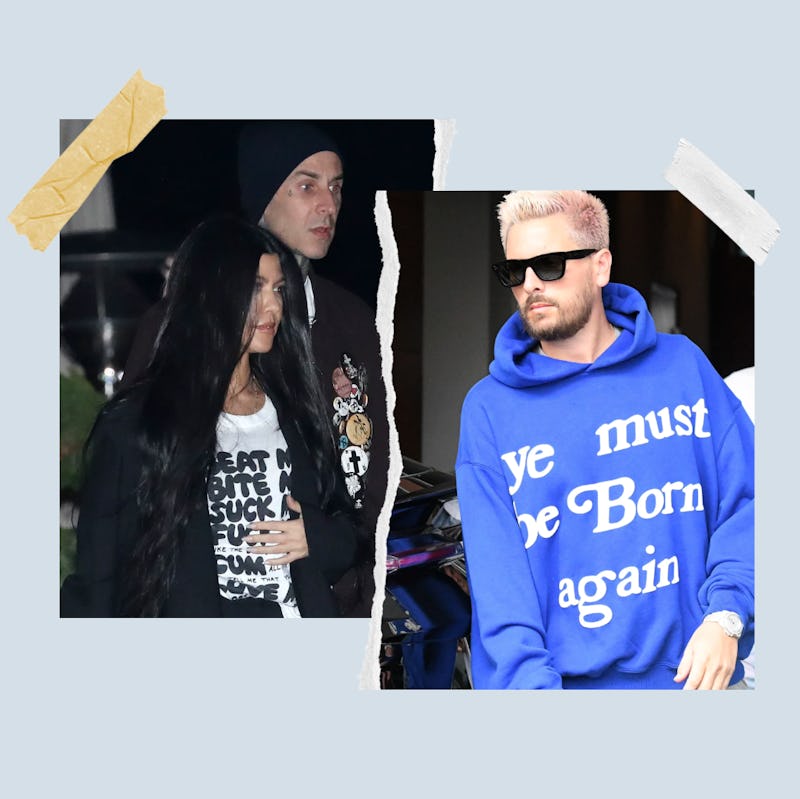 MEGA/GC Images/Getty Images
Kourtney Kardashian and Travis Barker have the Lord's blessing. During part two of the Keeping Up With the Kardashians reunion on June 20, Scott Disick was asked whether or not he supports the Poosh founder's relationship with the Blink-182 drummer. His answer? An unenthusiastic yes. "I mean, yeah," the Talentless founder said. "I think if you really love somebody, you want them to be happy no matter what. So I do give her a blessing to be happy."
The reunion explored more than just Kourtney's relationship with Travis. It also looked back at her decade-long relationship with Scott, the father of her three children — Mason, 11, Penelope, 8, and Reign, 6. "Do you think your relationship might have turned out differently if you hadn't shared so much of it?" Cohen asked the 42-year-old reality star. "Probably," Kourtney admitted.
Ultimately, Kourtney has no regrets about not getting back with Scott after their 2015 split. The demise of their relationship was apparently the result of his poor decision-making. "I think the substance abuse was the dealbreaker," she said. Scott, for his part, admitted that he made many mistakes that contributed to their failed relationship. "I was pretty irresponsible," he added.
Nowadays, Kourtney appears to be head over heels in love with Barker. Ahead of the reunion, she shared a series of photos on Instagram of her straddling the rocker in the recording studio. while this marks the pair's lastest PDA, it's certainly not the first time they've shared NSFW photos and videos of each other on social media. In April, roughly two months after confirming their relationship, they posted steamy photos from their Utah vacation on Instagram. Earlier that month, the musician honored Kourtney's birthday with a risqué slideshow.
Kourtney and Travis are evidently very serious about each other. Not only did the drummer get the reality star's name tattooed on his chest, but they've supposedly already discussed marriage. "Kourtney and Travis are in love and have talked about their future and the possibility of getting engaged and married," a source told ET in May. "Kourtney hasn't felt this strongly about anyone in a while and can see a forever with Travis."
This could complicate things for Scott, who made his love for Kourtney known throughout the final season of Keeping Up With the Kardashians. "Wherever Kourt stands, I stand with her," he said in one of this season's episodes. "I love you, and I'm ready to marry you right here, right now." Kourtney, for her part, wasn't ready to rule out a future with Scott in the Season 20 finale. "Would you ever just say to him, 'Hey, it's never going to happen?" Kim asked her older sister while on a family vacation in Lake Tahoe. But in a moment of vulnerability, Kourtney admitted that she doesn't know that it's "never going to happen."
Scott is currently in a relationship with 20-year-old model Amelia Hamlin.
However, Scott made it quite clear that he'll always have a soft spot for the mother of his children. "The fact that we have what we have is amazing, and I just want to be thankful for that instead of always thinking there's more," he said in the finale. "I mean, you know, we love each other, we trust each other, we care about each other, we have kids together, and our kids are happy and things are going by OK, so for right now, this is where our lives are and it's very, very good."