Hayley Kiyoko Reacts To Her & Selena Gomez's Wizards Characters Being LGBTQ+
A Wizards of Waverly Place producer revealed that they tried to hint at Alex Russo's true sexuality.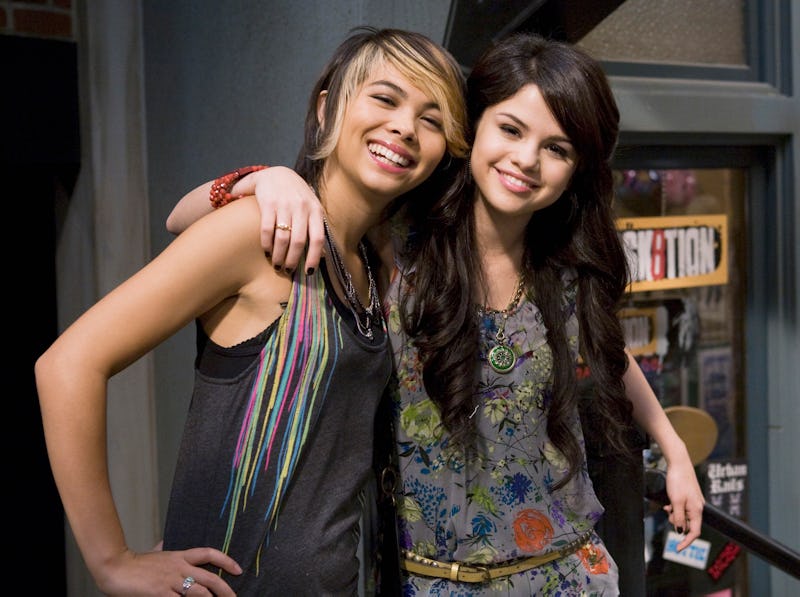 Adam Rose/Disney General Entertainment Content/Getty Images
Everything is not what it seems, especially when it comes to Alex Russo's sexuality. Wizards of Waverly Place producer Peter Murrieta revealed that Selena Gomez's character was actually meant to be in a same-sex relationship with Stevie (played by fellow Disney Channel alum Hayley Kiyoko), a new friend that she meets in detention and bonds with in Season 3. However, he felt like the show couldn't explore Alex's sexuality on the Disney Channel, keeping them in the friendzone.
Murrieta made the revelation on the March 28 episode of the Wizards of Waverly Pod podcast, hosted by Jennifer Stone and David DeLuise, who were not shocked by the true nature of Stevie and Alex's connection. "I wished we could have played more with what was quite obvious to a lot of us, the relationship between Stevie and Alex, but we weren't able to in that time," he said. "It was pretty clear to all of us what that relationship was. If we were just a few years down the line, we maybe could have played with that. We got as close as we could. It was pretty much right there."
Kiyoko, an openly lesbian musician who has earned the nickname "Lesbian Jesus" from fans, responded to the podcast in an Instagram reel. "Me being told to play Alex's 'bestie' on Wizards," she wrote atop a fancom of Alex and Stevie from the show, which she sticked with herself using the viral "You sure about that?" TikTok sound. "Stalex fans are winning," she added in her caption.
However, Murrieta pointed out that if Wizards continued a few years after the series ended in 2012, they would not have been afraid to make Alex an openly LGBTQ+ teenager. "Disney Channel has had [queer] characters," he noted. "They did it. At that time, it wasn't a thing." Indeed, Disney went on to introduce LGBTQ+ characters on both live-action sitcoms like Good Luck Charlie and Andi Mack, as well as animated series like Gravity Falls and The Proud Family: Louder and Prouder, becoming more out and proud as the years went by.
Even though he wished he could've explored Alex's sexuality more directly, Murrieta says his long-term plan was always for her to end up with Mason Greyback, her on-and-off werewolf boyfriend in the show's last two seasons, played by Gregg Sulkin. In fact, he had planned for Alex to become more "selfless" thanks to her relationship, leading her to make a life-changing decision after the family wizard competition in the series finale. "I wanted her to win but give it up because she's in love with a person who's not a wizard, just like her dad," he explained. In actuality, it's only inferred that she starts a family with Mason in the future, not confirmed.
Maybe it's not too late for Alex and Stevie.