Hayley Kiyoko Loves A "Cry Sesh"
The singer opens up about her relationship with Bachelor alum Becca Tilley and their plans for Pride.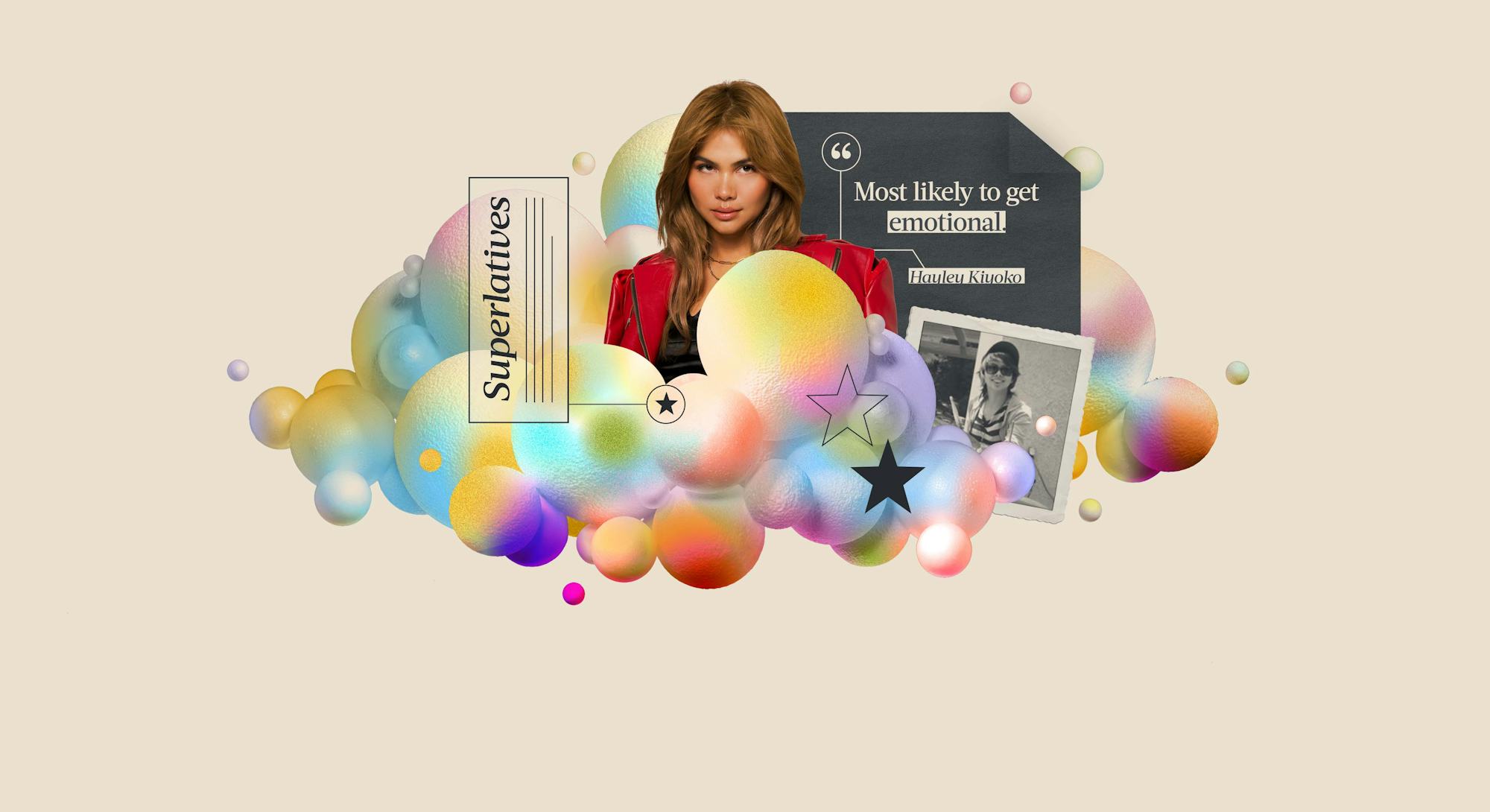 Hayley Kiyoko was named "Most Likely to Succeed" in high school, and while it may not be the yearbook superlative the 31-year-old singer would give herself in 2022, it's one that she's lived up to. The Disney Channel alum's music unashamedly touches on the love, desires, and pain that come with being a lesbian woman. This has earned her the loving nickname of "Lesbian Jesus" among fans. But this year, she's living up to that moniker more than ever.
Leading up to the July 29 release of her sophomore album Panorama, Kiyoko went public with her long-term relationship in a huge way. In her "For The Girls" video, Kiyoko plays the first lesbian Bachelorette, parodying the reality show by meeting a group of girls who are desperate to make good first impressions (one contestant shows up in a U-Haul truck and another one kisses Kiyoko before uttering a word). However, no contestant could compare to Bachelor alum Becca Tilley, who makes her grand entrance at the end and gives Kiyoko a simple smile, making it clear that she would receive the final rose.
After the video debuted, Kiyoko and Tilley revealed that they had already been an item for nearly four years, and outside of their close family and friends, no one knew a thing (well, except Taylor Swift). For Kiyoko, who considers herself a "very private person," the decision to keep her relationship a secret seemed like a no-brainer. But now, the couple is reveling in the love they've received since going public. "It feels amazing to see everyone showering Becca with love and support," Kiyoko tells Bustle. "Becca has had to navigate a lot of hardships in her journey, and I'm just so proud to be her partner through it all."
This year marks their first Pride Month as an out-and-proud couple, and they plan to celebrate how they always do — with each other. "It's a busy time of the year for both of us with work, but we are the happiest just spending quality time together," Kiyoko says.
Read on to learn how Kiyoko feels about the fight for transgender rights, find out what her go-to albums were in high school, and discover her mental health tips.
Hayley Kiyoko On Prioritizing Health & Transgender Rights
How do you feel about trans rights and the ongoing discrimination against transgender students? What would you tell a student who feels discouraged?
I'm truly horrified at the blatantly hateful attacks on trans youth and the community as a whole in our country. I try really hard to do my part in speaking up for those who don't have a platform to be heard. I believe that everyone deserves to safely exist, be treated with respect and have the same rights as the next person. For those who are feeling discouraged right now, you are not alone, and please never forget that you are loved and worthy! We have to keep fighting the fight, and I intend to keep fighting and showing up in every way that I can.
What superlative would you give yourself for the the 2022 Pride Yearbook?
Well, I got "Most Likely to Succeed" in my yearbook back in the day, so my type A personality would love to keep that going! But I do think another good one would be "Most Likely to Get Emotional." I love a good cry sesh.
What were some of your go-to songs or artists in high school? How about today?
Music was my everything back in high school. It brought me so much comfort and gave me an escape from the everyday stress of being closeted, feeling "other" and navigating where I belonged. I was definitely obsessed with Avril Lavigne's entire Let Go album, P!nk's Missundaztood album, Michelle Branch's "Everywhere," Imogen Heap's "Hide and Seek," and The Killers' "Mr. Brightside." As far as current music, I'm really loving Emily King, Dora Jar, MUNA, and Ben Abraham, just to name a few.
Who is an important role model in your life, and what has that person taught you?
My mom [Sarah Kawahara] has always been a huge role model. I learned so much from her about how to marry my artistry with a tough work ethic and attention to detail, all while finding the balance where I can still enjoy the journey as much as the end result.
Tell us about your self-care routine and mental health tips.
Self-care is so important in this business and honestly it's my second full-time job. Back in 2018 when my first album came out, everything was go-go-go and I really learned the hard way how quickly we can burn ourselves out if we don't take time to recharge. I've recently been able to prioritize my mental and physical health because if I can't function then there's no way I can show up for myself or anyone else. I encourage everyone to find an outlet or a safe space to reflect and refuel, like through talk therapy, exercise, journaling. Your dream and work will always be there when you come back to it.