Slayyyter's Y2K Obsession Goes Deep
The 24-year-old pop star draws inspiration from Gwen Stefani and Fergie.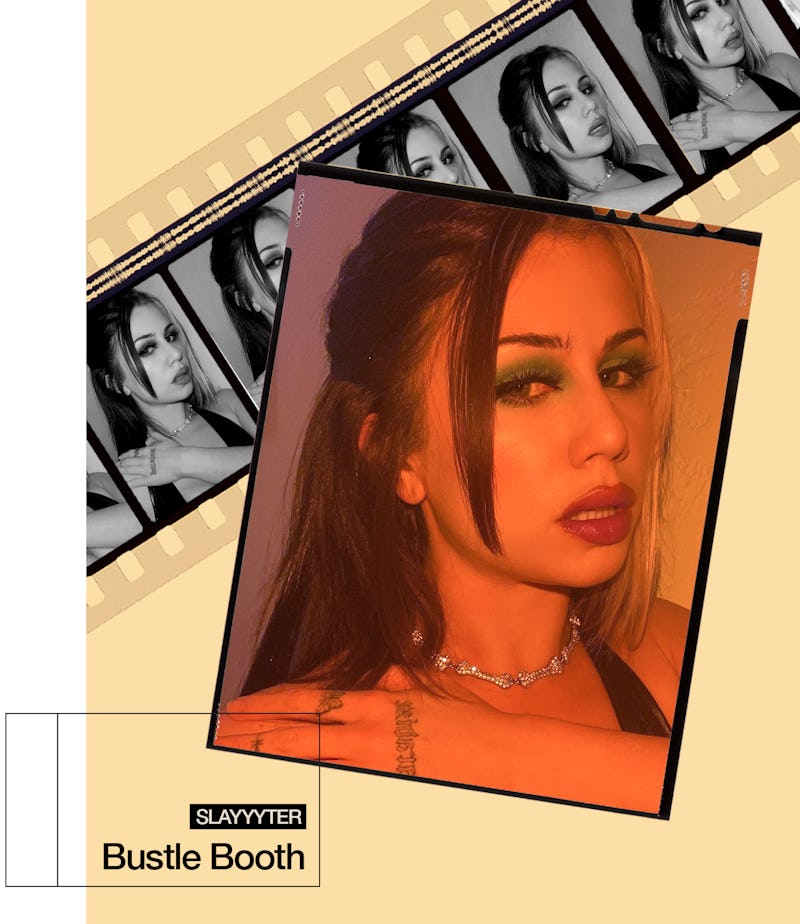 Courtesy of the Artist
It's a good thing we're partying again, because Slayyyter says her new album Troubled Paradise sounds best during a night out. "I feel like some of the songs are giving a ketamine kind of rush. Maybe that, or poppers," she tells Bustle from her home in Los Angeles. She giggles, "Everyone on Twitter would love that I would say that."
The 24-year-old musician is highly in tune with her fun-loving, largely LGBTQ+ fanbase. After all, she built her following from scratch online, recording Y2K-influenced electro-club bangers like "BFF," "Candy," and "Mine," from her childhood bedroom in St. Louis, Missouri. "I was really living my best, trashiest life, just eating White Castle in my mom's house, taking slutty webcam selfies," she says. "All I wanted was for music to pay my bills." Thanks to viral buzz on stan Twitter and co-signs from the likes of Charli XCX and Grimes, Slayyyter amassed millions of streams before the release of her self-titled debut mixtape in 2019. That lead to her first-ever North American tour, and subsequently signing with FADER Label. Suddenly, pop stardom became financially viable.
In early 2020, she traveled to LA to work on Troubled Paradise — and stayed there, after the pandemic's onset forced her to put down roots. Shuttered recording studios had halted most music production, but the singer's DIY roots gave her an upper hand. "A lot of people were, like 'I can't make songs right now 'cause I can't get to the studio,'" she says. "And I was like, '[That] sucks. I'm fine. I know how to do it.'" Still, she doubled down on refining her "crazy electronic production" style, after realizing her mixtape wasn't as "clean" as it could've been. "I love stalking fan forums, and everyone always sh*ts on the way my mixtape was mixed," she says. This album, she assures, isn't "bedroom pop."
Troubled Paradise chronicles the musician's first major breakup and its aftermath, from the catastrophic split to the beginning of her new relationship ("I'm finally being treated respectfully and having a mutual love," she says.). While her mixtape drew from Britney Spears' bright, sugary vibe, Slayyyter set out to emulate "more alternative pop stars" this time around, including Avril Lavigne, Michelle Branch, Gwen Stefani, and Fergie. She feels a real kinship with the latter: "I feel like my voice sounds like Fergie, [especially] when she raps."
The musician has a penchant for '00s music and culture, mostly because dance-pop was the era's reigning genre. Today, it's often seen seen as "for the girls and gays"; Slayyyter and her underground pop peers like Kim Petras and Brooke Candy are more likely to be heard in gay clubs than on Top 40 radio. "It's not like how it used to be where pop stars were on the radio for everyone," she says. "Moms, dads, everyone was listening to 'Teenage Dream.'"
Slayyyter is set on reversing that trend. "I don't want to be a niche pop girl," she insists. "I so badly just wanted music to pay my bills. Now that [it does], I'm like, 'Alright. How do we kick this up a notch?'"
Get to know more about Slayyyter, including her love of Clueless and Rugrats, in her Bustle Booth questionnaire below.
In The Bustle Booth
What's your coffee order?
Cold brew with almond milk
What are the saved weather locations on your phone?
Los Angeles, New York, and St. Louis
What's your sign?
Virgo!
Favorite overused movie quote?
"As if!"
What was your favorite cartoon as a kid?
Rugrats
What's one movie or TV show you're currently obsessed with?
Charlies Angels: Full Throttle
Who is your celeb idol?
Britney Spears
If you had to be on a reality TV show, what would it be?
Bad Girls Club!
Go-to karaoke song?
"We Belong Together" by Mariah Carey
What's something that's inspiring you lately?
Rhinestone burlesque costumes
What is something you would want people to say about you?
That I'm friendly and easy to talk to!
This interview has been edited and condensed.