Love Island's Tanya Manhenga Will Miss Her Phone For A Very Relatable Reason
Here's everything you need to know about the student and influencer.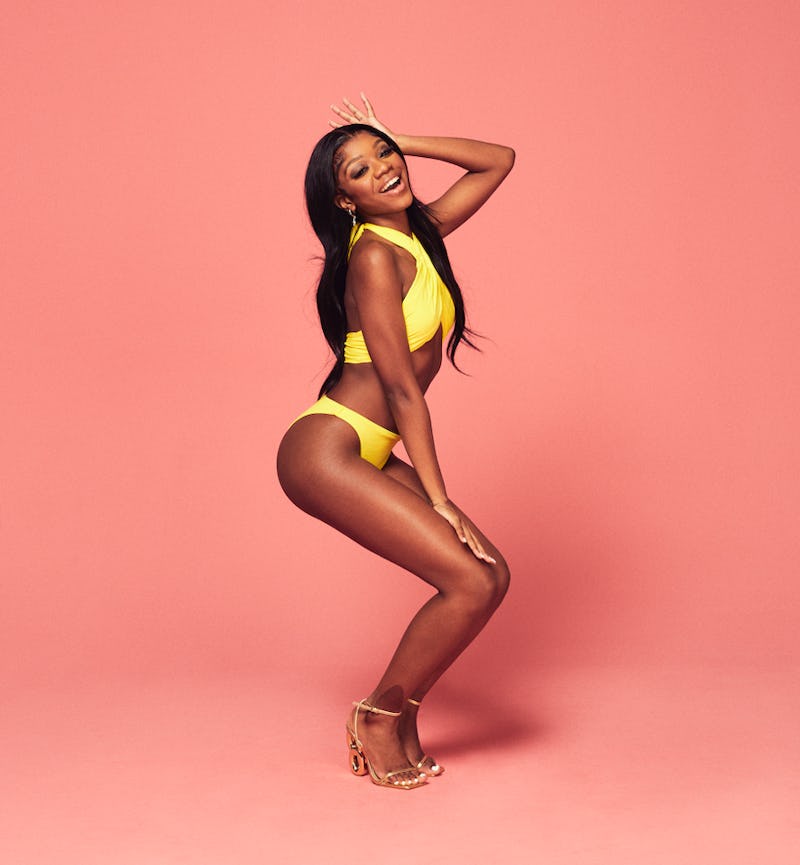 ITV
Following the sizzling 2022 series, Love Island is back for its hotly-anticipated winter edition. Along with some major changes, including a brand new host and South African villa, the fresh line-up of islanders on the lookout for love features Anna-May Robey, Olivia Hawkins, and Kai Fagan. First to be revealed to be entering the villa however was Liverpudlian Tanya Manhenga. Ahead of entering the villa, Tanya opened up about living with the skin pigmentation condition Vitiligo. "It's on my lip and I have a stripe on my hair," she explained. "Not many people know that but I think it's quite cute." She adds, "I don't care about covering it up all the time, I think it's a vibe." Find out everything there is to know about Winter Love Island's Tanya Manhenga, below.
What Is Tanya Manhenga's Age & Job?
22 year-old Tanya is currently studying biomedical science in Liverpool, where she also makes a living as an influencer. She has worked with the likes of Boohoo and Ego footwear previously, but if her life were made into a film, she would want Keke Palmer to play her. "She's sassy and she's just vibes - that's me," she said ahead of entering the villa.
What Is Tanya Manhenga's Instagram?
At the time her Love Island journey was announced, Tanya had15,000 followers — a number that is likely to sky-rocket in the coming weeks. Speaking to a select group of press, including Bustle, Tanya confessed the deeply relatable reason she will miss her phone in the villa – and it had nothing to do with posting. No, she will miss ability to stalk her fellow competitors and love interests. "In the normal world, when I start seeing someone new I tell my friends and we stalk his Instagram. But here [in the villa] of course you can't do that," she explained.
The student-influencer is a long time fan of the show as well, and will also miss watching the show. "I usually have a lot to say like I'm screaming 'what is she doing, he doesn't like you' and now that's going to be me and people are going to be shouting at me."
On the strict new social media guidelines, Tanya confessed to being initially taken aback by ITV's ban. "I was thinking about last season [and how] everyone's Twitters were popping off and how good it was…so at first I was like this won't be the best. But then I actually thought about trolls and if there's a way to lessen that, then I'm all for it," she told Bustle.
Follow Winter Love Island's Tanya at @talkswithtt_.
What Else Is There To Know About Tanya Manhenga?
Tanya isn't shy about her type: "medium handsome" men, she told Bustle. Thinking back to previous seasons of Love Island, Tanya added that Dami ("because he has a nice dressing sense") or Luca ("has a very mysterious vibe with the tattoos and stuff") would have been her type.
While Tanya said she has difficulty trusting guys on the outside, she is hoping the villa will be different. "In the villa it's a bit hard for you to cheat. The girls speak more than ever because you got nothing better to do in there, so I feel like I can let my guard down a bit and give them a chance and see how it goes," she told Bustle. But that doesn't mean she will shy away from drama – especially if "they drop someone new who looks unreal" and they are entirely into her.
Speaking about what gives her the ick, she confessed it is simple: guys that don't wear socks in the house. "Why are your feet flapping all around the house? Guys have huge feet too, yuck. Also, guys in the bathtub with no bubbles, such an ick, no," she said ahead of her Love Island stint. As for her ideal first date, if money was no object, she said: "Bora Bora; blue sea, luxury cabin, just vibes."
That said, the Liverpool-native is nervous about the dumpings, and told Bustle she will remind herself to "take everything as it comes as you never know who will be leaving."
This article was originally published on