Taylor Swift Explained The Ambiguous Ending To All Too Well: The Short Film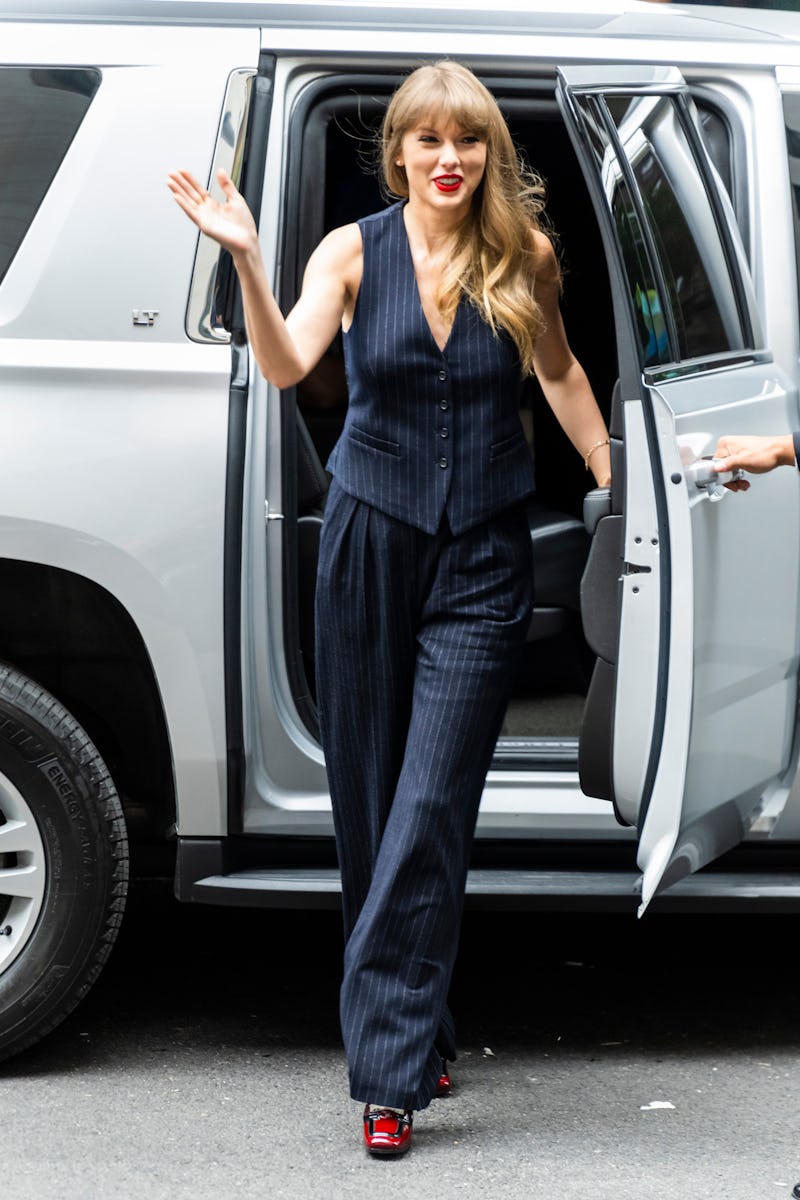 Gotham/GC Images/Getty Images
Seven months after the release of Red (Taylor's Version) and the accompanying "All Too Well" 10-minute short film, there we are again: dissecting Easter eggs and theorizing about Taylor Swift and Jake Gyllenhaal's relationship. On June 11, Swift spoke at a Tribeca Film Festival panel about her critically acclaimed short film and delved into topics such as the clues Swifties might have missed on their first (or second, third, or 13th) viewing and the ambiguous ending involving the unnamed boyfriend.
Though Swift said she battled "imposter syndrome" as she made her directorial debut, per Variety, that didn't stop her from inserting some of her signature Easter eggs into her portrayal of an ill-fated relationship. Take, for example, the red typewriter that Sadie Sink's character ("Her") types her story on. As Swift pointed out during the panel, the typewriter actually appears at the home of Dylan O'Brien's character ("Him") early in the film. "We assume he gave it to her; she complimented it and he gave it to her," Swift said at the panel. "He's taken a lot from her in the course of this [story], but he's also given her something: this dream and hope of being a writer. This experience is what galvanized her life and career."
Swift also addressed the ambiguous ending of the short film, in which the ex (rumored, but never confirmed, to be based on Gyllenhaal) can be seen, years later, wearing the writer's scarf and watching her read an excerpt from her book, All Too Well, through a door window. Crucially, we don't see his face as he lingers, then walks away into the snow — and according to Swift, that's by design.
"I wanted us to wonder: Was he just seeing if she was OK? Was he about to walk in but leaving thinking, 'It's time to leave well enough alone. I've put her through enough?'" Swift said, per Variety, before adding, "We will always wonder. We will never know." (Such is life for a Swiftie sleuth.)
Sink and O'Brien joined the musician for her panel, held at New York City's Beacon Theatre, and shed more light on their characters. On portraying "Him," O'Brien said Swift emphasized the need for the character "to be likable," despite his bad behavior as a boyfriend. "It's such a nuanced perspective Taylor has," he continued. "It's not black and white. He's not a monster. He's just a narcissistic, egomaniacal child."
This March, Swift praised O'Brien's performance for Bustle. "I had a feeling he would be great at ad libbing and adding nuance to his character, which enriched the story tenfold," she wrote in an email. "He absolutely blew me away and I feel really lucky that I gained such a great friend from the experience too."
Referring to the whole shoot as "such a fulfilling experience" during the Tribeca panel, Swift hinted that she'll sit in the director's chair again in the future. "It would be so fantastic to write and direct something… a feature," she said, per Variety.