These Taylor Swift Fan Theories Predict When She'll Announce Reputation (Taylor's Version)
Clocks and manicures could be major clues.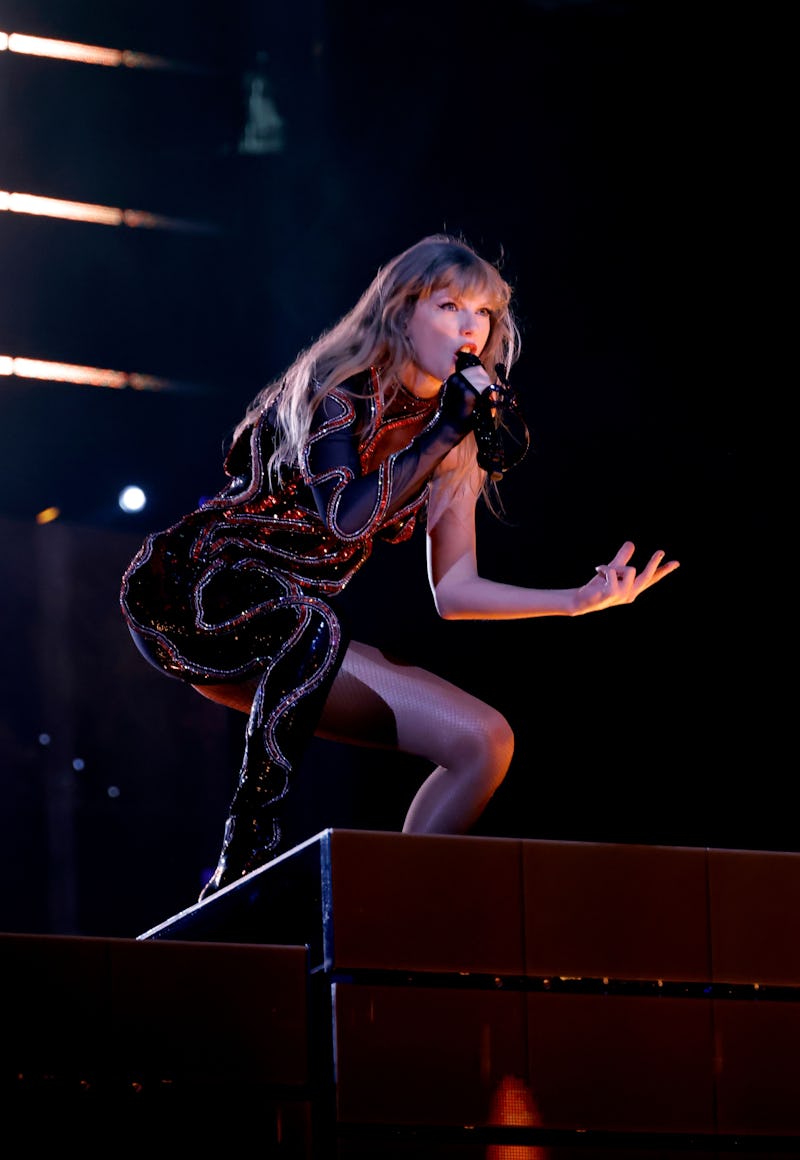 Kevin Winter/TAS23/Getty Images Entertainment/Getty Images
Another day, another Taylor Swift theory to pour over. Even though Swift just announced the upcoming release of 1989 (Taylor's Version) on Oct. 27, exactly nine years after the original album was released, fans aren't wasting any time speculating what will come after. Swifties are predicting that the singer may announce Reputation (Taylor's Version) in February, based on a common theory that originates from the "Karma" music video.
Toward the end of the video, Swift is seen holding a latte with foam art shaped like a clock, playing into the theme of her tenth studio album Midnights. Oddly, she has two different colored nails — sky blue, which represents 1989 within Swift's eras, and black, the color of Reputation. The blue nail lies next to the "eight" on the latte clock, and Swift announced 1989 (TV) on Aug. 9. If this was intentional (and with Swift, it always is), then it's likely that the "Karma" manicure also signifies her re-recording of Reputation. The black nail is next to the "two," which would indicate that Reputation (TV) could be announced in February.
If this theory holds up, TikToker @alexantonides predicted that Reputation (TV) will be released on April 8, 2024, citing how a solar eclipse can be seen in the background of her "I Can See You" music video. The next total solar eclipse falls on that date, which just so happens to be on a Friday, when most new albums are released.
The Eras Tour countdown clock could indicate that latte theory is correct — or signify a different date entirely. As pointed out by TikToker @swiftieinkc, Swift begins her show with a countdown clock that starts at exactly two minutes and 23 seconds. Feb. 23, 2024 also happens to be a Friday, and when you add the numbers together (2/23/24), it just so happens to equal Swift's lucky number 13.
This means that Reputation (TV) could potentially drop on that day, or simply just be announced. Swift will be performing in Sydney, Australia, on Feb. 23, and she's made a habit of unveiling her next re-recordings at Eras Tour shows, revealing Speak Now (TV) on May 5 in Nashville and 1989 (TV) on Aug. 9 in Los Angeles. Regardless of what actually ends up happening, it's clear that Swift will keep having tricks up her sleeve in 2024.