Friendship Bracelets At Taylor Swift's Eras Tour, Explained
Celebs are now in on the trend inspired by Swift's song "You're On Your Own, Kid" from Midnights.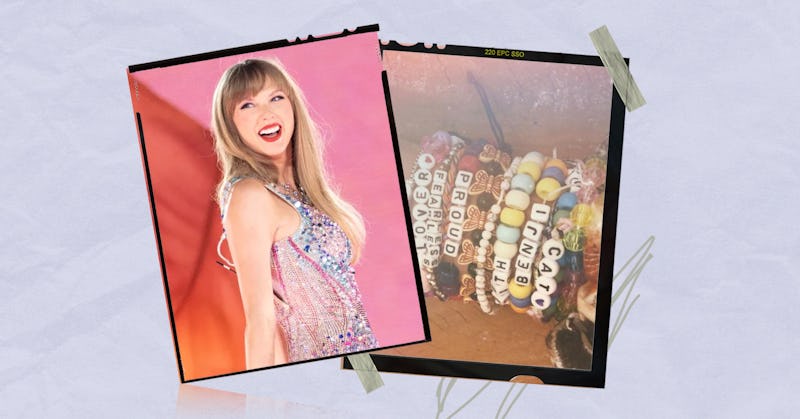 Christopher Polk/Penske Media/Getty Images/Taylor Swift/Instagram
Aside from Taylor Swift's Eras Tour merch (especially that blue crewneck sweater), there's something special that fans are taking home from each tour stop as souvenirs: friendship bracelets. Swifties are making friendship bracelets by hand and meeting up at the Eras Tour to trade them with each other. Even stars like Jennifer Lawrence accepted the wrist gifts from fans at Swift's May 14 show in Philadelphia.
The inspiration for this bracelt-giving trend came from one of Swift's songs. In "You're On Your Own, Kid," which is Track 5 on Midnights, Swift sings the lyric, "So make the friendship bracelets, take the moment and taste it," during the bridge. A collection of Swift's friendship bracelets also appeared on her Instagram in 2019, leading up to the release of her Lover album. Swifties took the singer's advice to heart and have used the Eras Tour concerts to exchange them, meeting fans they've been interacting with online at the merch stands or on the floor.
But fans aren't the only people who love the sentimental trend. Swifties have given bracelets to stars who have been spotted in the VIP tent at the Eras Tour, including Lawrence, Nicole Kidman, her husband Keith Urban, and Heartstopper star Joe Locke. Before Swift hit the stage on May 14 show, Lawrence and Kidman interacted with fans and accepted their friendship bracelets, which they continued sporting during the show. Locke got his bracelets at the April 30 show in Atlanta.
Swift's folklore and evermore collaborator Aaron Dessner, who attended her April 13 show in Tampa before performing onstage with Swift during the secret songs segment on the following two nights, was touched by fans' gestures. Dessner took to his Instagram Story to thank the "sweet person" who gave him two bracelets, which read "Long Live Evermore," a nod to the 2020 album evermore and Swift's 2010 deep cut "Long Live."
Selena Gomez's little sister Gracie also got in on the trend. After Swift handed her good friend's sister her hat while performing "22" at the April 1 show in Arlington, attended by this writer, Gracie quickly passed her a friendship bracelet, which Swift accepted before continuing the song.
Swifties are proudly documenting their bracelet-making process on Twitter leading up to the shows they'll be attending, even showcasing the difficulties of crafting dozens of DIY accessories. Swift's song titles, lyrics, and of course, her lucky number 13, are the most popular decorations, with fans also using the color of each era to make special album-themed bracelets. Some fans are even using Swift's funniest quotes or viral moments, like when she yelled at a security guard at her May 13 show, as inspiration for their bracelets.
There's also memes about the trend, because Swifties are self-aware about their tendencies to be extra.
If you'd like your own friendship bracelets, you'll have to make them first in order to trade them. Many TikTokers have made DIY videos with detailed instructions to make the process a breeze, but if you're on a time crunch or just feeling especially lazy, Swifties are also selling their own handmade bracelets on Etsy.