TikTok Is Just Realizing Taylor Swift's "Untouchable" Is A Cover Of A Rock Song
"I'm a massive Swiftie and ashamed I didn't know about this being a cover."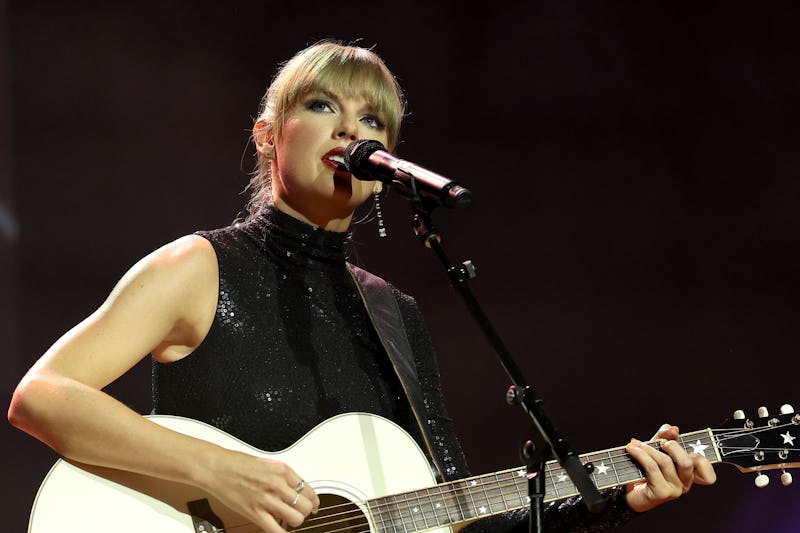 Terry Wyatt/Getty Images Entertainment/Getty Images
Nothing usually gets past Swifties. By now, Taylor Swift's loyal fans know to decode lyrics, music videos, and other would-be teasers that she drops. After all, the 11-time Grammy winner is the queen of Easter eggs. While their expert sleuthing is unparalleled, one of Swift's songs from 2008 recently surprised her fan base and made the rounds on TikTok.
On Jan. 9, a user discovered that Swift's "Untouchable" is actually a cover from '90s rock band Luna Halo. User micman04 shared the original song with the accompanying text, "How did Taylor hear this song and go ah yes this can be made into a whimsical love song." His comments section was full of surprised followers. "I feel like my whole life is a lie how did I not know it was a cover," one wrote. Another commented, "I think it truly shows she is an ARTIST that she took something and made it SO different she is a genius tbh."
"Untouchable" is originally from her November 2008 Fearless: Platinum Edition, the expanded version of Fearless, the same album that gave us "Love Story." It features six additional songs including "SuperStar," "Forever & Always" (Piano Version), and "Come in with the Rain." "Untouchable" quickly became a hit — with Swift even performing it when she was a host and musical guest on Saturday Night Live in November 2009.
Nathan Barlowe, a member of Luna Halo, spoke about being covered by Swift in 2009. He told The Tennessean, "She could have chosen any cover in the world, but that's what she chose." Barlowe also shared how the cover came about, saying, "It originally happened when Scott Borchetta, the president of her label, gave her (our) CD to listen to. Then, when she was doing a TV show called Stripped, he told her she had to come up with a cover."
And as with all things Swift touches, the song turned to gold. "We lucked out, really," Barlowe added. "She covered the song and it sounded amazing, so from there, there were so many YouTube hits on it, and so many people watching it and doing imitations of it, that's when the label decided that they should put it on the record." He later shared that the sales of their version had increased, and added that people would come up to him and say, "I never would have found you without Taylor Swift." (Swift continues to have that effect — Oscar winner Laura Dern was recognized in public this January thanks to her "Bejeweled" music video appearance.)
While the song's lyrics and chorus' melody remain unchanged, the verses are barely recognizable. Calling her "one of, if not the biggest artist in the world," Barlowe said, "When she wants to change a little thing about your song, I'm fine with it, you know?"
Apparently, Swift chose to cover the Luna Halo song as a surprise to her then-manager who was a fan of the band and even helped signed them out of Nashville. "She knew I loved the band," Borchetta said at the CMA Fest 2012.
Unfortunately, her relationship with Borchetta turned sour in 2019 after he made a reported $300 million deal with Scooter Braun, who acquired the rights to the masters of Swift's first six albums. "When I left my masters in Scott's hands, I made peace with the fact that eventually he would sell them," Swift wrote on social media, adding, "Never in my worst nightmares did I imagine the buyer would be Scooter."
In response to the deal, which mandated that Swift was no longer allowed to perform her old songs, she famously re-recorded her older albums. In April 2021, she released Fearless (Taylor's Version) and it included her Luna Halo cover.
If you want to fully appreciate how Swift re-imagined the song, here's the original.