Tom Jackson From Queer Eye Season 1's First Episode Dies From Cancer
"It's with a heavy heart that we say goodbye to a member of our Queer Eye family."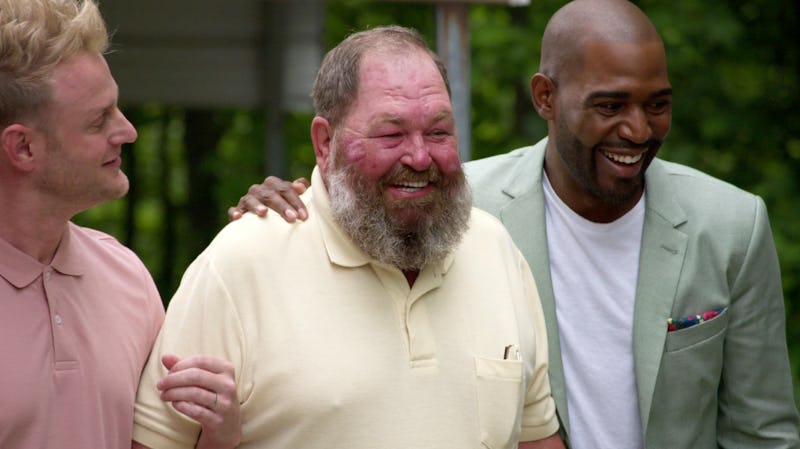 Netflix
Fan-favorite Queer Eye hero Tom Jackson from the debut episode of Netflix's reality series reboot has died. Jackson's obituary notes that the 63-year-old was diagnosed with metastatic adenocarcinoma, a cancer that affects glandular tissues. He passed away on March 3. Jackson, whose obituary mentions his 2018 appearance on Queer Eye, was a retired Federal Express worker who became a dump truck driver in Cartersville, Georgia.
"A highlight of Tom's life was being cast on the Netflix show," Jackson's obituary reads. "He enjoyed the notoriety and shared his experience with whoever would listen!" During his episode, he endeared himself to fans with his attitude and by making what he called "redneck margaritas" for Queer Eye's Fab Five Jonathan Van Ness, Karamo Brown, Antoni Porowski, Tan France, and Bobby Berk. The team taught Jackson how to make guacamole, revamped his apartment, and got him some stylish duds.
The reality show's Instagram account posted a tribute to Jackson, captioned: "it's with a heavy heart that we say goodbye to a member of our Queer Eye family. Rest in peace, Tom Jackson." Van Ness commented "RIP Tom ❤️" on the post, and France wrote, "Such incredibly sad news."
One part of Jackson's heartwarming Queer Eye episode was him finding love again with his ex-wife. While filming the episode (titled "You Can't Fix Ugly"), Jackson confided in Porowski that he was still in love with his second wife, Abby Parr, who he was divorced from at the time. The chef noticed how Jackson's face "twitched" when talking about seeing Parr now and then. "I love her more than anything. I wanna spend my life with her," Jackson confessed. Porowski and Brown encouraged him later in the episode to ask her out again and pursue the relationship. Post-makeover, the episode concluded with Jackson taking Parr as his date to a car show together.
The couple got married again in May 2018, months after the episode aired, and Jackson donned a suit the Fab Five picked out for him. Their reunion was short-lived, however. In September 2019, Jackson revealed that he and Parr broke up again. "The roller coaster ride is over. Abby and I got divorced again," he tweeted.
Jackson's obituary ended with: "In lieu of flowers, please watch Season 1, Episode 1 of Queer Eye on Netflix and tell others about it in honor of Tom."