Twitter Is Shook As Tom Brady Holds Back Tears Announcing His 2nd Retirement
"Liza Minnelli has outlived Tom Brady's football career (again)."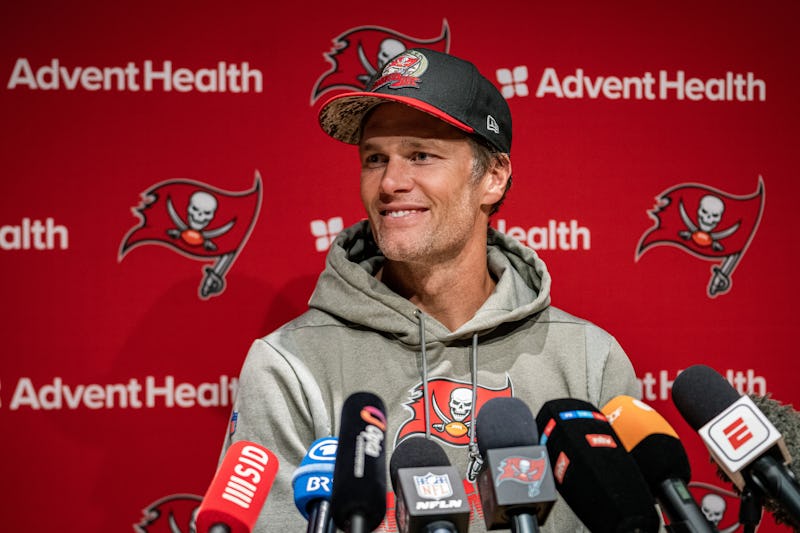 S. Mellar/FC Bayern/Getty Images
Another day, another retirement announcement from Tom Brady. The former New England Patriots and Tampa Bay Buccaneers quarterback announced on Feb. 1 that he is retiring from the NFL again. "Good morning guys. I'll get to the point right away," Brady began his video shared on social media. "I'm retiring. For good." Brady had previously announced his retirement a year to the day before in 2022, only to then rescind his announcement weeks later to continue playing on the Bucs.
The seven-time Super Bowl champion continued: "I know the process was a pretty big deal last time, so when I woke up this morning, I figured I'd just press record and let you guys know first. I won't be long-winded. You only get one super emotional retirement essay and I used mine up last year. I really thank you guys so much, to every single one of you for supporting me. My family, my friends, teammates, my competitors. I could go on forever. There's too many. Thank you guys for allowing me to live my absolute dream. I wouldn't change a thing. Love you all."
Love him or hate him, there's no denying Brady's star power on and off the field.
Naturally, the internet (football Twitter and otherwise) had some thoughts.
One user poked fun at the Patriots re-sharing their original retirement tweet. Reduce, reuse, recycle, retweet, amirite?
Others wondered if he actually will retire. Again. For real this time.
Some fans joked that his Retirement Announcement Part Deux was ultimately overshadowed by the long-awaited Beyoncé Renaissance tour news. Tom Brady, whomst?
His ex-wife Gisele Bündchen also reacted to Brady's retirement. "Wishing you only wonderful things in this new chapter of your life," she commented on Instagram.
Issues in their marriage reportedly had to do with his decision to un-retire. They eventually filed for divorce in September 2022. That said, with a second retirement announcement for him to focus on his family (he listed family first in the things he loves), Twitter then went into a frenzy.
Only time will tell if Brady's retirement this time around is for good.