Euphoria Reveals Fezco and Ashtray's Heartbreaking Fates
Can't this show let us have one happy thing?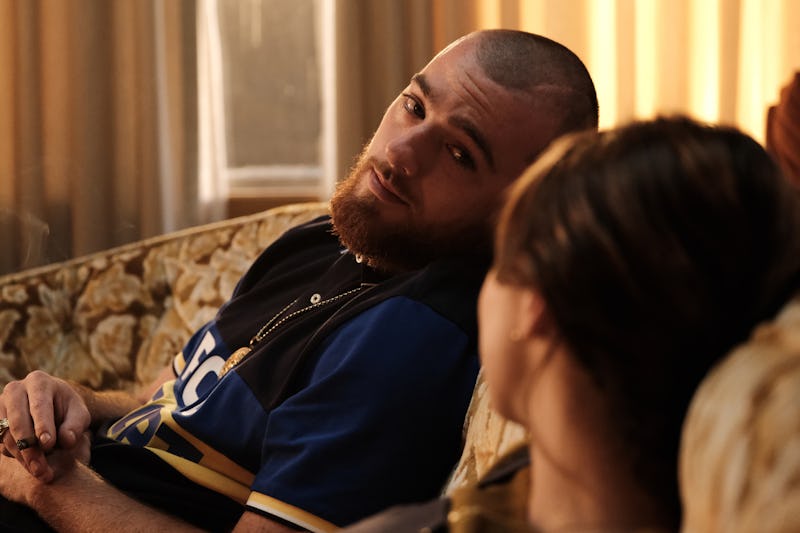 Eddy Chen/HBO
Spoilers ahead for the Euphoria Season 2 finale.
Euphoria has once again ended in heartbreak. For weeks, viewers have watched the slow-burn romance between Lexi (Maude Apatow) and Fezco (Angus Cloud) on Euphoria, all while wondering if it was going to end in tragedy. When Fez failed to show up for the opening night of her play, it was clear something bad had happened. And in the Euphoria Season 2 finale, we finally find out the truth: Fezco is not dead. But Ashtray (Javon Walton) is.
Ashtray's death all came down to Mouse's ex-assistant Custer (Tyler Chase) and his girlfriend Faye (Chloe Cherry), who were mostly background characters up until this point. After Ashtray killed Mouse in the Season 2 opener, Fez managed to smooth things over with his boss Laurie (Martha Kelly), and even took in Faye while Custer laid low. But it was all for naught. Custer had been working with the police to incriminate Fez and Ashtray for the murder. As Fez got ready to go to Lexi's play, Custer arrived, set down a recording phone, and told Faye the plan. And in the finale, things fall apart.
Just as Fez is about to leave, Custer tells him he has to talk to him about "everything" before he leaves. "Bro," Custer says slowly. "The f*ckin' cops found Mouse's body." It's clear he's trying to elicit a confession from Fez, but Faye — who was looking conflicted about Custer's plan — suddenly intervenes. She insists over and over that Laurie killed Mouse. As Custer begins to yell at Faye, suddenly Ashtray stands up with a knife in his hands. Before Custer can even say anything else to Faye, Ash stabs him in the neck. They all silently watch as Fez rushes forward, stifles Custer's gurgling, and then drops Custer's recording phone into soda after he dies.
Fez then punches Ashtray so it doesn't look like he did it. He tells Ashtray to go out there and tell the cops that Fez killed Custer, and to send the cops in so they can find him standing with the bloody knife. But instead of leaving, Ashtray loads up a bathtub with guns and stands with a rifle in the hallway. Fez begs him to give him the gun and leave, but he refuses. He knocks Fez in the head with the gun and locks himself in the bathroom with his guns. Then the police burst in through the door, weapons drawn.
In the bathroom, Ash loads the guns and opens fire. Fez is shot in the side during the crossfire. Ash and the cops continue to fire back and forth until the house is virtually destroyed. When it's all over, the cops open the door and a sniper kills Ash just as his and Fez's eyes meet.
It's a tragic conclusion, but it certainly felt like the series was building towards something terrible. In a January interview with GQ, Cloud revealed that Fezco was actually supposed to die at the end of Season 1, but Euphoria creator Sam Levinson decided against it after seeing Fez was a fan favorite. Now, that fate has been given to Ash.
In the end, Fez's Season 2 story, and romance with Lexi, ended up being too good to be true. He listened patiently as she explained Germanic pagans at the New Year's Eve party, encouraged her to work on her play, and watched Stand By Me with her when she needed a break from Cassie's (Sydney Sweeney) unending drama. In the finale, we see them delve into deep discussions about having kids, their stances on guns, and what they want to do when they're adults. When opening night rolled around, Lexi saved Fez "the best seat in the house," and he dressed to the nines and bought a bouquet for her. But every single relationship we've seen on the series so far has ended in misery, and this twist seemed inevitable. While Fez didn't die, losing his brother is a deep wound he'll never recover from — and now he's going to likely be in jail for a long time to boot.
Ultimately, a prescient line from Lexi's play ended up being true. "I feel like I've lived most of my life in my imagination. Taking the smallest moments and dreaming them up into something bigger," she said. "But I always had this feeling that at any moment, something horrible was about to happen."
Here's hoping the third season of Euphoria will break our hearts a little less.
This article was originally published on