Bachelor Star Teddi Wright Hinted That She May Be Going On Bachelor In Paradise
"I'm sure you'll see me again."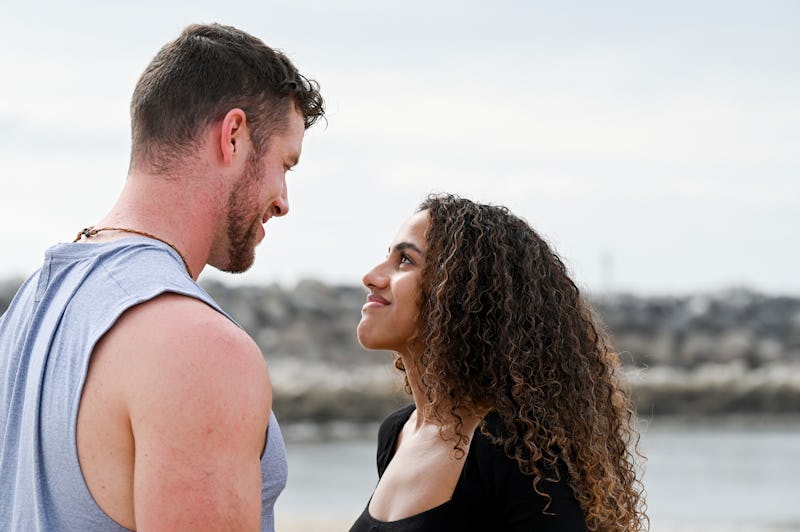 ABC/John Fleenor
Clayton Echard and Teddi Wright hit it off immediately on his season of The Bachelor. After a sweet introduction, he gave her his first impression rose, positioning her as a frontrunner from the beginning. "I loved the way that she carried herself," Clayton told Bustle of Teddi. "And when she walked away there was that spark."
But at the end of the Feb. 21 episode, the 24-year-old nurse was shockingly eliminated. And although many fans are distraught that her and Clayton's love story is over, she has absolutely no regrets. "Wow wow wow, what a whirlwind the past few months have been!!" the Highland California native wrote on Instagram. "I am so unbelievably thankful for my life right now. This was truly a once in a lifetime experience."
"The friendships I made will last a lifetime," Teddi continued. "The love and confidence I found within myself will only continue to grow. I learned that there is strength in being vulnerable, it takes so much more courage to stay open to love no matter the risk of being hurt." Before signing off, Teddi thanked the viewers for all of their support and promised that her journey isn't over quite yet.
"The amount of support I've received throughout this process has meant so much to me and I am so thankful for all of the kind DMs and comments you guys have left me, so thank you," she wrote before dropping a massive hint about her future in the Bachelor franchise "I'm sure you'll see me again," she teased alongside a sparkle emoji. This, of course, can only mean one of two things.
Most likely, Bachelor Nation can expect to see Teddi in the upcoming season of Bachelor in Paradise, which has not yet been announced. "All I see is a girl who's gonna be the queen of paradise this summer," @bachelorettewindmill wrote in the comments of Teddi's post. "We'll hopefully see you again this summer," @bachelorwhatever added.
Other fans are already campaigning for Teddi to be cast as the next Bachelorette. "Teddi NEEDS to be the next Bachelorette," Twitter user @hauber_katlynn wrote after the fan-favorite contestant was unexpectedly sent home. "Just crown Teddi bachelorette," another fan tweeted. "Like come on, this is so easy." Several other members of Bachelor Nation agreed.
Although Clayton eliminated Teddi, he would likely agree that she would make an excellent Bachelorette. "I don't believe in love at first sight, but I believe that you can have that feeling that you're like, 'Wow, there's something special about this person that kinda separates them from someone else,'" he told Bustle last month. "The conversation was so fluid. She's a very phenomenal human being."
Unfortunately, things took an awkward turn when Teddi told Clayton that she's a virgin and is waiting until she's in love to have sex. Teddi articulated herself well, but Clayton got tongue-tied. And now that she's been eliminated, fans can't help but wonder if that uncomfortable conversation on their one-on-one is what unraveled their relationship.
Regardless of why she was eliminated, Teddi hasn't been sulking about it. When she returned to Instagram after filming the season in December 2021, she posted a sunny solo shot. "A California winter," she captioned the photo simply.
After that, Teddi shared a few obligatory promo posts for The Bachelor. She tagged one series of photos #cloud10 and wrote alongside an unrelated January picture "might just be the best year yet," hinting that she was happy with how things turned out. But she hasn't expanded much about her relationship with Clayton.
Other than that, Teddi has only posted a handful of shots on Instagram over the last few months: one of her posing in front of a sunset with wine, another in a cocktail dress she wore on the show, a carousel of her in a swimsuit and cowboy hat, and a more recent picture of her smiling in front of a big tree. She also never tags her location, which made it difficult for fans to determine whether or not she was eliminated.
Now that Teddi's been sent home, her future in the Bachelor Franchise seems bright. Whether as the next lead, on Bachelor in Paradise, or with a shiny new engagement ring on After the Final rose, expect to see Teddi stick around in Bachelor Nation.
This article was originally published on