Who Is Jerrod Carmichael Dating? The Golden Globes Host Came Out As Gay In 2022
The comedian and Emmy winner keeps his personal life private.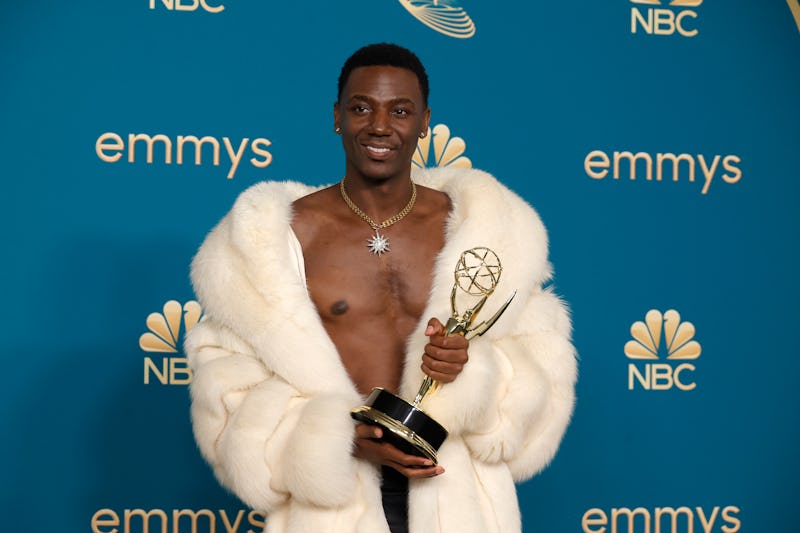 Frazer Harrison/Getty Images Entertainment/Getty Images
Awards season is upon us. On Jan. 10, the 80th Annual Golden Globes Awards kicks off the season and it's already shaping up to be an exciting (if not controversial) night. Some of last year's buzziest projects including White Lotus, Abbott Elementary, Everything Everywhere All at Once, and Avatar: The Way of Water scored several nods, while the likes of Selena Gomez, Jenna Ortega, Taylor Swift, and Rihanna could also win big. For those watching the three-hour telecast, you're in for a treat with Emmy-winning stand-up comedian Jerrod Carmichael hosting the show.
The Carmichael Show alum came out as gay on his April 2022 HBO comedy special Rothaniel. Saying he has a secret, he revealed, "And the secret is that I'm gay." Since then, he's drawn from his sexuality for material in his stand-up. He even joked about the perks of being gay when he hosted Saturday Night Live that same month. "If you say you're gay in New York, you can ride the bus for free and they just give you free pizza," he quipped.
But the aftermath of his revelation hasn't been all positive. In a guest appearance on The Howard Stern Show a few weeks after Rothaniel came out, the comic spoke about how it impacted his relationship with his devout Christian mom. "Me and my mom have a God-sized wall between us. You know, that's the impossible thing to navigate," he told the host. "She didn't account for a gay son. She doesn't really know what to do with it."
Those eager to know more about Carmichael may be wondering if he's taken. On Rothaniel, he hinted that he was in a relationship, referring to a "white boyfriend" on the show. However, not much is known about the comedian's personal life, as he keeps things private, including his Instagram page (and it appears that he doesn't post on the platform, either).
While Carmichael keeps his personal life very private, his frequent collaborator Ari Katcher did share his experience on the comedian's coming out in the interview with Rolling Stone. Katcher told the outlet that it was initially a "slow progression" with Carmichael first identifying as bisexual. He added, "And then it became explicit stories about sex with men." And after, "It became, 'I'm gay and it's important for me to say that.'"
Whoever Carmichael is dating, if he's dating anyone, he'll share it on his own terms and when he's ready. Maybe in another comedy special.