Selena Gomez's Net Worth: She Makes 6 Figures Per TV Episode In 2022
She started out making $3,000 an episode in Barney & Friends.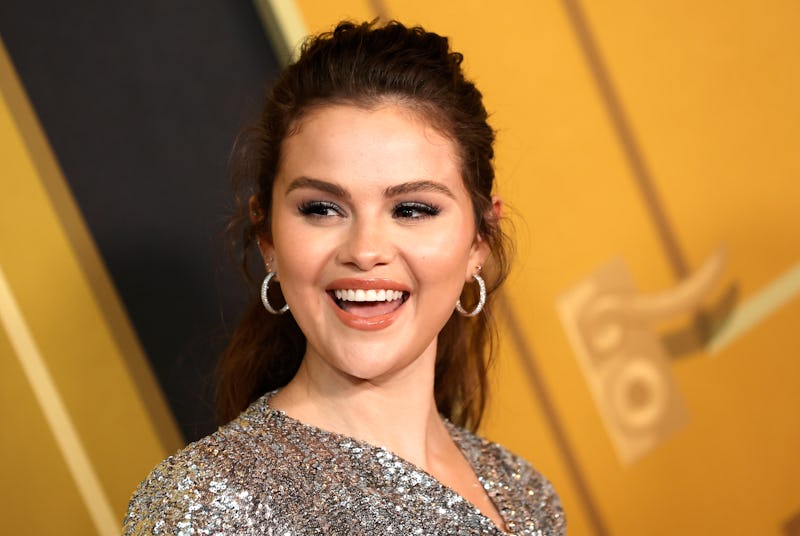 Frazer Harrison/WireImage/Getty Images
Being thrust into the public eye at a young age is rarely easy. For Selena Gomez, who first shot to fame as a Disney starlet in Wizards of Waverley Place (and even younger in Barney & Friends), her life in the spotlight has certainly come with ups and downs. Despite career successes that range from hit pop albums, sell-out stadium tours, a critically acclaimed turn in Hulu's sharp whodunit Only Murders in the Building, producer credits on shows like 13 Reasons Why, Only Murders in the Building, and Selena+Chef and a beauty line called Rare Beauty, Gomez has had her struggles too. In her new Apple TV+ documentary, My Mind & Me, her "six-year journey into a new light" is expected to be explored.
Gomez is an actor, producer, and businesswoman with an ever-growing net worth. Not only is she raking in millions from her work on and off screen — but she is also a prolific businesswoman whose brand collaborations, investments, and social media presence also add a significant sum to her salary.
But sometimes, career success doesn't equal mental wellness. That's why in 2022, Gomez launched a wellness app called Wondermind. She is also giving her fans an inside glimpse at her journey with her own mental health.
With her new documentary and season three of Only Murders in the Building on the way, we did a little digging — just how much money does Gomez actually make? Here is a breakdown of the pop star and actor's staggering net worth.
8 Ways Selena Gomez Makes Her Millions
1. The Early Days: A Disney Starlet
Gomez began her career at the young age of 7 when she landed a role on the famous kids' show Barney & Friends. According to Money Inc., she was paid $3,000 per episode and ultimately appeared in 13 episodes altogether.
Her acting success continued with several cameos on Disney Channel, before she landed the leading role on Disney's Wizards of Waverley Place. The hugely popular tween show ran for six years and, not only did the show launch her career, but it also reportedly paid $30,000 per episode.
When the show finally came to an end, it was the end of an era for Gomez. "Ending the show was one of the hardest things I've ever had to do," she told the Evening Standard in 2012. "I love everybody involved with Wizards. I love everybody in the cast and everybody in the crew. They all helped me grow up and become the person I am today. I'm really going to miss that safety net."
Although she lost the safety net of her tween years at Disney, she moved on to even bigger things in no time.
2. Breaking Into Hollywood: Spring Breakers, The Big Short, & A Rainy Day in New York
After becoming a household name for Millennials all over the world thanks to Disney Channel, Gomez has continued to showcase her range as an actor with roles in over 100 projects.
Shortly after Wizards of Waverley Place, she really began to make her mark in Hollywood with a string of film roles. In 2012, she starred as Faith in the dark coming-of-age movie Spring Breakers. The role gave her a chance to break away from her Disney girl-next-door image. "I feel like it's evolution," she told The Guardian in 2013. "You've got to push yourself as an actor if you're going to grow, and that's what we're doing, pushing ahead, learning all the time."
It's unclear exactly how much Gomez made for her role in the film, according to Gomez's co-star, Pretty Little Liars' Ashely Benson, none of the actors made much as it was an indie project with a low budget of just $5 million. "One [film] that I didn't get paid for—really, at all—as Spring Breakers, which turned out to be one of my favorite projects I've ever done," she told InStyle. "In the indie film world, I would rather get paid [next to] nothing to work with someone like Harmony Korine and have an amazing experience and the outcome be an incredible film I'm really proud of." (per ET Online).
Gomez went on to lend her voice to Hotel Transylvania, before appearing in films like Aftershock, Getaway, Rudderless, Behaving Badly, and The Fundamentals. She also made a cameo appearance in The Big Short. In 2019, she landed a role in a high-profile Woody Allen project, A Rainy Day in New York. However, after Allen was accused of sexual abuse, Gomez reportedly donated an amount to Time's Up Legal Defense Fund that "far exceeded her salary for the film."
3. Streaming Star: Only Murders In The Building
In 2021, Gomez took on what is arguably another career-defining role in Hulu's Only Murders in the Building, a stylish, witty whodunit. Variety reported that Gomez's co-stars Martin Short and Steve Martin were both making $600,000 per episode. While Gomez's salary has not been reported, as the third lead of the show, chances are, she's raking in a similar figure.
The popular show's second season proved to be just as popular as its first, and a third season has already been confirmed. It's highly possible that Gomez will continue earning a pretty large sum from the show in years to come.
4. Producing: Only Murders & 13 Reasons Why
And Gomez's acting isn't her only source of income in the film and TV industry — she also owns her own production company, July Moon Productions, and has been an executive producer on 11 projects, including Only Murders in the Building and Netflix's 13 Reasons Why.
On several projects, however, the actor has reportedly given some or all of her salary. According to US Weekly, Gomez privately donated "more than she made" after Woody Allen, director of A Rainy Day In New York, was accused of sexual abuse. In 2021, Gomez launched her at-home cooking show, Selena+Chef, which reportedly raised $360,000 for 23 non-profit organizations in the first two seasons.
5. Pop Star: From Stars Dance to Rare
Gomez made the leap from acting to singing in 2009 with "Tell Me Something I Don't Know," a single released on the Another Cinderella Story soundtrack. She went on to release three records with her band Selena and the Scene. In 2013, she launched her debut solo album, Stars Dance. The album reportedly opened at the top of the Billboard 200 chart and sold 97,000 copies in the first week. She went on to release two more studio albums, Revival and Rare, both of which also opened at number one. She also released a Spanish album that received a Grammy nomination for Best Latin Pop Album.
Despite her undeniable success in the world of pop, it appears that Gomez has been considering putting her focus elsewhere. "I think there are a lot of people who enjoy my music, and for that I'm so thankful, for that I keep going, but I think the next time I do an album it'll be different," she told Vogue in 2021. "I want to give it one last try before I maybe retire music."
So, how much money has Gomez made from her long career in music? According to MoneyNation, her total music sales as of 2016 reached just over $16 million. In addition to music sales, Gomez has also likely made millions from her tours. According to Seventeen, she made roughly $20.3 million on her Stars Dance tour and $35.6 million on her Revival tour.
It's safe to say that this Grammy-nominated artist has made quite a few million from her music.
6. Businesswoman: Wondermind, Rare Beauty, & More
In addition to her creative projects, Gomez has also shown herself to be a pretty savvy businesswoman. Over the past few years, the star has launched a beauty company, created a mental wellness app, collaborated with several huge brands, and invested in a few start-ups.
In 2021, Gomez launched Rare Beauty, a line of vegan and cruelty-free makeup products that are sold globally through partners like Sephora and SpaceNK. According to TooFab, the company made $60 million in profits in just one year. While Gomez is undoubtedly making a profit off the successful company, her aim, as she told Bustle, is to raise $100 million over the next decade for mental health support in underprivileged communities.
In 2022, Gomez launched Wondermind along with her mother Mandy Teefey, and Daniella Pierson, the founder and CEO of The Newsette. Wondermind, a mental fitness platform, had the aim of "democratizing and destigmatizing mental health."
While the company is still young, it has already secured some big investors. "We have big brands already expressing interest in advertising and being partners of ours," Pierson told Entrepreneur. "We're excited to build a lucrative business. Because the best way to ensure that society pays attention to an issue is to make money from it. That's how true movements are made."
In recent years, Gomez has also made some investments of her own. According to Fortune, she's a stakeholder in Serendipity, an ice cream startup, and Gopuff, a grocery delivery service.
Gomez, like many other celebrities, also earns a steady stream of income through her brand collaborations. In 2016, for instance, she was reportedly paid $10 million to work with bag and leather designer Coach on a special line of bags. A year later, her deal with Puma was reported to be worth over $30 million.
7. Real Estate
In 2020, Gomez purchased a stunning mansion in Encina, California, previously owned by Tom Petty, for a reported $4.9 million. The sprawling custom-built home features six bedrooms, 10 bathrooms, a yoga studio, hidden passageways, and a large tree-lined pool.
Gomez also owned a bungalow in Studio City, which she bought in 2017 for $2.249 million and sold in 2020 for $2.37 million. In 2018, she sold another previous home, a five-bedroom mansion in Fort Worth, Texas, for $2.7 million.
8. Social Media Influencer
With over 330 million followers, Gomez is reportedly the fourth highest-earning celebrity on Instagram, earning between $800,000 and $1.735 million per sponsored post.
Even though Gomez is potentially earning millions through Instagram, she prefers to keep her attention elsewhere for the sake of her own mental health. As she explained to Vogue in 2021, she has an assistant who posts on social media for her so that she can stay off the internet.
What Is Selena Gomez's Net Worth?
With ever-growing success in numerous industries, Gomez has a reported net worth of $95 million as of 2022. And by the sounds of things, the young star hasn't even come close to achieving all of her goals. "I haven't even touched the surface of what I want to do," she told Vogue in 2021. "I can't wait for the moment when a director can see that I'm capable of doing something that no one's ever seen." It's clear that Gomez is only just getting started.
This article was originally published on