Mila Kunis Wasn't In Ted 2 Because She Had A Major Life Change
Amanda Seyfried took on a new lead role in the sequel.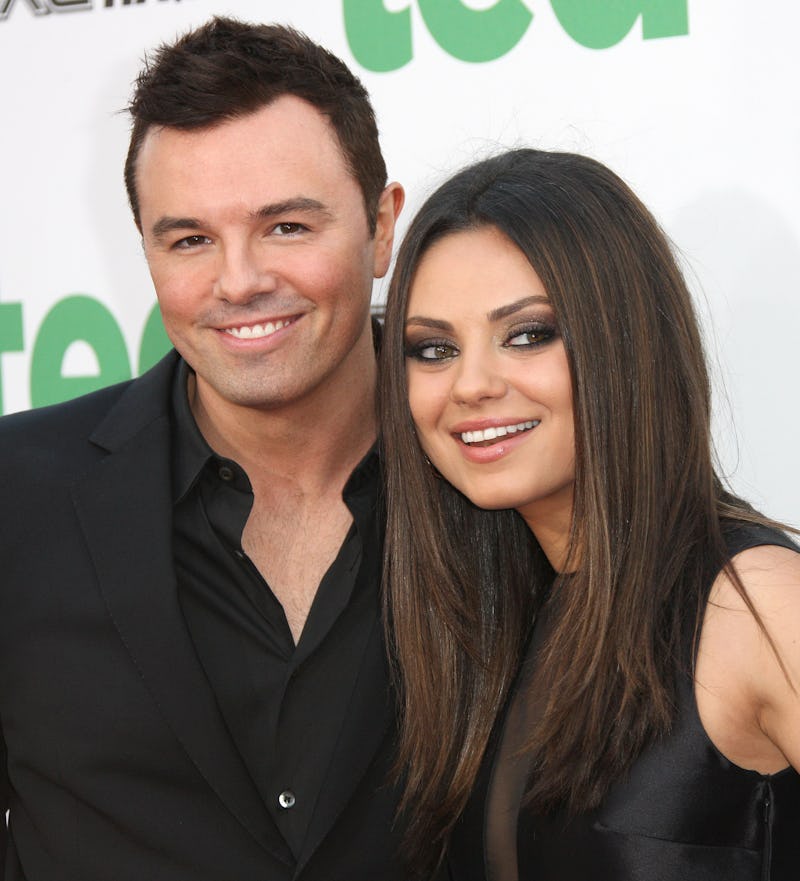 Frederick M. Brown/Getty Images Entertainment/Getty Images
When Seth MacFarlane's R-rated comedy Ted was released back in 2012, it's no exaggeration to say it took the world by storm. Reviews were great, it made a killing at the box office, and audiences truly believed that a friendship between a 30-something man and a teddy bear was not only believable but goal-worthy. So it came as no surprise that the creative team, helmed by director and co-writer MacFarlane, quickly got to work on a sequel, Ted 2, which premiered on Jun. 26, 2015 (and makes for excellent comfort rewatching today). However, it was a surprise that the first movie's leading lady, Mila Kunis, did not return for the fluffy fun.
At first, it might have seemed like there was some terrible reason behind her absence. Was the beloved Bad Moms actor unhappy with her role in the first movie? Was she feuding with MacFarlane? Does she have something against foul-mouthed teddy bears and their struggles to have babies? Negative. Instead, the decision for Kunis not to return, it seems, had nothing to do with any drama, but rather a creative decision made by MacFarlane. According to Deadline, MacFarlane chose not to focus the plot of Ted 2 on John's (Mark Wahlberg) relationship with Lori (Kunis) but instead have the movie revolve around the antics of Ted (MacFarlane) and his new wife, Tami-Lynn (Jessica Barth). Of course, there was still a main female lead in the movie — a lawyer played by Amanda Seyfried — but Kunis's character ultimately did not have a presence.
So how did they write around Kunis's notable absence? (Minor spoilers ahead if you haven't already watched.) In the sequel, it's explained that John and Lori divorced after six years of marriage. The majority of the film takes place a year after their break-up, with John finding love once more with Seyfried's character, Sam. The two develop a close bond early on in the movie, although it takes some time to turn into a real romance since John says he's still having trouble moving on from his relationship with Lori.
Yet even if the divorce had never happened, and MacFarlane had actually wanted Ted 2 to focus on John and Lori, they would've had to work around some major changes in Kunis's personal life. In a Reddit AMA in February 2015, the actress said that "a little thing called 'a pregnancy' got in the way of me and production." Kunis and her then-fiancé Ashton Kutcher had a daughter, Wyatt, in October of that year. Still, Kunis wished the Ted team "all the best," adding that she was "sure the movie will be hysterical." That it was. Rewatching Ted 2, which you can rent on Prime Video, will remind you how well the sequel hits the original's heartfelt high notes and abundant laughs, too.
For those who still aren't convinced there's no drama-filled reason Kunis isn't in the sequel, the actress still voices Meg on Family Guy, a show created by MacFarlane. Clearly, there's no bad blood between them. And as for the choice to cast Seyfried as Sam L. Jackson, John's new romantic interest and a lawyer representing Ted in his fight to be recognized as human, the change makes perfect sense. Seyfried, who recently became an Oscar-nominated actor, starred in MacFarlane's 2014 A Million Ways to Die in the West. Judging by the duo's posts on social media, it seems that the actor (and her photogenic dog, Finn) had nothing but a great time on set.
So while it was certainly disappointing that we didn't get more Mila Kunis in Ted 2, it remains a relief to know that it's not because of any horrible reason. And fortunately, you can catch her in the several comedies she's starred in since — from Bad Moms and its holiday sequel to The Spy Who Dumped Me. In the end, Seyfried proved to be a welcome addition to the cast, and it'll be exciting to see what MacFarlane and his foul-mouthed bear have in store for fans the third time around should Ted 3 ever happen. Here's hoping it does.
This article was originally published on