All The Clashes & Relationship Drama You Need to Remember From Younger Season 6
Including that finale cliffhanger.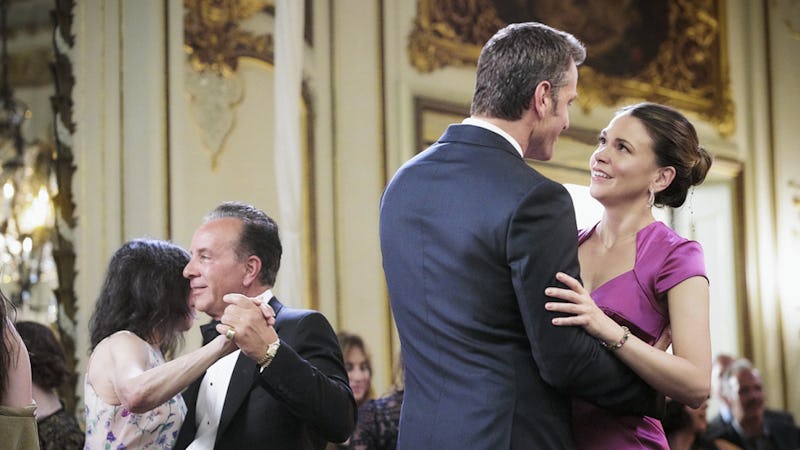 TV Land
It's been a while since Younger graced our screens, but its seventh and final season has finally arrived. Given that the last time the show aired a new episode was in 2019, you may have forgotten exactly where things left off — especially since the premiere will throw viewers into the deep end with four new episodes all dropping at the same time.
Our heroine Liza (Sutton Foster) spent much of Season 6 being pulled between two people, whether it was Kelsey and Charles' competing business interests or her long-simmering love triangle with Charles (Peter Hermann), and Josh (Nico Tortorella). Here's a refresher on all the love, clashes, and anything else you might've forgotten ahead of Younger's Season 7 premiere.
The Publishing Industry Was Never More of a Rollercoaster
While the season kicked off with Kelsey (Hilary Duff) taking over Millennial as publisher, it wasn't what she thought her dream job would be. With Kelsey's new position came the pressures of solving Millennial's money woes, as well as competing with Charles' new business, the Mercury publishing house. That left Liza in a tricky place, trying to balance her burgeoning relationship with Charles as well as her support for Kelsey.
Eventually, Charles offered to merge their two companies so he could work alongside Kelsey, Diana, and Liza (and bring Kelsey's boyfriend Zane into the mix). He ended up as publisher again after a particularly mortifying social media faux pas led to Kelsey stepping down. That left Kelsey wondering if she had a place in the company anymore, but with Charles' reassurance, she stuck with the Millennial team — though not until she had already pitched a new company to Quinn (Laura Benanti), the mercurial millionaire who left Millennial in a bind before.
The Love Stories Were Still Messy
One of the biggest clashes in the show is still how Liza will decide between the two men in her life. Initially, that decision seemed resolved: Liza was happily moving forward with Charles, and Josh learned that he fathered a baby with his estranged wife Claire (Bridgerton's Phoebe Dyvenor). For a little while, the pair tried to make a go of dating, but they ultimately decided to break up and just co-parent their daughter Gemma together.
What seemed like it could be the end of a love triangle actually just reignited it: almost immediately in fatherhood, Josh started leaning on Liza hard. She promised to always be there for him and Gemma — something that made Charles feel a little uncomfortable. It was only then that Liza decided to choose a future with Charles, writing Josh a "Dear John" letter to let him know that she can't see him as a friend anymore. Which, of course, prompted Josh to declare that they weren't over. "You're scared of us. Scared of what we are and scared of what we still are. Now, you're making the safe choice," he said. Though she disagreed in the moment, Liza conceded to her friends that she was having feelings for Josh and seemed to be really struggling with her decision. All that would've been big enough without the final twist: at Diana's wedding to Enzo (hooray!), Charles told Liza that he thinks they should get married.
Before she could answer, Liza and Charles were interrupted by their friends. There seemed to be a real sense of love between them as they stared at each other across the wedding dance floor. But is it enough to finally end the love triangle once and for all? We'll find out in Season 7.