PSA: These 10 Halloween "Costumes" Will Always Be Offensive
Dressing up as a cultural stereotype is never, ever OK.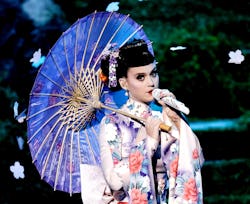 Kevin Winter/Getty Images Entertainment/Getty Images
Ah, Halloween. The holiday that has become a minefield for cultural appropriation missteps. So, here's a super friendly reminder: dressing up as a cultural stereotype is never, ever OK. And in case you needed a refresher, culturally appropriative Halloween costumes are offensive because it reduces a culture to, well, a literal costume — one that certain groups of people can take off, but others live with every day.
Announced Oct. 1, 2020, Pinterest won't be promoting culturally insensitive Halloween costumes. "As a platform for positivity, we want to make it easy to find culturally-appropriate Halloween ideas," a blog post from the company states, "and bring awareness to the fact that costumes should not be opportunities to turn a person's identity into a stereotyped image." Starting Halloween 2020, Pinterest won't be using its platform to bolster costumes that perpetuate such stereotypes.
Cultural appropriation is "the manifestation of one of the earliest, most enduring racist ideals: the belief that people who belong to marginalized cultures are somehow less than human," Jessica Andrews wrote for Teen Vogue. Further, as Osamudia James, professor and vice dean at the University of Miami School of Law, wrote for the Washington Post, "Conduct that presents white people as normal while presenting other groups as exotic ... is racist." Translation: when white people dress like stereotyped versions of people of color for Halloween, it's racist and hurtful.
So what does that look like? What counts as cultural appropriation? According to Marie Claire, the simple answer to that is you shouldn't dress up as a marginalized culture that isn't your own, and you most definitely shouldn't paint or color your skin to match someone else's. But that can get a little complicated when it comes to movie and TV show characters. Such was the case when Moana's popularity sparked a debate around whether it was appropriate to dress a child as the character for Halloween. However, even dressing as some of our favorite characters can cross the line into cultural appropriation. As a gentle reminder of where that line is, these are 10 culturally appropriative Halloween costumes you should definitely never wear.
Most of these examples are fairly obvious because they depict racial stereotypes that, honestly, should've disappeared a long, long time ago. Fortunately — and, again, obviously — there are many, many, many Halloween costumes that don't culturally appropriate and aren't offensive. If you're ever in doubt about whether your costume is culturally appropriative, go with your gut and choose something else.