13 Ghost-Hunting Apps That Claim To Find Paranormal Activity
Hello from the other side.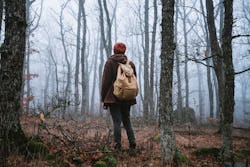 Shutterstock
You don't have to wait for Halloween to use a ghost hunting app. It's a thrilling thing to do if you're stuck at home, and even more fun to do with friends. Whether you go down to your creepy basement to talk to spirts, or venture through the woods looking for apparitions, you never know what you might find lurking in the dark.
In fact, an October 2021 survey of 2,000 people conducted by OnePoll on behalf of Phantom Wines revealed that over 63% of respondents believe in the paranormal in some form, and 44% have even had a personal paranormal encounter of their own. A third of respondents said they've felt a vague "unexplained presence" in their home, whether it was due to flickering lights or doors closing at random. And for the 23% who said they don't believe in the paranormal, they admitted that they still wouldn't want to "provoke" anything. (Looking at you, Ouija boards.)
Whether you want to debunk these claims, or prove once and for all that your hallway really is haunted, a ghost hunting app will come in handy. Most of them have heavy disclaimers stating that they can't actually verify the presence of ghosts. But you know what? That shouldn't stop you from playing around with tools like EMF meters or EVP recorders — and having yourself a spooky time.
Here, the 13 best ghost hunting apps that might help you detect paranormal activity.
This article was originally published on