The 5 Best Manifestation Apps
Dream life downloading in three, two, one.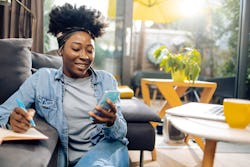 RgStudio/E+/Getty Images
Living your best life takes on a whole different meaning when you know how to manifest. Gone are the days of thinking your dreams are just that — now, you can use different manifestation practices to help you design and actualize your ultimate dream life. Although candle magic, crystals, and Pinterest boards can certainly supercharge your intentions, you don't need fancy tools to manifest — you can do it right from your phone using manifesting apps.
Manifestation is basically the practice of speaking your ideal life into existence. By aligning yourself with your intentions and genuinely believing you're currently living your dreams, you're attracting the life you hope for one day. But it takes more than thoughts to work — it requires earnest effort and action.
So, how can you effectively draw the things you want, like a raise, a new job, or a bubbly romance? "Rituals, quantum frequency shifts, journaling, the moon phases, and plenty more can help with this process, as well as apps," quantum mystic and co-author of Astrology SOS, Imani Quinn, tells Bustle. "Apps can help with the manifestation process by breaking down tools into helpful steps that become accessible to integrate into your day-to-day life. Using it for manifesting your intentions creates a positive way to utilize your smartphone towards what you want in your life."
There are so many ways to breathe life into your goals — vision boards, journaling, and meditation are just a few effective manifestation techniques. But if you're looking for other ways to elevate your practice, try these manifestation apps.