9 Bullet Journal Alternatives
Thousands of Amazon shoppers swear by these high-quality notebooks — and some are less than $10.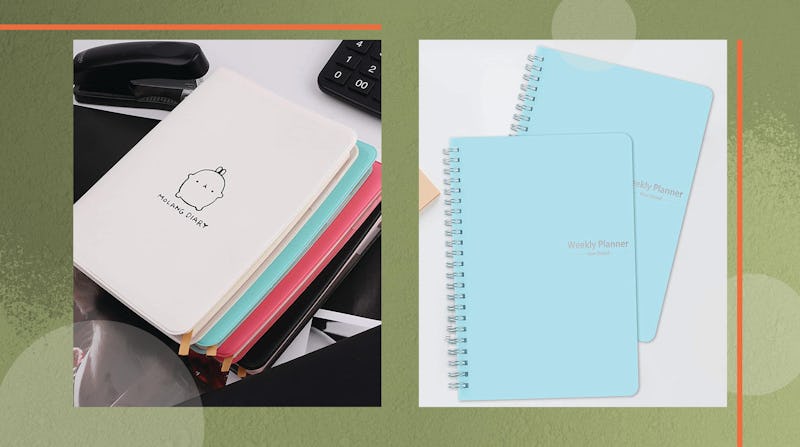 Bustle/Amazon
We may receive a portion of sales if you purchase a product through a link in this article.
A Bullet Journal gives you flexibility and allows you to express your personality on every page, but if you prefer more of a template, there are planners, calendars, and journals that have those features built in. The best Bullet Journal alternatives give you some creative freedom with a little bit of structure. Each option on this list is formatted for an entire year but comes with its own size, look, layout, and approach — such as long- and short-term goal-setting, productivity planning, and daily to-do lists — so you can pick and choose the elements that will give you that Bullet Journal-like experience.
What To Consider When Shopping For Bullet Journal Alternatives
According to Ryder Carroll, the inventor of the BuJo (aka Bullet Journal), your notebook should be a place to "track the past, order the present, and plan the future." In order to achieve that, there are a few features to keep in mind:
Layout
The classic Bullet Journal setup offers a customizable personal method of organization that features blank/dot pages that you can customize with an index, and daily and/or monthly logs to track to-do lists and goals. It also has the flexibility to add extra space if you want to journal, draw, or include habit trackers or any other collection you'd like to keep track of — like a to-read book list.
The ideal layout of your planner depends on how you plan on using it. Planners can be structured in an hourly, daily, weekly, or monthly format. Hourly and day-to-day organization can be good for meetings, events, and appointments, while weekly or monthly formats can be helpful in planning deadlines, long-term goals, and large-scale projects. They can also include pre-filled dates while others are undated, so you have to fill them in yourself, but you can skip a day (or month) without issue.
Another factor to consider is how structured or unstructured you'd like your layout to be. Planners can feature guided templates with habit tracking, lists, and priorities for mindfulness and productivity. Other journals have a minimal design that leaves room for journaling, notes, sketches, vision boarding, and personalization that can have a grid, lined, or dot grid pattern, and some have a combination of the two.
Cover & Binding
Finally, consider your journal's cover and binding. A softcover journal can be lightweight and flexible, whereas a hardcover offers durability and a hard surface to write against if you're not at a table. And depending on your personal preference, you can choose a sewn-bound or spiral-bound design.
From minimal calendars to structured planners, take a look at these bullet journal alternatives on Amazon.
1. A Wildly Popular Bullet Journal Alternative
Pros:
Over 12,000 reviews and an overall 4.7-star rating
Available in 23 colors
Blank area for things like a vision board and mind map
50 dot-grid pages in the back
Includes 150 stickers
Cons:
Monthly and weekly sections are separated
With almost 10,000 five-star ratings, the Clever Fox planner is a solid bullet journal alternative. In fact, one fan reported that it's "​​as close to bullet journaling I'll ever get." It features 50 dot-grid pages in the back, 150 stickers, and blank areas for a vision board and mind map, so there's plenty of space for customization and building your own spreads. You can define and break down the short- and long-term goals in every area of your life and work to boost your productivity.
There are daily, weekly, and monthly agendas, and you can set priorities, create to-do lists, track wins, and make notes, as well as tracking habits over that time. The weekly and monthly sections are separate, which some reviewers disliked, but others felt the ribbon bookmarks helped when flipping back and forth. The planner is available in 23 colors and features a vegan hardcover, inner pocket, elastic band closure, and a loop for your pen.
One Reviewer Wrote: "This planner changed my life. I am a big bullet journaler and like to customize my own to-dos but recently found it took way too long to map out every single week [...] At first I thought there were too many categories e.g., to-do, priorities, goal, reward, notes, wins, better next week etc. but I've realized it's great to force me to think about these things. I do think there is just way too much space for goals on a monthly basis, but it's not a big deal. I love how there's so much space in the back, because I now use this planner as my journal as well. It's great because before I had to carry around a planner and a journal but now I only need one. Seriously, I am truly excited to write in my planner each day and I feel so much accomplishment crossing everything off."
Dimensions: 5.8 x 8.3 inches | Duration: 12 months | Dated: No | Cover: Hardcover | Colors: 23 | Number of Pages: 224
2. A Dot Grid Calendar With Plenty Of Customization Potential
Pros:
Lots of space for customization
Protective plastic cover
Pages are dot grid formatted
Cons:
Some reviewers reported a little bleed-through on the pages
This dot-grid journal with spiral binding gives you the flexibility and personalization opportunities of a bullet journal, with the structure of monthly and weekly spreads already built in. There are undated monthly spreads from January to December with side tabs, column-style weekly views, and days that are divided with blank space for customizing and areas for slotting off appointments between 5 a.m. to 11 p.m. There are also four dot-grid pages at the end of every monthly section for notes and sketches, five blank grid pages in the front, and you can even design the cover however you'd like. And if you'd like stickers, you can get those separately.
One Reviewer Wrote: "I like the idea of bullet journals but am too disorganized and not creative enough to start from a completely blank page. This planner is a perfect middle ground - I can do some personalization in each week/month, but it's not completely free form. Love the split days format for scheduled tasks and unscheduled ones. Big bonus for me is that it is undated so I can get the same one every year."
Dimensions: 7 x 9 inches | Duration: 12 months | Dated: No | Cover: Softcover | Colors: 1 | Number of Pages: 224
3. A Cult-Favorite Japanese Planner
Pros:
Features a page-a-day planner with room for you to personalize
Portable size
Paper is designed to prevent bleed-through
Monthly planner pages included
Cons:
No weekly planner
Graph paper may not be ideal for larger handwriting
It may not have a lot of reviews on Amazon, but the Hobonichi Techo planner is a best-seller in Japan. One thing that sets it apart is that each day gets a page, giving you lots of room and flexibility for notes, sketches, to-do lists, and creating your own habit trackers, like you'd get with a bullet journal. Then on the monthly pages, you can plot out future plans and long-term goals. There are even 16 blank pages for journaling. Hobonichi's Tomoe River paper is specially designed to prevent your pens from bleeding through, but the brand recommends testing each new pen in the back before using.
It can lay completely flat when open and includes information about Japanese sweets and the phases of the moon. Just note that the pages are dated, so you don't have to fill that part in (and it's a little less flexible). And if you want a larger version, the Hobonichi Techo Original is available.
One Reviewer Wrote: "I use this every year. This is my 4th year getting one and I can't see me ever getting another brand for my yearly planner/journal. I absolutely adore the paper quality for my fountain pens and this is the perfect size to fit in my purse."
Dimensions: 5.8 x 4.1 inches | Duration: 12 months | Dated: Yes | Cover: Hardcover | Colors: 1 | Number of Pages: 448
4. A Budget-Friendly Week-To-Week Organizer
Pros:
Includes weekly goals, to-do lists, and habit tracker
Under $10
Cons:
Not a lot of room for customizing
No monthly tracking
If you're looking for a no-frills Bullet Journal alternative that's less than $10, then this undated planner is a solid choice. One reviewer reported, "It's not super overwhelming, it's just enough to help keep me organized." The template is the same week to week, and there's no monthly or daily tracking, but you can write in your appointments, goals, and to-do lists and track up to six habits with checkboxes. The planner is spiral bound and will last for an entire year.
One Reviewer Wrote: "I like this planner a lot [...] and because it's undated it's very flexible for someone like me who is super, super forgetful and might end up going days/weeks/months without using it. [...] I'm using this partially as a planner, partially as a bullet journal. I put some stickers on the cover and they adhered nicely."
Dimensions: 5.7 x 8 inches | Duration: 52 weeks | Dated: No | Cover: Softcover | Colors: 1 | Number of Pages: Not specified
5. A Custom Journal With A Grid Pattern, Plus Lots Of Room For Notes & Sketches
Pros:
Over 2,000 reviews and an overall 4.8-star rating
Dates and hours are subtly printed
Minimal design with lots of room for customizing
Cons:
May cause ghosting with fountain pens, according to some reviewers
This sleek, minimal planner is designed for your appointments, but there are also many areas for notes, lists, sketches, and designs. One fan reported, "Best notebook for bullet journaling I've ever used." The dates and the hours (from 7 a.m. to midnight) are printed in the top and left-hand margins in a subtle gray, so the calendar element is not a standout feature. This gives you more space for versatile customization or using some pages just for journaling. The planner is undated and lays flat when open.
One Reviewer Wrote: "I have been ordering these for the last 3-4 years and have used it as my bullet journal. I am extremely satisfied with the quality of the paper, the binding and the cover.[...] I enjoy setting up my own journal and customizing it to my own needs and this works perfectly. You do have to number the pages, but I do not mind doing that. [...] I enjoy the weight of the paper and the very light grid pattern and find I can use many pens on it. There is slight ghosting but I do not find it an issue on the next page, it doesn't interfere with my writing there or reading what I write on either side. [...] I can use a variety of mediums and the paper holds up well. I have been more than satisfied with each purchase."
Dimensions: 7.2 x 5 inches | Duration: 12 months | Dated: No | Cover: Softcover | Colors: 8 | Number of Pages: 368
6. A Cute Planner Featuring A Cartoon Rabbit
Pros:
Lots of blank space for personalizing
Includes a sheet of stickers
Cons:
The softcover is less durable than hardcover options
There's nothing cuter than this planner featuring the cartoon rabbit Molang. In case you didn't know, Molang is all about "empathy, softness, tenderness, and joy," so what's not to like? Many reviewers also note that it's a simple planner that's great for newer Bullet Journalers. It features monthly spreads with an overview and notes section and two pages for each week, with lots of space for personalizing. The planner features a soft faux leather cover, thick pages, an inner pocket, and one sheet of adorable stickers.
One Reviewer Wrote: "If you want to try bullet journaling this is a great product to get into that!! The outside leather is pretty cheap, but overall a great size and color!!!"
Dimensions: 6.8 x 5.1 inches | Duration: 12 months | Dated: No | Cover: Softcover | Colors: 4 | Number of Pages: 210
7. A Daily To-Do Journal With Perforated Pages
Pros:
Pages are perforated
Double-sided pocket page for storage
Flexible, laminated cover
Cons:
If you're looking for a Bullet Journal alternative with more day-to-day features, then this ban.do planner is for you. It includes daily pages with sections for schedules, priorities, and to-do lists, and every page is perforated so you can rip out old pages or take a shopping list to the store with you. There are 184 double-sided, undated planner pages, so it will last you one year, and there are 40 double-sided list pages. The spiral binding makes page turning easy, and there's a pocket page for storing notes, receipts, or old lists. You can choose between two covers, the charming strawberry design or sweet butterfly pattern.
One Reviewer Wrote: "Perfect size and I like that I customize exactly to my liking."
Dimensions: 6.75 x 8.75 inches | Duration: 368 days | Dated: No | Cover: Softcover | Colors: 2 | Number of Pages: 224
8. A Structured Planner For Increasing Your Productivity
Pros:
Over 6,000 reviews and an overall 4.6-star rating
Includes 45 dotted journal pages and 295 productivity stickers
Features vision board, mind maps, and habit trackers
Cons:
The Law of Attraction planner comes with a lot of structure to help increase your productivity, but also offers space for personalization. It follows an eight-step system to guide you through the process of improving your life through career, family, health, fun, habits, emotions, relationships, spirituality, and life goals. There are daily, weekly, and monthly action plans, plus harmony checks and reflections to celebrate wins, inspiration, and address areas for improvement. But there are also 45 dotted journal pages, a vision board that folds out, mind maps, habit trackers, and stickers to customize and make your own, just like with a Bullet Journal. To utilize the planner fully, one reviewer recommends consulting the instruction pages in the back before you start, "They're very handy!"
One Reviewer Wrote: "Such a beautiful notebook. It's exactly what I wanted after spending $50 on bullet journal supplies and getting frustrated at my lack of artistic talent. This notebook has affirmations and provides space for freestyle writing in addition to the standard planner month/week sections. Five stars!"
Dimensions: 7.2 x 10.1 inches | Duration: 12 months | Dated: No | Cover: Hardcover | Colors: 16 | Number of Pages: 248
9. A Goal-Setting Journal That's Just $10
Pros:
Over 8,000 reviews and an overall 4.5-star rating
Pages are numbered
Includes stickers
Features a mind map and vision board
Available in five colors
Cons:
Monthly layouts begin on Sundays and weekly layouts begin on Mondays
If you don't have the time to create your own spreads in a Bullet Journal but still want to stay organized and celebrate your accomplishments, this planner is a solid pick. One reviewer reported that it's perfect for "the wannabe bullet journaler who doesn't feel compelled by the art of it." It has weekly layouts to log your successes and areas for improvement, keeping you accountable and motivated. The monthly sections allow you to record your long- and short-term goals and the mind map, vision board, and stickers offer space for customization. There's a faux leather hardcover, an inner pocket, a pen loop, and three ribbon bookmarks to make it easy to flip through sections. Best of all, it's just $10.
One Reviewer Wrote: "I used to do bullet journals, I loved the ability to customize, but man was it time consuming! I love the compromise between a bullet journal and a standard planner. This one allows me a lot of freedom to put in some of the things that were important to me to add to my bullet journal, but takes a lot of the leg work out and allows me to get everything in quickly. I've been consistently buying these for about 3 years and it's safe to say I will continue to do so."
Dimensions: 5.9 x 8.3 inches | Duration: 12 months | Dated: No | Cover: Hardcover | Colors: 5 | Number of Pages: 248