The 3 Zodiac Signs Least Affected By December's Full "Cold" Moon
The lunation will bring extra social vibes for some.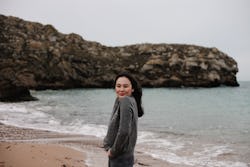 Anna Blazhuk/Moment/Getty Images
The year may be coming to a close, but it's not before our last lunar hurrah, courtesy of the December 2021 full moon. This lunation adorns the skies on Dec. 18, so you can expect to tap into your inner free spirit as the full moon moves into chatty Gemini. This change of pace invites us to be our candid, colloquial selves as we entertain our outlandish ideas and theories. And if you're one of the lucky few zodiac signs who are least affected by the December 2021 full cold moon, you'll feel encouraged to express yourself thoroughly and be inspired by your lively social life.
Full moons signal the peak of the lunar cycle, and according to astrology, they herald in impassioned emotions and high energy. Although this can mix up a bit of cosmic drama, especially in our inner circle, Geminis have a natural gift of communication, which will help the collective through some super intense situations during the full moon. And because these air signs are giving us a boost of confidence in our personal expression, the December full moon is the perfect occasion to step into our extroverted side.
The social energy arrives on the outskirts of Venus retrograde 2021, which puts a magnifying glass on our relationship needs and the sustainability of our friendships. This is sort of like a pregame for your social life moving forward, giving you the revelations you need to reflect on what your partnership values. It might do you well to reflect on how you feel, think, and behave around your friends during the full moon.
This astrological pick me up is gracing a select few with all the trappings of Gemini — curiosity, creativity, and healthy communication — so for some, this full moon will mostly feel breezy. Ready to find out if you'll luck out? Continue on to find out if you're one of the lucky zodiac signs who are least affected by the December 2021 full cold moon.