4 Zodiac Signs Will Thrive During The Strawberry Moon
Total #LuckyGirlSyndrome.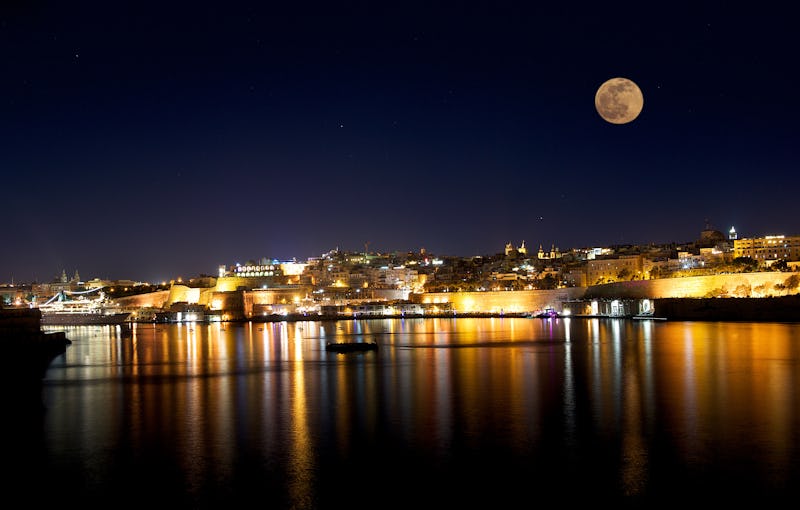 RenataAphotography/RooM/Getty Images
There's an astrological reason you might be itching for a change of scenery, star babe! Your next adventure kicks off on June 3, 2023, when the Strawberry moon stations in feisty Sagittarius. The bold fire sign will restore optimism and passion into everyone's lives, but this is an especially powerful full moon for the zodiac signs who are least affected by the June 2023 full Strawberry moon. La luna will breeze right by you, blazing a path for your success.
In astrology, full moons denote completion and release. This is when things come full circle — think: signing contracts, deleting your dating apps, or putting the finishing touches on a creative project. Likewise, the fearlessness of the Sagittarius full moon will help restore the confidence and courage to finish off strong in all your whimsical adventures.
Sagittarius zodiac signs are ruled by Jupiter, which makes them the original bearers of #LuckyGirlSyndrome by default — this planet is all about growth, abundance, and spirituality. This is especially true right now, as the moon forms an auspicious aspect with the north node, aka the point of our personal destiny.
"This astrological aspect will amplify the positive impact on Jupiter and bring even more lucky opportunities and increase optimism," Iva Naskova, Western astrologer for the app Nebula, tells Bustle. Safe to say if you're one of the signs least impacted by the fierceness of this lunation, you can plan for lighthearted fun as you're empowered to venture outside of your comfort zone.
Read on to find out if you're one of the few zodiac signs who will be least affected by the June 2023 full Strawberry moon.
Pack your bags, Aries, we're jetting off to explore! This lunation will broaden your perspective, so try to be optimistic even in situations or opportunities that you might've been wary about in the past. Per Naskova, this favorable full moon is all about entertaining your adventurous spirit. But that's not all — a peaceful aspect with the moon and your ruling planet, Mars makes this lunation especially smooth for you. "This full moon forms a Trine with Mars, helping Aries stay open to compromises and coming up with solutions when it comes to communication in their key relationships," says Naskova.
Is there something missing, Taurus? This lunation is pinpointing certain areas in your life that need to be revisited, revised, or purged. But according to Wilder, these changes aren't totally earth-shattering, but there's a lot to say about a little emotional and financial housekeeping. "And when you're done? You're probably going to feel a bit lighter, a little smug, maybe, like when you finally tackle that cluttered drawer you've been avoiding — a little sense of accomplishment."
It's time to take a serious look at your daily life, Cancer. "You might be finishing up a work project or see some positive results from that healthy diet you've been following," explains Wilder. Don't be afraid to celebrate all of your wins, big or small. On the other hand, if there are routines or commitments aren't yielding the return you're looking for, it could be your time to rethink them. What could you change or drop? Either way, this is a powerful period for taking the mundane to new heights — so, finally sign up for that ceramics or Pilates class you've been curious about.
Taking time for yourself has never looked so enticing, Capricorn. This lunation is ripe for self-care and deep reflection, so step away from your to-do list and focus on R&R. "You might have some interesting dreams, or feel a strong desire to cozy up with a new book or show," explains Wilder. Break out your candles or book a massage. This is all about your healing journey, especially when it comes to fulfilling your manifestations, Naskova adds.
Source:
Iva Naskova, astrologer