3 Zodiac Signs Leos Will Probably Regret Breaking Up With
"Aquarius is an air sign, which feeds Leo's fire."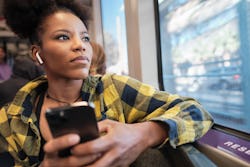 The Good Brigade/DigitalVision/Getty Images
When you're the zodiac sign who's known for being the life of the party, do you have time to dwell on a failed relationship? Post-breakup, Leos are the type to post on Instagram about how much they're loving their new single life. But despite how the zodiac's lion may want to come off post-breakup, some relationships are just difficult to get over. And according to astrologers, there are three zodiac signs Leo will regret breaking up with.
"Leos are Fire signs, so they are extremely passionate and domineering," Michelle Welch and Ashlie Daniel, astrologers at SoulTopia, LLC, tells Bustle. "Although they look fierce, they are very sensitive and carry many insecurities. Overall, they are attentive, easy-going, protective, and loyal, until they don't get the validation they're looking for in the relationship. Then they flip to the petulant side because their ego has been bruised."
Since it's important for Sun-ruled Leos to feel adored and appreciated by their partner, as astrologer Tara Redfield tells Bustle, they're likely to regret ending a relationship with someone who gave them a lot of attention. But this won't happen often.
As part of their fixed sign nature, Leos don't change their mind too frequently. So if they're missing an ex, it's likely that it was a relationship that has a special place in their heart. Here are the zodiac signs Leo will likely regret breaking up with.
Sources
Tara Redfield, astrologer
Michelle Welch and Ashlie Daniel, astrologers at SoulTopia, LLC
This article was originally published on