3 Zodiac Signs Most Affected By The Full "Flower" Moon
Consider it an opportunity to let go of whatever's holding you back.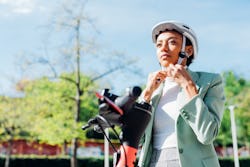 Westend61/Westend61/Getty Images
Ready or not, May's full moon is bestowing endings and intense transformations. Peaking on May 15 in the metamorphic sign of Scorpio, the May 2022 full flower moon lunar eclipse is revealing hidden truths and offers an opportunity to release things that are holding us back. While the lunar eclipse brings intense shifts for the collective, the zodiac signs most affected by the May 2022 full flower moon lunar eclipse will feel these radical changes get especially rocky before they get better.
Lunar eclipses can only happen during full moons, which is a period of high emotional energy. A lunar eclipse, which tends to fog up our intentions, emphasizes suppressed feeling and brings about radical change and endings. Since the emotional transit is taking place in the sensitive water sign Scorpio, those who are most affected can expect disruptions to their identity, a sudden change of heart, or the end of relationships.
"With this lunation occurring alongside Mercury retrograde in Gemini, it's time to set fear aside and speak your truth," Lauren Ash, an astrologer tells Bustle. "The collective is being asked to dig deep and prepare for the twists fate has in store for us."
Will you be met with life-changing shifts during this lunation? Keep reading to find out if you're one of the zodiac signs most affected by the May 2022 full moon lunar eclipse.