These 21 Qualities Are Essential In Any Lifelong Friend
Here's what sets your bestie apart from the rest.
by Natalia Lusinski and Sophia Moore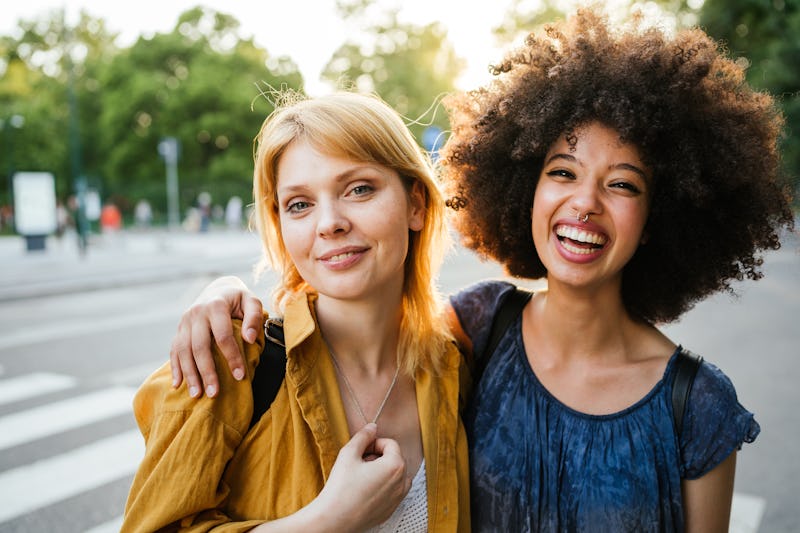 Shutterstock
When it comes to friendships, you are always going to be closer to some people than others. While many friends may fall into the "casual acquaintance" category, a special few sit comfortably within your inner circle of ride-or-die besties. There are plenty of unique qualities that set a truly good friend apart, but chances are, you've never taken a moment to sit and think about what those traits are exactly.
"Friendships can definitely be found on a continuum, with acquaintances on one side and your best friends on the other, with all different types of friendships in between," Heidi McBain, licensed marriage and family therapist and author of Life Transitions: Personal Stories of Hope Through Life's Most Difficult Challenges and Changes, tells Bustle. So, this begs the question: How does someone make the cut, so to speak, and become one of your closest friends?
The most important thing, as McBain explains, is that you feel like your best self around them. "There are many different ways [to tell if someone is a good friend], but a big one is that you feel completely comfortable with the other person," she says. "You can truly be who you are without fear of judgment on their part. Plus, if this friendship truly benefits both of you — which the deepest friendships do — then your closest friends are able to be exactly who they are with you, as well."
There are many characteristics that set close friends apart from the rest. To help identify the them, Bustle asked experts to weigh in on the essential qualities of a good friend.
There are many qualities that make a good friend, some of which may be particularly important to you based on your personal values. If you're hoping to take a casual acquaintance to the next level, there are plenty of ways to become closer with someone and (hopefully) elevate them to "close friend" status. You may even realize that in some instances you could be a better friend, and it's never too late to make those changes and show up for the people you love.
Experts:
Heidi McBain, licensed marriage and family therapist and author of Life Transitions: Personal Stories of Hope Through Life's Most Difficult Challenges and Changes
Jamie Gruman, Ph.D., a professor of organizational behavior and author of Boost: The Science of Recharging Yourself in an Age of Unrelenting Demands
Darlene Corbett, speaker, therapist, success coach, and author of Stop Depriving The World of You: A Guide For Getting Unstuck
Lisa Orban, author of It'll Feel Better When It Quits Hurting
Susan MacTavish Best, friendship expert and founder of Living MacTavish
Varsha Mathur, dating and relationship coach and founder of KnowingLuxe Coaching
Debbie Mandel, author of Addicted to Stress
Claudia Sigala, licensed psychotherapist at mental health provider Alma
Kailee Place, therapist at Shifting Tides Therapeutic Solutions
Katie Bennett, co-founder and certified coach at Ama La Vida Coaching
Jeffrey Sumber, licensed psychotherapist and relationship consultant
Irene S. Levine, Ph.D., psychologist and friendship expert, creator of TheFriendshipBlog.com
Marisa G. Franco, Ph.D., professor, speaker, and author of Platonic: How the Science of Attachment Can Help You Make—and Keep—Friends
This article was originally published on