Here's Spiritual Meaning Of The July New Moon In Cancer
Let your emotions run wild.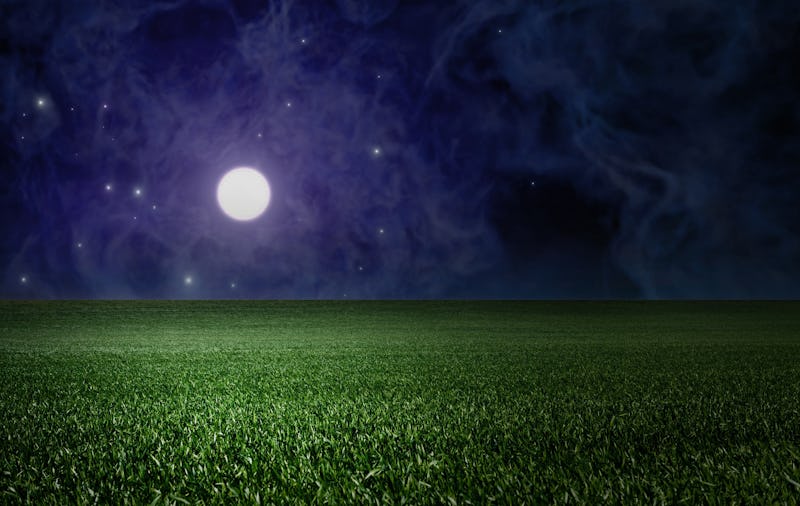 WLADIMIR BULGAR/SCIENCE PHOTO LIBRARY/Science Photo Library/Getty Images
Move over, hot girl summer: Cancer season has officially entered the chat. The July new moon, which arrives on July 17, 2023 at 2:32 p.m. ET in the sign of the crab, will usher in major relevations, practically bordering on psychic. Unlike full moon periods, though — which call for action and release — new moons are about planning and looking inward for catharsis and clarity. Since this new moon is stationed in its home sign of Cancer, this lunar moment will prompt us to get acquainted with our emotions, pull inwards, and honor our own intuitive abilities.
When it comes to new moons, we're motivated to reflect on everything under the surface, including our emotions and instincts. It's a time to plan, recharge, and welcome a new chapter. Cancer rules intuition and our innermost desires, meaning we can expect la Luna to help us dig deep into our emotional needs, and encourage us to lean on our gut feelings rather than reason them away.
"We can expect this new moon in Cancer to make us get real with ourselves, addressing what is most uncomfortable in the safety of our home, so that we can show up as our most authentic self," Imani Quinn, an astrologer, Quantum Mystic, and co-author of Astrology SOS tells Bustle.
With emotional moments and spiritual downloads ahead of this lunation, you'll want to know the spiritual meaning of the July new moon in Cancer, including how you can harness its supernatural influences.
What's The Spiritual Meaning Of The July 2023 New Moon?
Spiritually, new moons insist we lean inward and set intentions. "[It's] a great time to reset and focus on your intuition and what you truly desire," Quinn explains. Since Cancer is associated with our moods, expect this lunation to ruffle our emotions (pass the tissues, please!). Whether you're getting in touch with your feelings or expressing your desires, this new moon is all about treating yourself with compassion.
Remember when I said Cancer rules our intuition? Well, you might notice signs from the universe being extra obvious during the July new moon. That said, take the angel numbers and synchronicities that catch your eye seriously. What might seem like mere coincidences have the potential to open up life-changing opportunities — you just have to listen.
How To Work With The New Moon Energy
As a water sign, Cancer vibes are all about feeling the natural ebb and flow of life. A ritual bath, Quinn suggests, can help you alchemize your feelings. "Add some moonstone crystals, Epsom salts, white roses, and ylang-ylang essential oil for extra sweetness. While in the bath, meditate on your emotional journey," Quinn says. In other words, focus on what kind of energy you want to introduce to your life.
With new moons setting us up for beginnings, it will be a great time to manifest. Plus, water signs are known for their connection to all things spiritual, and practicing divination under this insightful new moon is a great way to connect to Cancer's psychic energy.
Candle magic works to honor this divine power, too. You can do this by burning a white candle with a glass of water adjacent to it. Quinn says, "Write down your manifestations and recite them as you burn the candle and ask for spiritual guidance through your intuition to help bring the intentions into fruition."
Source:
Imani Quinn, astrologer